It's hard to believe that already two years have passed since Titleist announced the release of the 2nd generation of their Advanced Performance (AP) irons. I distinctly remember covering it, especially because so many people were excited to see these come to market.
I was also lucky enough to review the AP1, and though the Bag Drop isn't used for reviews, I can personally vouch for them being superb. So now the 712 Series AP1 and AP2 irons are being released next month, and are said to be improved over previous models. Though I can't personally speak on that at this time, what I can tell you is that if Titleist says they've undergone improvements, I'd say you at least owe it to yourself to check them out. Let's take a look at what refinements and improvements have gone into these new 712 Series Advanced Performance irons from Titleist.

For those needing a quick intro, the AP line of irons is Titleist's biggest effort in producing iron sets that don't require a handicap south of five. One big problem always was that irons in that category tend to have larger heads, wider soles, and thick toplines seen at address – all of which lead to a finished product that just doesn't look as clean or as sleek as the traditional forged blade. Titleist took this as a challenge, and their response was the AP Series, which, by integrating new materials in a new dual cavity along with multi-component construction, were able to produce irons that performed up to their high standards and kept a compact, clean look while also remaining playable by a very wide variety of skill levels.
The original AP irons changed the way golfers thought about irons. AP technology opened up a host of new possibilities in which design aesthetics and performance no longer had to be mutually exclusive propositions. That original technology paved the way for the new advances that we've made with the new 712 line.

Dan Stone, Vice President, Research and Development, Titleist Golf Clubs
According to Titleist's research, players wanted improvements in three main areas. First they wanted more refinements in the clubhead's profile. Both models now have sleeker contours that result in a more pleasing appearance at address. Another desire high on the list of players was to get more distance and forgiveness out of their mis-hits. Because of that, the internal weighting of the 712 AP Series has been optimized even more than previous models. Higher density tungsten weights were used in order to spread the weight more efficiently, therefore increasing the MOI without changing the center of gravity or blade length.
The new 712 line of AP irons represents another step forward in iron design. With the development of the first AP irons in 2007, we knew we had created something special – irons that incorporated a true blend of classic golf club aesthetics with modern playability, forgiveness and consistency. With the new 712 line we've taken this breakthrough technology to a new, game-changing level by increasing the stability and forgiveness without losing any workability or shot control.

Steve Pelisek, General Manager, Titleist Golf Clubs
Some of the traits from the previous AP irons still remain, most notably the dual cavity design and multi-material construction, though there are other improvements aside from the additional forgiveness and faster ball speeds. The AP1 for starters, has an all new topline shape as well as an overall progressive reduction in blade length. On the flip side, the AP2 incorporates a new tour-inspired square toe profile as well as a reduction in sole width in the short irons, which improves how the iron interacts with the turf. Both also include Titleist's Tuned Feel System, which – as the name implies – improves the sound and feel of each iron via the use of a co-molded insert of soft elastomer and aluminum plate.
The AP1 also sports a new redesigned stainless steel soleplate and integrated nickel sole weight which takes discretionary mass from areas that don't really need it (including topline, center bar, and sole cradle) and move it low in the head. The result is an increase in stability and forgiveness. The AP2 has new structural improvements by employing a new steel cradle that encases tungsten weights in the heel and toe. Again, the result here is an increase in forgiveness and distance control.
When speaking about iron workability, it's important to dispel the myth that adding forgiveness to an iron decreases its workability. In the golf industry, when we talk about Moment of Inertia, we're referring to MOI-y, which is the heel/toe stability of the clubhead on off-center impacts. The higher the MOI-y, the better the accuracy and distance on off-center hits. But the most influential property affecting workability is the Moment of Inertia around the shaft axis, which is mainly driven by blade length and the location of the clubhead's center of gravity from the shaft axis. When we redesigned the 712 AP irons, we redistributed weight in the clubhead so that we not only increased clubhead MOI or forgiveness, we kept blade lengths the same and maintained the same CG distance from the shaft axis. This allows players to flight and shape shots.

Dan Stone
Titleist 712 Series AP1 Irons
The multi-material, dual cavity AP1, as stated before, provide not only an increase in forgiveness and stability, but also a solid feel upon impact and new and improved looks that appeals to a wide range of skill sets. That increase in forgiveness includes an increase in ball speeds on mis-hits so that you're not penalized on less than perfect contact. The long irons, in fact, have a measured 4% increase in MOI. The 712 AP1's also have an improved feel thanks to a combination of the increase in MOI and tuned feel cavity insert.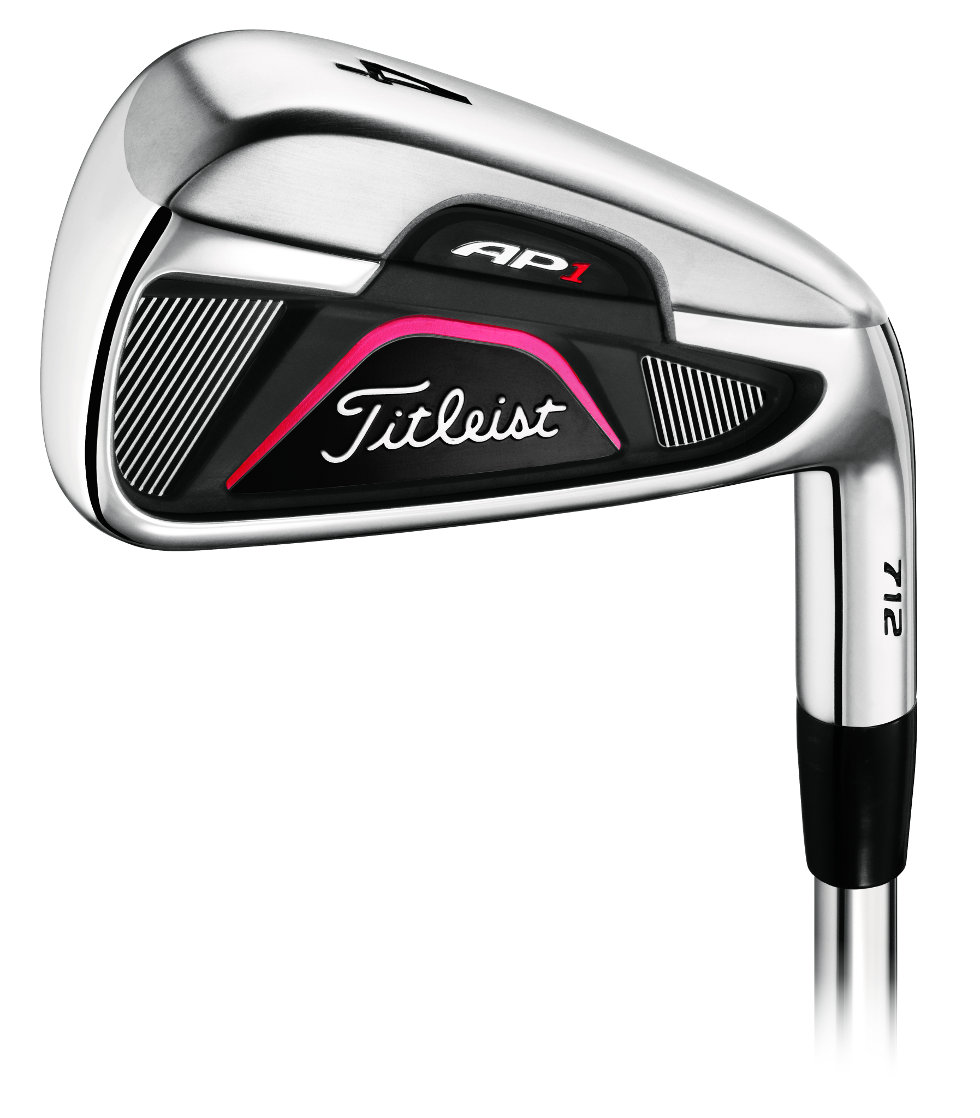 The stock shaft is the True Tempeer Dynalite Gold XP, which is a high performance mid-weight steel shaft with a stable tip that's designed to produce a optimized initial launch angle and maximize distance. The stock graphite offering is the Tour AD by Graphite Design (designed exclusively for Titleist). This graphite shaft produces a slightly higher launch and matches nicely with the weight and performance of Titleist lightweight metal shafts. Either shaft is topped with a new Titleist Tour Velvet grip (by Golf Pride) that's described as a truly round, one piece, injection molded grip with industry standard sizing. Neither stock shaft or grip meet your needs? No problem there, as Titleist Custom offers a number of other options in either category as well as length and lie modification. The Titleist 712 Series AP1 irons come in both right handed and left handed versions with suggested retail prices of $112 per club for steel the steel-shafted option and $135 per club with graphite shafts. They will be available starting on November 18th.
Titleist 712 Series AP2 Irons
The AP2 take the same multi-material, dual cavity design approach but make use of a forging construction process instead of the casting process used in the AP1. The forged carbon steel body and high density tungsten weights also help make the AP2 even more playable than before. The 712 Series AP2, even though it's targeted to the lower handicapper than the AP1 is, actually boasts a higher increase in MOI as it clocks in with a 7% improvement over previous models. The tuned feel insert improves impact vibrations for a better feel. The short irons (8i, 9i, PW) have a reduced sole width in order to improve turf interaction. The appearance has also been refined in the way of a new more angular profile. Offset progressively decreases through the set though blade length remains constant.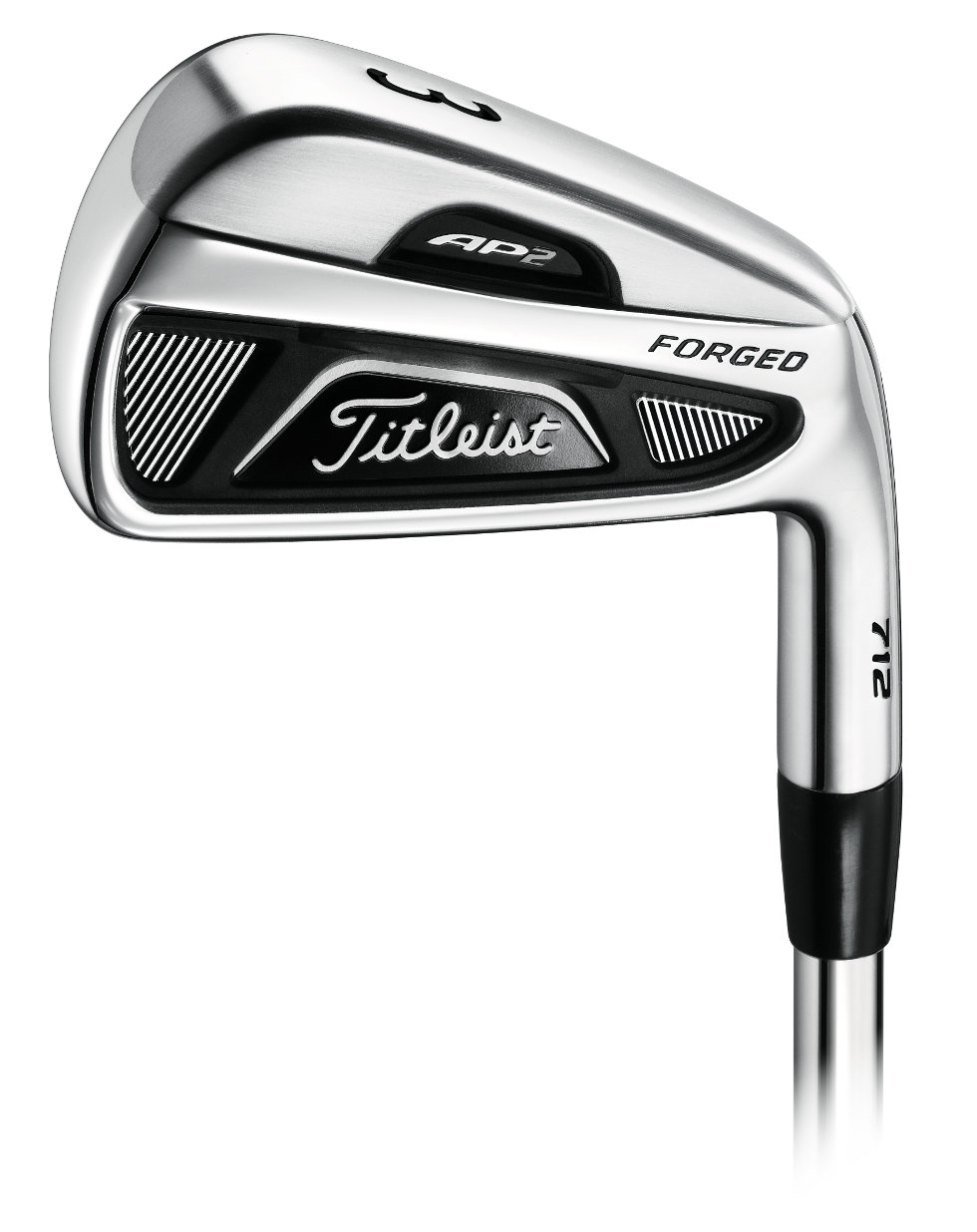 The True Temper Dynamic Gold is the steel shaft of choice for the 712 Series AP2 thanks to the feel, weight feedback, and performance it provides. The Dynamic Gold comes wrapped with the new Titleist Tour Velvet by Golf Pride. Just like with the AP1, a quick call to Titleist Custom can get you set up with custom shafts and grips as well as length and lie adjustments. The suggested retail price is $154 for the steel shafted option, while graphite shafts raise the price to $175. Expect to see them in stores on November 18th.