As usual this time of year, we've got a ton of stuff to cover, as this week we're checking out the latest fairway woods, hybrids, and balls from Titleist. Normally,we stay away from forming opinions here at the Bag Drop, as that's what reviews are for, but based on the product pictures I think you'll agree with me that as far as appearances go, these clubs are gorgeous.
Beauty is only skin deep however, so we're going to dig deeper into the story and see what makes these new sticks tick. So lets not waste anymore time and jump head first into these new products from Titleist.

910F and 910Fd Fairway Woods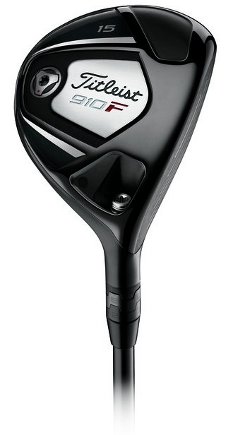 We'll start things off with the latest fairway woods from Titleist. Back in October, we took a look at Titleist's newest driver, the fully adjustable 910D. The 910F follows suit by providing the same level of customization, allowing the player to alter the loft and lie independently of each other, ensuring an optimal fit, and ultimately the player's desired ball flight. There is an added twist, however.
To further meet the exact needs of the player, Titleist is actually offering two different heads, each with a particular function in mind. The versatile 910F was designed to be the all-around weapon; the fairway wood you can take off the turf just as easily as the tee. The other model, the 910Fd, delivers a greater degree of control off the tee. The 910Fd boasts a larger overall footprint and deeper face than that of the standard 910F.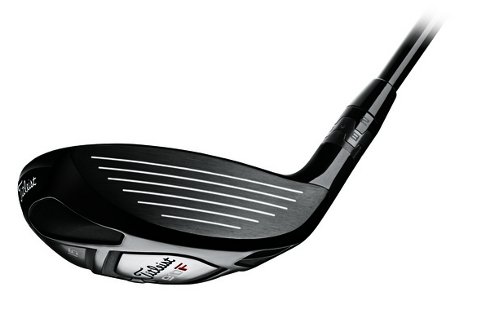 Before we start dissecting the difference between the two, lets take a look at what's common between both of them first. The body is composed of 17-4 Stainless Steel which is mated to a 455 Carpenter Steel face. That variable geometry face has been redesigned and now incorporates a trapezoidal face insert that promotes longer distances. Of course, as mentioned before, both make incorporate the SureFit Tour "tour van in a hosel" fitting system. As one would also expect, the predominantly black appearance of both is pretty similar, with both featuring a black PVD and paint finish that encompasses the entire clubhead (including the face). The only noticeable difference being the location of the external sole weight port (we'll get to that in a sec).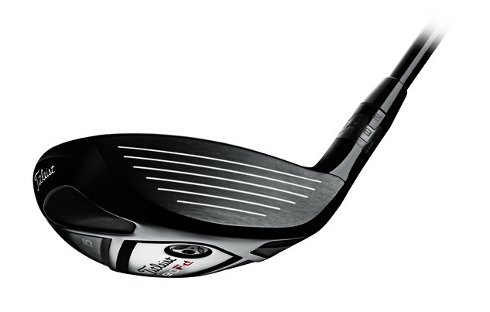 The performance of the new 910 fairways and hybrids perfectly complement the 910 driver. The same advanced design concepts that went into the 910 driver have enabled us to achieve substantial gains in ball flight, looks, feel and sound throughout the long game clubs. In combination with the new level of precision fitting that can be realized through SureFit Tour technology, the new 910 fairway metals and hybrids achieve total performance in the long game for all serious golfers.

Dan Stone, Vice President of R&D, Titleist Golf Clubs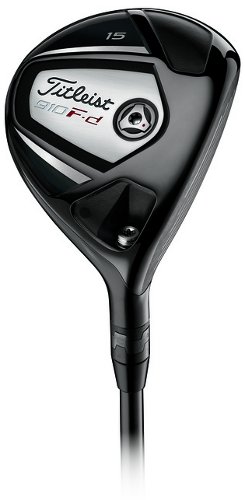 The differences, though few, are notable. As previously stated, the head design is a little different in 910F compared to the 910Fd, as the thin crown, high performance weighting, low and deep CG are all geared more towards all around performance – meaning that it's going to deliver whether you're on the tee or in the fairway with a long way to go to the green. The 910Fd is more geared towards performance from the tee box (as in enhanced distance and control) with its deeper face, and overall larger hitting area. Part of what makes these distinctions is the unique positions of the weight ports (and ultimately the center of gravity) in each club head. As you can see from the pictures, the customizable weights are located further back in the 910F as opposed to a more forward position in the 910Fd.
We describe SureFit Tour technology as a 'Tour Van-in-a-hosel,' because the dual-angle hosel technology, interchangeable shaft and rear bezel weight provides a fitter with all the power of a tour van right at the point of fitting. We can adjust loft and lie, as well as change the shaft and weight of the club right on the range. The new 910's are not only the highest performing metals in the history of the Titleist golf club franchise, but represent a true competitive advantage in performance and fitting. Previous to the new 910, our fitters on Tour would run back and forth to the Tour Van when we needed to adjust the loft and lie, change a shaft or build an entirely new club. Not anymore. Whereas it would take several hours to fit and build new clubs for a player, with SFT technology we can now fit them in minutes. In addition to the process being faster, players now walk off the range with a more precise fit.

Steve Pelisek, General Manager, Titleist Clubs
Options and Availability
Here's a trend that I really hope continues – three different stock shafts are being offered, none of which command an up-charge. It's almost tough to choose from these three quality shafts, which include the Diamana 'Ahina 82 (White) 82 grams (available in Stiff flex), the Diamana Ka'li 75 (Blue) (Stiff flex weighs in at 74g, the regular at 72g), and the Project X Tour Issue X-8C4 (82 grams, 6.0 flex). Regardless of which one you decide on, they all come topped with Titleist's Tour Velvet 360 grip. The 910F is available in both RH and LH models, in lofts of 13.5°, 15°, 17°, and 19°. The 910Fd will be available to both righties and lefties, in lofts of 13.5° and 15°.
Also note that the standard face angle on both is .5 open, though of course, SFT will allow you to modify that. SureFit Tour weight kits and wrench kits are available for purchase. Loads of custom shaft and grip options are available as well. MSRP is set at $279.
Titleist 910H Hybrids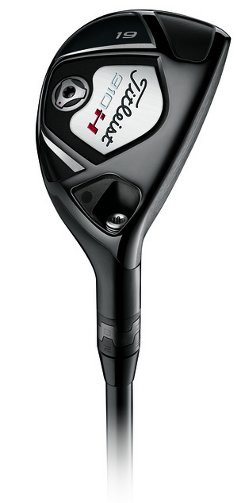 On the hybrid side, Titleist has introduced the new 910H. The 910H has a completely redesigned head that produces a higher launch and less spin than the previous 909H. The new head design is geared towards performance from just about any lie you can throw at it. The head is also larger, with better weight distribution and higher MOI than Titleists previous models. These enhancements, along with the new head profile, offset, and CG location produce an optimal ballflight, less spin, and an overall improved degree of control and performance.
Speaking of the offset and CG position, these properties progress through the lofts so that each produces consistent, predictable trajectory. The CG location is furthest forward in the 24°, and moves progressively rearward towards the back of the club head.
Titleist also employs an incredibly strict, precise manufacturing process that results an extremely small degree of variation in loft, lie, and face angle. In fact, the tolerances are so small, they actually register at twice that of industry standards.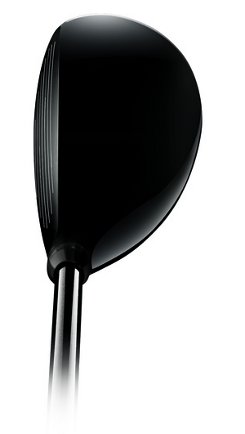 Of course, for many people, the name Titleist is synonymous with exceptional sound and feel. The new 910H is no different, as these new hybrids have been acoustically engineered to produce a hot, solid sound and feel. I'd be doing them a disservice if I forgot to mention that included in these hybrids is Titleist's SureFit Tour technology, which provides the player with 16 combinations of loft and lie settings. It's notable to mention here that the standard face angle is .5 open.
Like the 910F and 910Fd fairways, the head is made up of a 17-4 Stainless Steel body with a 455 Carpenter Steel face and is finished in all black PVD and paint finish. A precision bezel weight can be found on the sole as well, allowing the player to swap in lighter or heavier weights with the optional precision weight kit, which ensure swingweight and feel remain consistent even in the event of a shaft change.
Options and Availability
Two stock shafts are available; the 91 gram Diamana 'Ahina 90 (White) and 81 gram Diamana Kai'li 80 (Blue). Regardless of the shaft you choose, the 910H comes wrapped with the Titleist Tour Velvet 360 rubber grip. The Titleist 910H is available four lofts including 17°, 19°, 21°, and 24°. All lofts are available to both right handed and left handed players. Suggested retail price is $259.
New Pro V1 and Pro V1x
I know it's kinda cliche, and I know I've used this one before, but really, how do you improve on what's probably the best selling (got no evidence to back this up, just my best guess) piece of golf equipment in the world? Obviously, I'm talking about Titleist's Pro V1 and Pro V1x golf ball and for starters, you improve on it by listening to what players want. Maybe the only complaint I think I've ever read about the Pro V1/Pro V1x is that it scuffs up pretty quickly. Both balls now have a slightly firmer cover that's made from a new urethane blend, though the cover maintain the same thickness as the previous models.
Golf is a game of continuous improvement and serious golfers want to get better. At Titleist, we care about golfers' games and will only introduce a new golf ball if it truly performs better and helps them shoot lower scores. We have tested and validated the performance of the new Pro V1 and Pro V1x with players throughout the pyramid of influence with resoundingly positive performance feedback and success. New Pro V1 and Pro V1x are the best performing golf balls we've ever made, and the best performing golf balls in the game.

Mary Lou Bohn, Vice President, Titleist Golf Ball Marketing & Communications
Both new balls are said to promote an increase in spin control and a more consistent ball flight, yet they maintain the same distances players loved from the previous models. In fact, the new Pro V1x is actually said to fly longer and more consistent than before, yet is still maintains it's soft feel and greenside control.
New Pro V1 and Pro V1x are designed to help players of all skill levels shoot lower scores. Both models deliver exceptional distance and short game spin control, yet provide distinct performance differences in driver and iron spin, distance, feel and durability. We encourage every golfer to experience Titleist golf ball fitting which culminates in an on-course performance evaluation to assess which new Pro V1 model is best for their game.

Mary Lou Bohn
Pro V1

The new-for-2011 Pro V1 delivers not only the distance and durability mentioned earlier, it's also undergone improvements in spin control and produces a more consistent ball flight as well. There are a few different components working together to yield these improvements, including a new ZG process core technology along with an ionomeric casing layer, and a urethane elastomer cover that contains a spherically tiled 352 tetrahedral dimple design (as opposed to 392 in the previous Pro V1). This pattern employs five different dimple sizes and covers more of the surface than the previous dimple pattern. As stated before, the new aerodynamic properties of this patter produce a more penetrating ball flight that cuts through the wind much more efficiently.
By implementing design improvements in the core, casing layer and aerodynamics, we have produced the highest performing and most consistent performing Pro V1 we've ever made. Players' feedback has focused on new Pro V1's tight penetrating flight, particularly in holding its line in the wind, as well as the increased spin control and consistent reaction into the green.

Bill Morgan, Senior Vice President, Golf Ball Research and Design, Acushnet Company
Pro V1x

The four piece, multi-material Pro V1x underwent it's own improvements this year in a number of different ways. It achieves longer distances and a more consistent trajectory and overall ballflight thanks to a reduction in spin off the driver and long irons. Fear not, however, as it still has it's Drop-and-Stop greenside control that so many players rely on. The ball consists of a large, high velocity dual core soft center, ionomeric case layer, and a urethane elastomer cover patterned with a new spherically tiled, 328 tetrahedral dimple design. While the Pro V1 makes use of of five different dimple sizes, the Pro V1x raises that number up to seven which allows it to penetrate through the wind with much less resistance than before. Durability and soft feel are both a result of the soft urethane elastomer cover.
The new Pro V1x has a new 328 tetrahedral dimple design which is exceptionally efficient aerodynamically. Morgan. The combination of the Pro V1x's higher trajectory and very low spin results in longer distance. While any distance gains are certainly player dependent, most Pro V1x players have noticed that it peaks further downrange and carries farther than their prior generation Pro V1x. They have also experienced excellent performance in windy conditions.

Bill Morgan
Professionals and amateurs alike, all of whom seek to advance their games, have provided performance feedback and validated each generation of the Pro V1 and Pro V1x, to ensure that the world's best golf balls keep getting better. The essence of players' trust in Titleist is that they have to know that their golf ball will do exactly what they want it to do if they hit their shot properly. Pro V1 and Pro V1x have earned this trust, year after year, and that it is why more of the world's best players, club professionals, accomplished amateurs and golfers around the world have made Pro V1 their #1 choice.

Mary Lou Bohn
Price and Availability
Not many options to mention here, other than numbers 5-8 are available as well as the standard 1-4. Three ball sleeves as well as full dozens will be available. Expect to pay $45.99 for a box of a dozen of either the new Pro V1 and Pro V1x.
If you've given them a try already, hit us up in the comments and let us know how how they compare to the previous models. See ya next week!