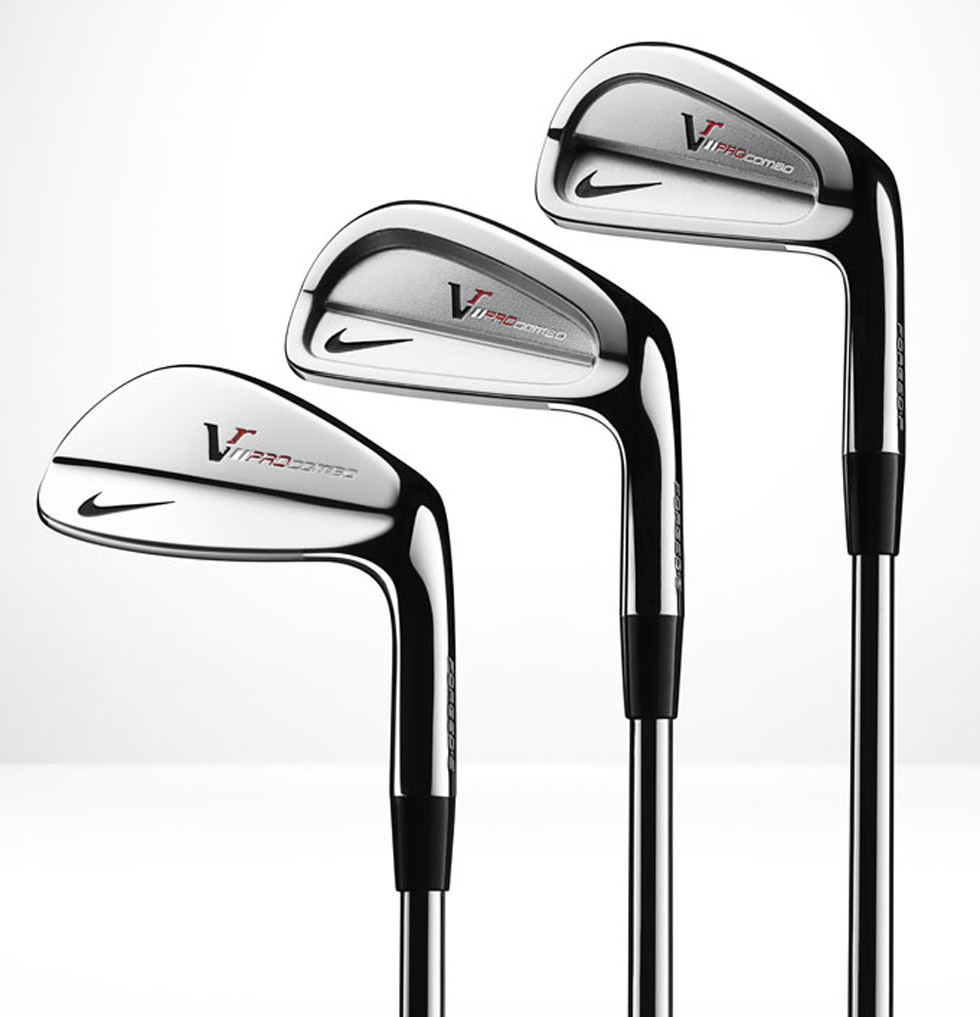 The story of Nike Golf's ascension has been well documented. When they originally signed Tiger Woods way back when, they offered next to nothing as far as golf was concerned. Nike slowly introduced footwear, apparel, accessories, and finally they weaned Tiger off of Titleist clubs. After decent success with the Ignite line, Nike had a huge hit with the Sasquatch. They built upon the SQ line with the SUMO, and then the DYMO, and finally the Machspeed series. In the driver and fairway woods categories Nike has been successful and innovative, though sometimes criticized. They were among the first adoptees of square drivers as well as 460cc clubheads and adjustable shaft offerings, but they have been ripped for the sound of some of their drivers, which can best be described as "tinny."
In the iron category, Nike has been solid, but their huge successes have been few and far between. The original Pro Combo irons (and its several variations) did pretty well, and several pros even kept the long irons in their bags until just recently. They were also successful with the Slingshot irons, which, despite being as far from traditional as possible, packed loads of technology into a high-performing package. The last few years Nike has been heavily marketing their Victory Red line of irons, which were co-designed by none other than Tiger Woods. The Forged TW Blades were good looking, yes, but even Tiger took them out of his bag after half a season (though they have since been granted reentry). Many liked the Forged Split Cavity, which were supposed to offer forgiveness and great feel. Unfortunately, in my opinion, they lacked both of those, and the waffle pattern in the cavity wasn't particularly easy on the eyes either.
This year, Nike has gone back to basics. They have taken one of their most successful lines of irons, the Forged Pro Combo, and they have simplified them, similar to the original Nike Forged Blades that Tiger and other pros played for years. This has all come together to create a set of irons that not only looks great, but aims to offer great feel, forgiveness, and workability for golfers of a wide range of handicaps.
I've spent some time with the new Victory Red Pro Combo irons, so let's see how they stack up.

Design and Technology
New this year, Nike is introducing their X3X grooves, which represent Nike's attempt to combat the new USGA Condition of Competition intended to diminish spin, especially out of the rough. These irons have more grooves on the face, which are packed close together, are deeper, and are more narrow. Nike says that these new grooves promote better contact and consistency, while still adhering to the new USGA and R&A rules. Because of the exacting nature of the new grooves, Nike has also created their most perfectly engineered face ever, which adds to the consistency of the set.
At the Oven, Nike Golf's premier research and design facility in Fort Worth, Texas, all clubs go through stringent testing and examination before they go into production. Because of the blended nature of this particular set, Nike's gurus were able to use "linear center of gravity mapping" to ensure that the COG moves gradually throughout the set. This is ensures that the long irons get up in the air and the short irons don't balloon, and that every iron gives the player optimized launch conditions.
The PW through 8-iron are traditional muscleback blades. Aside from the X3X grooves, there is no real added technology to speak of.
The 7-iron through 5-iron are cavity-backed, and offer the benefits that most cavities usually do. The center of gravity is lower than in the musclebacks, and the perimeter weighting offers better distance on off-center strikes.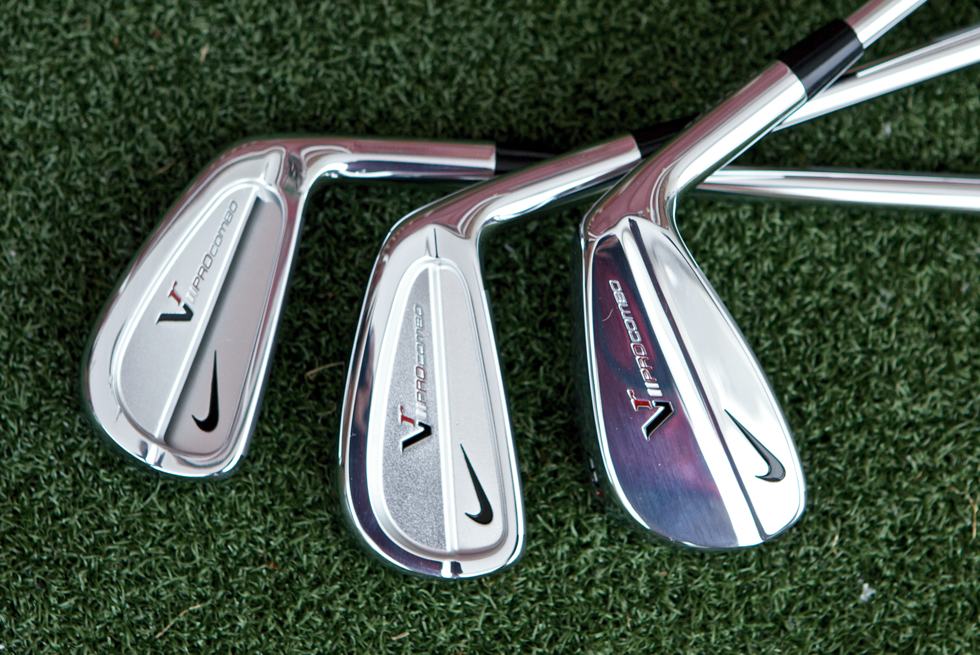 The long irons are pocket cavities, a growing category in the iron world, but these are different than most. Take, for example, the Mizuno MP-52 irons. At first they seem like normal cavity-backs (and they look like such at address), but if you look at the back of the sole you can see that a lot of the metal has been milled out. This allows them to get more weight to the perimeter, and to get the center of gravity lower.
Nike took a more creative approach to their pocket cavities though. They decided to create a two-piece head. Both pieces, the head and the face, are forged and they have been welded together. This allowed Nike to make an even deeper cavity, and one that could not have been created by a mill. The deeper cavity allowed the engineers to push the center of gravity lower, for an even higher launch. This comes to together in very forgiving long irons that promise to not sacrifice playability at all.
Esthetics
The first thing I thought when I opened the box that these came in was, "Wow, these are not Nikes." They don't have the little rivets from the old Forged Pro Combos, they aren't gaudy like the Slingshots and the Sasquatches, and they don't make me crave breakfast, like the waffle pattern on last year's Victory Red Forged Split Cavities did.
Starting with the blades, Nike has basically gone with the current trends on these. Several years ago, we began to see companies bringing more technology into the blades category. Mizuno put their Cut Muscles into the MP 32s, and Titleist's Z Muscle technology allowed them to put more of the weight in the toe, in order to counteract the weight of the hosel. Lately though, we've seen those same companies reverting back to more plain looking muscle-backs. Mizuno's MP-68s are simple and clean looking, and Titleist's 710 MBs are nearly identical.
The short-iron blades in the Forged Pro Combos are much the same. Flowing lines and an uncomplicated design make the short irons look a look nearly indistinguishable from the Titleists or the Mizunos (except for, you know, the signature swoosh), and that's a good thing. All three companies have found a design that looks awesome and performs great as well. Reversing what they did last year, Nike has gone with an all-chrome design for the musclebacks, which is very easy on the eyes.
The mid-irons also have a good amount of chrome, but the cavities are more of a frosted look. Like the blades, Nike went with simplicity for the cavity-backs. Looks wise, the mid-irons are closely comparable to the Mizuno MP-57s (my current irons) from a few years ago and Titleist's 710 CB irons. Just like the blades, the cavity-backs are very straightforward. It seems that Nike took the Split Cavities from last year, removed the Nike badge in the middle, and took out the waffle pattern. What they are left with is a great looking stick that goes perfectly with the blades and transitions well to the pocket cavities.
The first time I saw the pocket cavities I thought that Nike had messed up my set. I didn't even notice the pocket, and they looked the opposite of gaudy. Because Nike has done such a great job camouflaging the pocket, these look the same as the mid-irons unless you are distinctly looking for a difference. You don't see it at address, and you won't see it just by looking at the cavity straight-on. Like the cavity-backs, the pocket cavities are mostly chrome but with frosted metal in the cavity.
All of the irons in this set have thin toplines, but they aren't so thin that you could use it to cut a T-Bone steak. Nike has made sure than even the mid-handicappers could feel confident in this set, and for that I have to praise them. All of the irons also feature very little offset, which is how I like it. Kudos to Nike for knowing who their audience is, and designing these irons so that everyone should be happy.
I was a little bit worried that the X3X would make the irons look, well, funny at address, but it really wasn't something I couldn't adjust to in about 20 seconds. You could say the face looks a little busy, and you can definitely tell that there are more grooves, but it's not a distraction at all.
Performance
In short: these irons will give you everything you could want in a forged "player's" iron, with a little extra forgiveness added in. They are not as soft as my Mizunos, but they are so much softer than last year's. I haven't hit last year's Victory Red Forged Split Cavities extensively, but I really did not like them at all. They were unforgiving, very harsh on mis-hits, and just overall dull feeling. The Forged Split Cavities were actually rated harder to hit than the Victory Red Forged TW Blades by clubmaker extraordinaire Roger Maltby. This year, I was hoping for better, and better I received. Though the new Victory Red Pro Combos are made from the same 1025 carbon steel as last year's models, the feel is so much better. I really don't know how Nike did it.
Starting with the short irons, if you have never played blades you might have a bit of a learning curve. I myself have never owned a set of blades, but my short iron play is probably the best thing I have going for me, so I didn't find that I had to make that much of an adjustment. The bottom line is, if you hit the ball in the center of the clubface you get great accuracy, awesome feel, and even some added distance. Yes, added distance from a blade.
No, they haven't drastically changed the lofts, but, for me, going from cavity-back short-irons to blade short-irons lowered my ballflight a little and gave me about 4 more yards. Will this be the case for everyone? No, but if you are in a similar situation to me, you could be among the lucky ones.
The one downside to the blades is that on those days where I just didn't have my swing, I could not hit the 8-iron. The rest of the set is either short enough or has enough built-in forgiveness that I was okay, but occasionally the 8-iron got tricky to hit. Would I trade the added feel, workability, and performance of the 8-iron blade for a cavity-back? Probably not, but that's something I will address later.
The mid-irons too performed admirably. Because I was coming from clubs that are nearly identical in design, my performance was about the same. Just like the blades, the feel was very nice, as were the workability and forgiveness. I am someone who is always tinkering with my swing, and most of the practice is done with my 6 iron. Thankfully, this 6 iron was absolutely perfect for anything I wanted to do.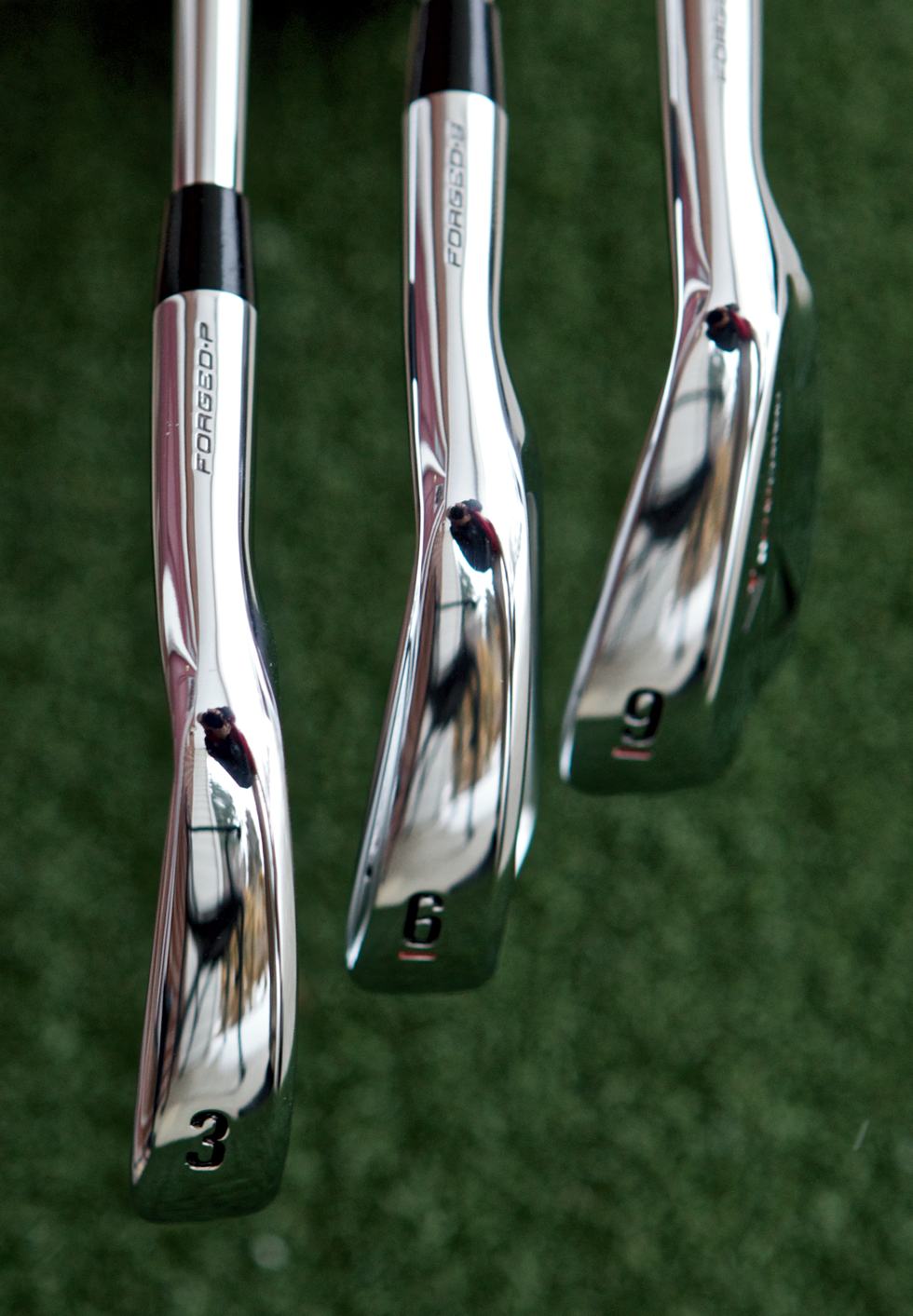 When I am at the driving range, I can tell how good my swing on any given day by testing how well I can work the ball. In other words, am I able to hit a high draw, a low fade, a punch shot, a banana slice (which can be surprisingly hard to hit when your swing is going well, especially with more forgiving irons), and so on? The Nikes gave me everything I needed in this category, and I really felt like if I wanted to add some bend to the ballflight, I could do it.
Long iron play is one of my biggest weaknesses. I have decent length off the tee, so I generally am able to avoid having too many long iron shots in a round, but when I do have to hit a long iron my goal is usually just to get it near the green. It's not that I slice them or hook them, but I just tend to not make very good contact. That is where the pocket cavities shine the brightest.
When I first heard that the pocket cavities were actually two pieces, I was a little disappointed, but now I am glad that Nike went the forged two-piece route. If they had tried to use just one forged piece of metal they would likely not have been able to make the pocket as deep as it is, and they might have resorted to making the sole thicker in an effort to make the cavity bigger. But the way that Nike did it is absolutely perfect. I was able to get three-irons airborne like I never have before, and, just as with the short iron blades, I gained a few yards through optimization. Because I was able to launch the ball a little higher it stayed in the air a touch longer, and I squeezed out a little more distance.
The X3X groove technology has really seemed to go under the radar. Nike has been pushing the fact that they are bringing back a combo set, but they haven't gone a lot further. Well, the grooves are no gimmick. In the time I got to spend on a simulator, I was seeing about the same spin level or better that I saw with my Mizunos. It seems that the USGA's rule has actually forced manufacturers to go back to the drawing board, and Nike has made clubs with the same amount of spin. I already spin the ball quite a bit, so I would have been fine either way, but the engineering behind the new grooves is pretty awesome and could really help your game.
Though the technology that Nike has put into these irons is great, they are still for better players. Not only are the soles and toplines thin, but the clubheads themselves are small. That is, they have a short bladelength. That is great for working the ball, but it obviously takes away from the forgiveness a bit. That said, mid- and high-handicappers still should not be scared of these irons.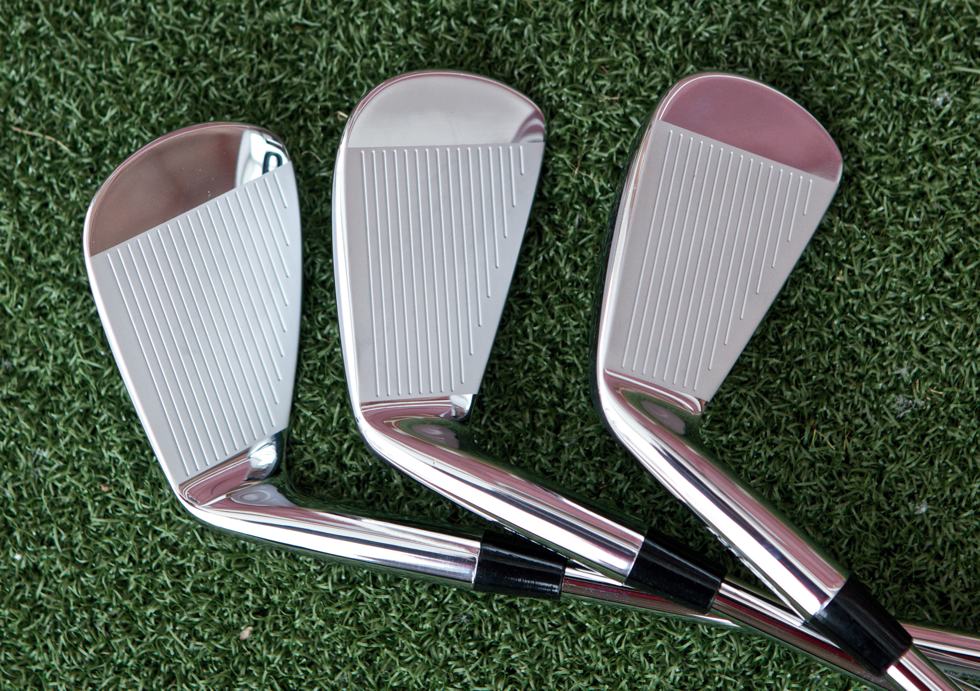 If you couldn't tell already, one of the things I like the most about this set is the blended nature. It gave me a few extra yards, great feel throughout, and forgiveness when I needed it. But I wish Nike would push the envelope a little farther. I said earlier that the 8-iron was occasionally tough to hit, and though I still wouldn't swap it for a cavity-back, I'm sure there are many people out there who would. The ability for buyers to pick and chose exactly which clubs they wanted would be invaluable, and would really put Nike in what I think could be a lucrative niche, even if they had to include a slight up-charge. I'm guessing an entire set of pocket cavities would sell really well.
Specifications
The Nike Victory Red Pro Combo irons are available with True Temper Dynamic Gold R300, S300, or X100 shafts as their stock offering. That is a pretty safe decision by Nike, as the Dynamic Gold is a good fit for the handicap level that these irons are marketed for, and the weight is nicely balanced between the shaft and the clubhead. Nike also allows you to order from a variety of other shafts, including steel from Project X, KBS and Nippon, as well as the latest in graphite from UST Mamiya and Aldila.
The Pro Combos come stock with a Nike branded version of Golf Pride's Tour Velvet grip. They aren't great, but they certainly aren't as bad as stock grip from a few years ago, the ones that had a ribbed upper and a totally smooth lower. Still, most people will want to either get their favorite grips custom installed by Nike or swap these out for the grip of their choice.
For the lefties out there, the entire set (including the two-iron pocket cavity that Nike sells separately) is available in either orientation.
Here are the standard specifications from Nike:
Club    Loft    Length    Lie      Bounce    Offset    Head Wt.
----    ----    ------    -----    ------    ------    --------
 3I      21˚    39.00"    59.0˚     2.0˚      .155"     241.0g
 4I      24˚    38.50"    60.0˚     3.0˚      .150"     247.0g
 5I      27˚    38.00"    61.0˚     4.0˚      .142"     254.0g
 6I      31˚    37.50"    62.0˚     5.0˚      .118"     260.0g
 7I      35˚    37.00"    62.5˚     6.0˚      .098"     268.5g
 8I      39˚    36.50"    63.0˚     7.0˚      .070"     273.5g
 9I      43˚    36.00"    63.5˚     8.0˚      .060"     283.0g
 PW      47˚    35.75"    64.0˚     9.0˚      .060"     286.5g
Conclusion
All I can say is that Nike has really done it. I really, really disliked last year's model, and I was pulling for Nike to turn it around. Thankfully, my wishes have come true.
The Nike Victory Red Pro Combos are some of the best irons that I have ever hit. They are jam-packed with technology, and they offer the best of all worlds when it comes to workability, forgiveness, and looks. The feel, while not quite as great as my Mizunos, is much improved over last year's Forged Split Cavities and is right on par with most forged clubs out there. And the grooves, well, I really don't know how Nike has done it.
If I absolutely had to pick a nit, I could point out the short bladelength, my occasional difficulty with the 8-iron, and my wish that Nike would sell more variations of the sets, but those aren't problems that the performance of these irons can't overcome.
The short-irons are a simply-styled blade that Nike has made sure not to over-think, and you could say the same about the mid-iron cavity-backs. The long-iron pocket cavities look similar, but the two-piece forged technology is where Nike gives you a little extra forgiveness without sacrificing the ability to play the ball from all lies. All of the irons let you know when you missed the center of the face, but it's rare to find a set of irons where the 3-iron is as easy to hit as the 9-iron.