Ever since well before I took up the game 47 years ago, Titleist has been the most popular ball among the best players and, for most years, the best seller. That's a remarkable run when you consider all the changes in design and manufacturing over those many years.
It's also amazing when you consider the many competitors who have come and gone as well as the many who still scrape for a sliver of market share. According to Golf Datatech, a market research company, last year the Pro V1 and Pro V1x had an on-course market share greater than Bridgestone, Callaway, Nike, TaylorMade, Top-Flite, and Maxfli combined.
That kind of market dominance is no accident. Titleist rules because they continue to refine and innovate and produce a superior product. So, based on their overwhelming market share, here's the story on the balls most of us will be playing this season…

Hackers Need Not Apply?
There's a common misperception out there that, unless you have a driver swing speed around 100 mph or better, you're not going to get everything out of these balls that they're capable of delivering. The kernel of truth in there is that, until you hit about 135 MPH in swing speed, if you swing faster the ball will go faster. That's true.
But can a ball be truly "optimized" for a certain swing speed? No. The only way a ball like the Pro V1 or V1x can hurt you off the tee is if it pushes your launch conditions outside of an optimum range.
Titleist communications director Joe Gomes is quick to point out that "most of a golfer's scoring is into and around the greens, so even if a golfer isn't getting the absolute most out of a Pro V1 off the tee, it won't be any shorter, they may save strokes around the greens."
That's mirrors my own experience. With my 90 MPH swing, they work just fine off the tee and they're absolute magic around and on the green. I can't compress them like J.B. Holmes might, but I still hit them as far as other golf balls.
But that's good for really stronger players. And that makes sense because it's the input of touring professionals that has driven the evolution of the Pro V1 since it was introduced in the fall of 2000.
The 2007 version of these balls actually found their way to the PGA Tour last fall. Davis Love III won at Greensboro the first time he put the new Pro V1x in play. Since then, Padraig Harrington, John Senden, Ernie Els, Vijay Singh, Aaron Baddeley, Paul Goydos, and Charley Hoffman (among others) have won using the new models. That's pretty impressive for a newly introduced product.
Changes Common to Both Balls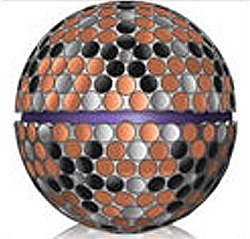 The biggest change has to be what Titleist calls a "Staggered Wave" parting line (previously called the "seam"). As the illustration here shows, what that means is that the seam is no longer a straight line. Now it weaves around dimples. As a result, Titleist has effectively removed any visible seam and was able to slightly modify the dimple pattern to produce better aerodynamic performance.
Bill Morgan, senior vice president of Titleist Golf Balls Worldwide, says, "It creates the highest surface coverage ever on a Titleist golf ball… the Staggered Wave parting line, improved surface coverage, and dimple dimension changes will provide golfers greater distance off the tee."
Maybe even more interesting is that Morgan asserts every golf ball must have a parting line as part of the manufacturing process. So I wonder what Bridgestone really means when they tout their "seamless" technology?
The other change is cosmetic. And here I have to chuckle. Both the Pro V1 and Pro V1x now come with alignment arrows. But apparently it's not just a line. In one of the funniest examples of marketing hyperbole I've seen in a long time, that line is called "A.I.M. Technology" (Alignment Integrated Marking).
Here's how the Titleist website describes it: "The A.I.M. sidestamp provides a consistent focal point for golfers to better align their drives and putts if they desire, as well as to instill additional confidence for better driving and putter alignment."
So is it technology worthy of its own acronym or is it just a line on the side of the ball? I'll let you decide.
The New Pro V1
The Pro V1 remains a three-piece ball with a soft polybutadiene core and an isomer blend casing layer to provide high speed and low spin for distance off the tee. The new version has a very thin urethane elastomer cover that delivers feel and short game control.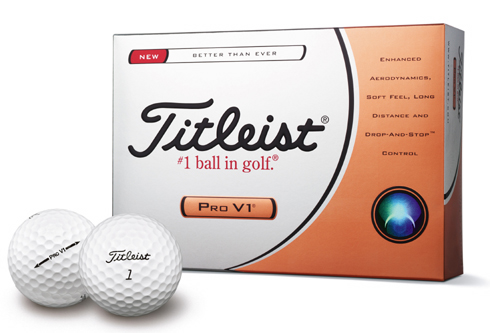 The Pro V1 retains the same 392 dimples in five unique sizes albeit in a slightly reorganized pattern to take advantage of the "Staggered Wave" parting line technology. Titleist says this gives the Pro V1 – always a lower-launching golf ball – a slightly higher trajectory than the previous model.
If the differentiation between the Pro V1 and the Pro V1x remains the same with these new versions, I think the Pro V1 is best for players with a little slower swing speed or for those who want the softest feeling ball around the green or for putting.
One interesting note on the packaging: as I think they did last year, they've applied an expensive-to-produce holographic label there in the lower-right-hand corner. Counterfeiting is a real problem, especially for an expensive market leader like this line and that label is meant to make it a little tougher for the rip-off artists to duplicate the package.
The New Pro V1x
OK all you bombers out there. Here's the ball for you. The new Pro V1x remains a four-piece ball with a dual core. The dual core remains largely unchanged, but the cover formulation is new and features a thinner, softer urethane elastomer cover formulation designed to provide very low spin for distance with a little added spin on approach shots. At the same time, Titleist says it's going to feel a little softer than last year's Pro V1x.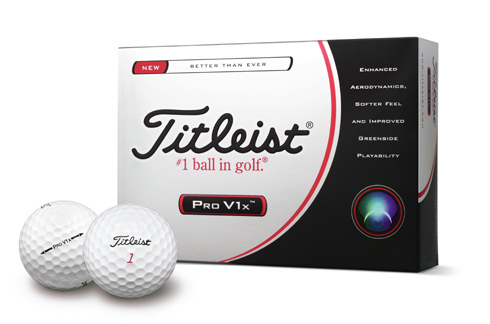 It's very interesting, too, how different the dimples are on the Pro V1x. Like the Pro V1, the Pro V1x retains its dimple count (332) and size count (seven different size dimples) in a reorganized pattern. The new Pro V1x, the higher launching ball of the pair, features a slightly lower launch angle than previous models. In other words, the rather large performance gap between the Pro V1 and the Pro V1x has been narrowed slightly, perhaps allowing players the option of more easily switching between balls to suit course conditions.
A softer feel and a little lower trajectory are attributes very good players are going to appreciate. I'm not at all surprised there's been such a quick uptake on the professional tours. It could well be Titleist has made the best ball for the best players better still.
A Rose by Any Other Name
Rumors flitted about months ago that the new Pro V1 line would be renamed to "Tour V1" or "Pro V2" or some other name. The company did indeed consider a name change, but sided instead with customers and common sense. Gomes says "There is equity in the Pro V1 and Pro V1x name, and our customers and consumers overwhelmingly confirmed our belief that retaining the current names were the way to go." Gomes added that, when surveyed, "golfers greatly preferred the side stamp and AIM line we've used on the new Pro V1 and Pro V1x to all other choices. We really enjoyed bringing the golfer into the decision-making process and respect their input." It's good to know that a company as dominant as Titleist still takes the time to listen to the golfer.
Availability and Pricing
Titleist began shipping these balls February 15. Suggested retail price is $58 a dozen. Thus, being a better player does, indeed, come at a price. As in the past you can buy them in dozens or threes. Numbering is either 1-4 or 5-8.
Edwin Watts isn't showing them yet on their website, but I'd guess they'll be selling them closer to the $46/dozen price of the earlier line of Pro V1.
In the End…
It would seem that as time marches on, the best get better. But one thing that hasn't changed in the nearly half century I've played Titleist is the famous Titleist logo and number stamping. That graphic image still causes my heart to beat a little faster every time I spot it on a ball I find lost in the rough.
P.S. The Pro V1 and V1x sidestamps are still aligned along the "seam," errrr, "parting line." You know, for those of you who believe the old wives' tale about the 1.2 microns of extra distance you achieve by "seaming" the ball on your tee shots.