It only took Charles Howell III four and a half years to win his second PGA Tour event, but the long wait was well worth it. Howell III caught and outlasted one of the world's best golfers, and he did it at one of the best courses. He had flirted with victory twice this season, and the third time was definitely the charm. I'm glad I never hopped off the bandwagon!
Now that the personal boasting portion of the article is out of the way, it's time to get down to business. One of my favorite events on the PGA Tour is the Accenture Match Play Championship, and it starts tomorrow. All the big guns are in the field this year, and it should be a shootout to the finish. All eyes will be on Tiger Woods as he attempts to win his eighth consecutive PGA Tour event.

Woods may be the favorite, but he hasn't always played his best at this event. He has won twice, but he has also been ousted in the first few rounds on more than one occasion. There are plenty of hungry golfers in the field this week capable of beating Mr. Woods. I'm going to do my best to break down the ninth Accenture Match Play Championship.
New Course
Seven of the previous eight Accenture Match Play Championship events have been played at La Costa Resort and Spa. In 2001, the event was played in Australia, and a number of top-ranked golfers turned down their respective invitations. This year, the event will stay in the United States, but it will move down the road to Arizona. The Gallery Golf Club at Dove Mountain is the host course this week, and it's a beauty.
I'm a big fan of La Costa, but it never hurts to change things a little. From what I've seen on The Golf Channel, The Gallery Golf Club is awesome! There are two driveable par fours and four par fives. That is perfect for a match-play event, and it should make for some high-energy drama. The change of scenery for this year's event is definitely one of the week's top stories, and it will be interesting to see how the world's best react.
Contenders
Tiger Woods is obviously at the top of everyone's "contender" list, so I'm giving some other guys the spotlight this week. The first guy on the list is Ernie Els. The Big Easy has a number of World Match Play Championship titles to his credit and will definitely be tough to beat this week. Els is capable of making a lot of birdies per round and has a very calm demeanor as well.
Ernie Els comes into the Accenture Match Play Championship on a bit of a roll. The Big Easy finished second (ahead of Tiger Woods) at The Dubai Desert Classic in early February and a tie for third at The Nissan Open this past weekend. Els is playing as consistent as he has since the knee injury, and it's time for him to find the winner's circle again on the PGA Tour.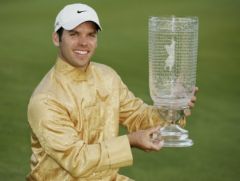 Paul Casey is next on the contenders list. Casey completely dominated field at last year's World Match Play Championship and carried that solid play into The Ryder Cup the following week. The Englishman had a breakout season in 2006, and he is already playing well again in 2007. Casey will possibly have to beat Mike Weir, Colin Montgomerie, and Adam Scott on the way to the quarterfinals, but he can definitely accomplish that and more.
Davis Love III has a couple top-five finishes this season along with a couple so-so performances. Those statistics really don't matter because Love III has proven himself time and time again in the Accenture Match Play Championship. Last season, DLIII rode a hot streak all the way to the finals before losing to Geoff Ogilvy. Love will have to play his best to get through the Gary Player bracket, but he is usually tough to beat in match-play format.
Pretenders
I hate to do this, but Retief Goosen is at the top of my "pretenders" list. The Goose is one of my favorite golfers, but he hasn't been very consistent over the past year or so. Goosen is a two seed in the Sam Snead bracket, and his first round opponent is Scott Verplank. Verplank is a great match-play competitor and may pull off the biggest upset of round one. If Goosen doesn't lose to Verplank, look for him to lose shortly thereafter. This South African just doesn't have any stability right now.
Luke Donald started the year off on fire, finishing seventh at Mercedes and a tie for second at Sony. February hasn't been the same for the young Englishman, however. Donald has missed the cut in his last two starts, and that's very unlike him. Also, the two driveable par-4s and four par-5s don't help his chances any. The big bombers will give him trouble this week. If Miguel Angel Jimenez doesn't beat him in the first round, Aaron Baddeley will take him out in round two.
Chris DiMarco always seems to be a favorite in match-play events, but this week will be a disappointment for the gritty competitor. DiMarco has been known to rise to the occasion when he is playing head-to-head, but he isn't playing consistent enough to make a serious run this year. DiMarco plays Brett Wetterich in the first round and will have a very tough time with the big bomber. America's golf underdog won't be around very long this week.
Surprises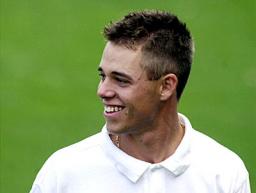 Aaron Baddeley won The FBR Open in early February and has racked up two more top-20 finishes since. Badds has moved up to 35th in the world rankings and is finally starting to come into his own as a golfer. This week, the young Australian has a great draw in the bracket and should at least make it into the final eight. If Baddeley does make it that far, it might set up a match against Tiger. At least Badds has a shot to make it to the final eight.
Jeev Milka Singh probably isn't on most fans' radar screen, but that should change after this week. Singh won a couple European Tour events last season, including the season-ending Volvo Masters. He hasn't started off 2007 very strong, but he is still a very formidable golfer. If Jeev Milka Singh and Vijay Singh both win their first three matches, they would play in the quarterfinals. It's a long shot, but it would be pretty cool.
Lucas Glover narrowly missed out on making last year's Ryder Cup team, and he will surely have a lot to prove in the Accenture Match Play Championship. Glover has a similar demeanor to Ernie Els, and his distance is also comparable. Glover's game sets up very nicely for the course this week, and he could surprise some people. He might even knock off Tiger if they both make it to the third round. On his path to Tiger, Glover will have to get through the always-tough Nick O'Hern and David Howell, and that's no easy task.
The Final Say
I could go on and on about every golfer in the field this week, but that would probably get boring after awhile. Golf fans are going to see dominating performances by the big guns along with upsets from some of the world's lesser-known golfers. It wouldn't hurt my feelings if all four number-one seeds make it to the final four, but we all know that just isn't going to happen.
Now that I've gone through my list of contenders (among other categories), it's time to make some predictions. My final four consists of Tiger Woods, Ernie Els, Paul Casey, and Davis Love III. Ernie will upset Tiger in one semi-final match, and Paul Casey will beat DLIII in the other. In the finals, it will be The Big Easy returning to the winner's circle and making his mark on The FedEx Cup standings. It's going to be a ton of fun to watch!
Now it's time for you to give me some predictions. Who will make it to the final four? Also, which number-one seed will be the first to go? Finally, who will be the 2007 Accenture Match Play champion? If you have anything to add, please comment below or discuss it in the forum. Thanks for reading this week's Thrash Talk and enjoy the five days of match play!
Photo Credits: © European Tour, © Augusta.com.