This week, we bring you some good news from the world of wedge craftsman extraordinaire Bob Vokey. Have you ever seen the pros' bag pictures from various tournaments, and noticed various stampings and other little unique markings on their wedges? If so, you probably thought to yourself. "That would be pretty cool to have!" Well, you're in luck! Titleist's launch of the new WedgeWorks service gives you the ability to do that and more.
If that weren't enough, further down we have some news on a new fairway wood release from Cobra. You didn't think a little thing like a change of ownership would slow them down, did you? Of course not! From the looks of the new Baffler Rail fairway woods, we're still talking about the same dedication and quality engineering we've grown to expect from Cobra. Of course, don't take my word for it, follow along and see for yourself!Vokey WedgeWorks Exclusives
Earlier this month, Titleist announced the launch of their WedgeWorks Exclusive wedges. This coming Thursday (July 15th), the WedgeWorks website will give all players, not just tour pros, loads of new custom options. Upon reading the news, my first thought was that it sounds similar to Scotty Cameron's custom putter shop. Turns out, I wasn't that far off. Want a custom stamp? Not a problem. How about a different paintfill? Yep, they can handle that as well! The customization doesn't end there. You also have the option to select different shaft bands, and non-standard grips and shafts that weren't publicly available before. You can truly create a personal, one-of-a-kind wedge, created to your exact standards.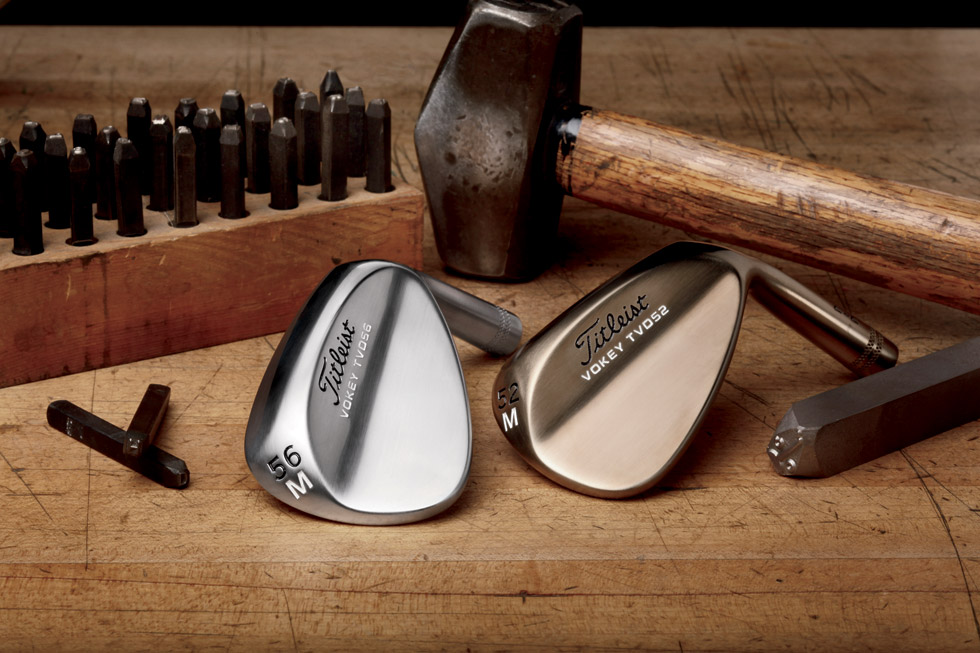 Of course, who would you expect to be heading up this endeavor but Titleist's Master Craftsman himself, Bob Vokey. Of course, he has help from the same team that works on all of his wedge offerings – including those offered only to tour players.
WedgeWorks is a life-long dream come true. Wedges are personal. The Exclusives line allows avid Vokey enthusiasts an opportunity make the wedges their own.

Bob Vokey
The Exclusives line he mentioned in the above quote is a new line of wedges that will be available to everyone. The most notable quality of the WedgeWorks Exclusives line is the TVD (Tour Van Design) sole, though it's also notable that Vokey and his team chose to stick with the pre-2010 Spin Milled grooves. If you prefer to play with conforming grooves, you're in luck – starting in September, the C-C wedges will also be available.
The new Exclusive also feature two new finishes – Bright Brushed Chrome and Oil Can Zero. Of course, all aforementioned customizations can be applied, and you can take your new wedge to the course knowing that the length, lie, and loft are dialed in to your specifications. The Vokey TVD wedges are the first and only models in Vokey's stable that allows a Tour grind in lofts as low as 52°. From there, the lofts are stepped up in 2° intervals, up to 60°.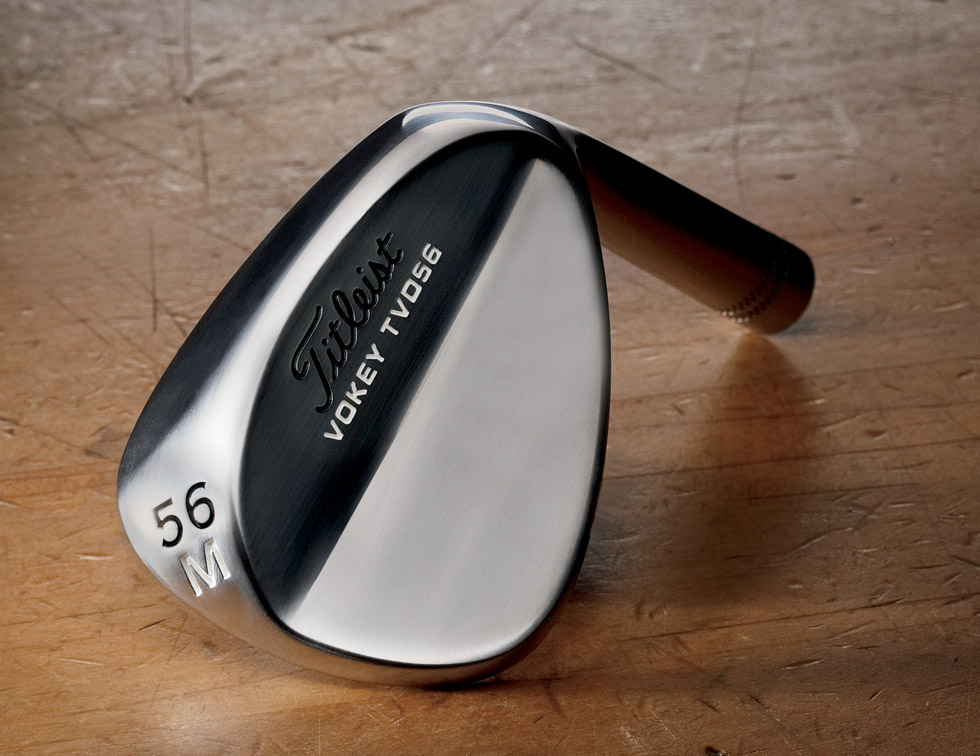 As many know, there are a lot more to Vokey wedges than just looks, and these are no different. The crescent shape and moderate camber of the TVD sole is a major factor in making the new Exclusive a very versatile club in a number of different situations.
Bob Vokey built his reputation on providing golfers the best short game tools in the world to help them achieve the lowest scores. The new WedgeWorks Exclusives provide golfers a Tour-inspired and Tour-validated Vokey TVD Spin Milled wedge with all of the custom options usually reserved for the best players in the world."

Steve Pelisek, General Manager, Titleist Golf Clubs
A number of shafts are available, including True Temper's venerable Dynamic Gold, as well as their Tour Issue, Project X, and the KBS Tour, which comes in both steel and black nickel. As I mentioned before, the shaft can be dressed up with custom WedgeWorks shaft bands.
Of course, no custom club would be complete without wrapping it up with your favorite grip. That's why they're offering BV grips in a wide variety of colors and textures, ranging from the New Decade Multi-Compound to the full cord Tour Velvet, and many others in between. These BV custom grips are only available via WedgeWorks.
The stamping options guarantee that no two wedges will be alike. There are three different styles (straight, freestyle, snow) in which you can arrange up to eight characters. Then you have 20 different colors with which to paintfill those characters. There are also 40 different toe engraving combinations, further adding to the already mind-blowing number of options.
Starting this Thursday, you can jump on Vokey.com and customize away! Base price prior to any personalization is set at $150. According to Golf Digest, an extra $25 buys you a personal grip and four stamped characters, while the full package of eight characters, toe stamping, paintfill, shaft band, and custom grip will run you $50 extra, or $200 total.
Cobra Baffler Rail

A little over a month ago, Cobra – fresh off their acquisition by Puma – announced the release of the latest addition to their Baffler lineup in the form of a new fairway wood. Though the Baffler line has roots that go back 35 years, the new Baffler Rail woods have made tremendous technological strides since being re-introduced in 2004.
The Baffler Rail maintains an advanced appearance that is composed of a 17-4 steel clubhead and thin 465 maraging steel face that was designed for maximum ball speed, distance, and forgiveness. The high MOI and low, deep center of gravity comes from the low profile head and shallow, yet stretched out face. Also noteworthy is the use of Cobra's sweet spot expanding 9 Point Face Technology, which is found on their latest drivers as well.
The name "Baffler Rail" refers directly to the four-way rail design of the sole, which promotes effortless movement through the turf. The result is a greater amount control and crisper, uninhibited contact, leading to improved distances off the short grass.
Baffler hybrids have long been known for their exceptional forgiveness, control and versatility. Our R&D team applied technology from our hybrid series to create the high performance Baffler Rail Fairway. This entirely new line will appeal to golfers looking for more forgiveness and control in their long approach shots – as the Baffler Rail Fairway is the highest launching, easiest to hit fairway wood we've ever produced.

Brian Zender, General Manager and SVP of Cobra-PUMA Golf
Of course what fairway wood would be complete without a great shaft. In the case of the Baffler Rail, the shaft of choice is the Fujikura Motore, and comes in three flavors – a Lite 55 gram, a R-flex 60 gram, and a S-flex 60 gram.
Three lofts are available as well, starting with the 15.5° 3/F. From there, it steps up to a 18° 5/F, and is rounded out with a 20° 7/F. Topping is all off is a Lamkin grip.
The ladies are in luck here also, as women's models are available. The lofts range from 18° to 22° and come equipped with the 50 gram, ladies flex Fujikura Baffler Rail F graphite shaft, which is wrapped up with a Golf Pride grip.
All models hit stores in June and are priced at $185.