Though TRUE linkswear opened for business back in October of 2010 (with the launch of the TRUE tour, reviewed here), in their first year of operation, they've gone through tremendous growth and grown into a leader in golf's minimalist movement, which even the bigger guys in the industry are starting to take part in. Though some may advertise a barefoot experience, the problem is that their shoes still come equipped with large-ish midsoles that elevate the player from the ground. TRUE however, can easily back that claim up by boasting the thinnest sole in golf, clocking in at a whopping 2.5mm, which as they say allows the player to truly "Feel the Course".

To give you a quick refresher on TRUE linkswear shoes, they took inspiration from the latest barefoot trend in running where many are moving away from highly engineered structure and support (like heavy heel cushioning and arch supports) and moving towards designs that relies more on the anatomical features of the foot itself. The thought behind all this is that nature's engineering is best and furthermore that a minimalist shoe lets the golfer's body stabilize itself while at the same time feeling the course like never before.
They followed the original TRUE tour with the stealth, a shoe created to be functional and stylish on and off the course. Now this year, they've added another much more sportier option in the form of the phx. Thing is, even though there are three models, they all include a common base set of qualities.Among the features found only on all TRUE footwear are:
Total weight of only 11 ounces (one of lightest on PGA Tour)
TRUE's Barefoot Platform, including the wide toe box that allows the toes to function naturally through the swing and ultimately promotes good weight transfer, balance, and stability
TRUE's proprietary ErgoTraction 2.0 outsole that's made of a new rubber compound and measures at only 2.5mm thick (which stands as the thinnest sole in golf)
Memory Foam in the heel and fitted sock liner which combine for incredible comfort at all times
We are very excited about the breadth of our 2012 offerings. The addition of the phx will open up an entire market of customers to us, while the updates to the tour and the stealth have been very well received by buyers. We can't wait to let customers put them on their feet in Orlando.

Rob Rigg, Co-Founder and President of TRUE
While all company employees are required to play 18 holes per week, one employee, the other co-founder in particular, plays for a living on the PGA Tour. That other co-founder is none other than Ryan Moore, and he had this to say:
The feedback I get from players and fans out on the Tour about TRUE has been remarkable. Personally, I've never been more comfortable on the golf course, and I think it reflected in my play last year. The interest in the shoes is only growing, and the new options we have coming out makes me even more thrilled to be associated with TRUE.

Ryan Moore, PGA TOUR player and Co-Founder of TRUE
TRUE phx
TRUE's newest addition to the family, the phx, is their first shoe with a sneaker profile and also marks another first for the company – it's the first shoe from TRUE linkswear to be offered for less than $100. Coming in six different colorways, the phx gives the player the comfort and barefoot traction offered in other TRUE models in a sneaker-like package.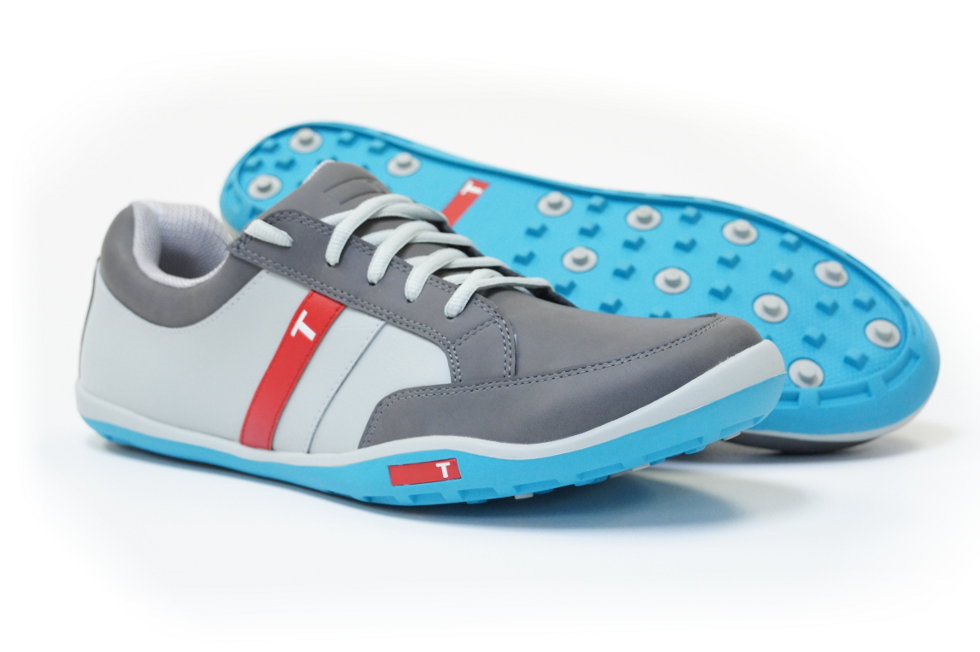 TRUE tour
This one is the original – a modern, yet traditional saddle style shoe that was first worn by PGA Tour player and TRUE co-founder Ryan Moore. Updated for 2012, the newest iteration of the TRUE tour sports a cleaner profile and some aesthetic enhancements. Also new for this year is a better lacing system, an improvement in the quality of the leather, and a 3D performance mesh sock liner. The Ergo-Traction 2.0 outsole is also a key component of both the looks and performance of the TRUE tour. For the initial offering, there will be six color options available including white/green (offered previously only in limited quantities before The Masters), white/black, white/brown, black/white, black/black, and charcoal.grey/electric blue. The updated TRUE tour ships on 1/30/12 with a price tag of $149.99.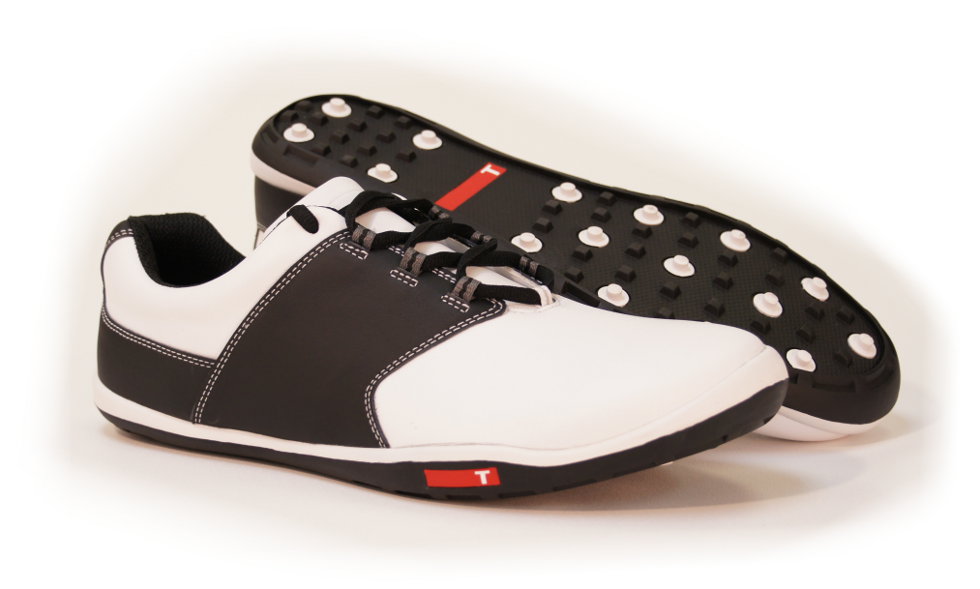 TRUE stealth
The appropriately named stealth successfully performs well on the course while also hiding itself (as a golf shoe) off the course. Though this isn't a review, I can absolutely attest to not only how comfortable the stealth is, but also how well it blends in and looks like a normal leather shoe. The stealth is made of distressed premium leather and sports a cap toe. The updated 20102 stealth features a cleaner profile along with enhanced aesthetics, improved leather quality and a leather sock liner. TRUE's Ergo-Traction 2.0 outsole also serves dual purposes: it cleans up the side profile and top view while ensuring maximum performance and stylistic versatility on and off the course. There are three color combinations to choose from, consisting of white/mud (new color for 2012), black/mud, and brown/mud. The price remains the same as last year, with MSRP set at $199.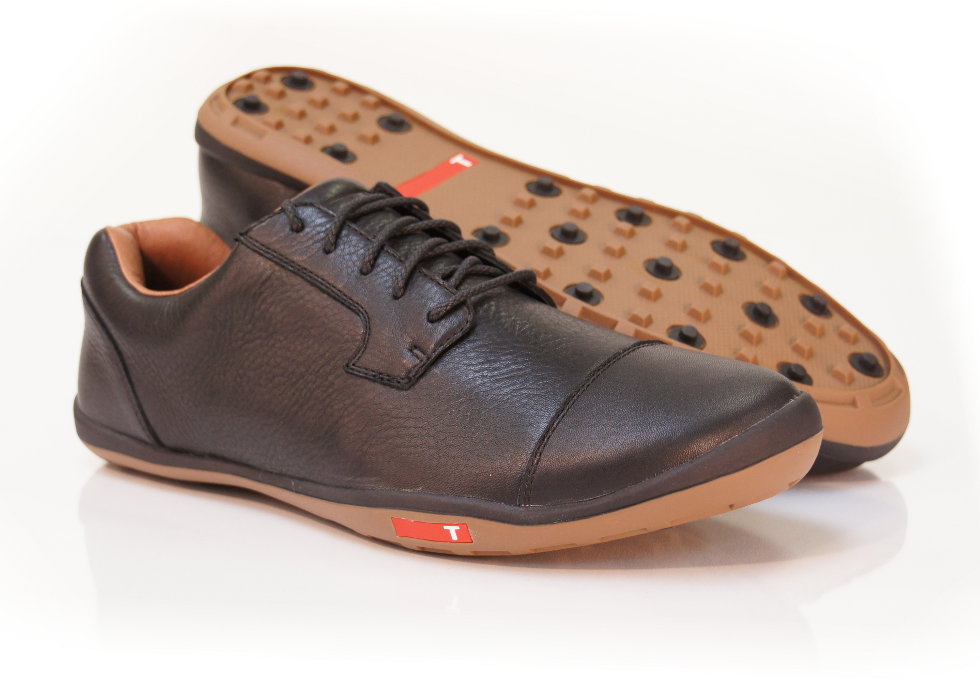 All models can of course be ordered at TRUE's website, as well as a number of national retailers including Golf Town, Golfsmith, PGA Superstore, and Edwin Watts.