It seems like every week details on at least one new, drool-worthy piece of equipment makes its presence known to us "normal" golfers. This week is no exception, as we have two new wedge offerings to talk about.
The first is a limited edition release from Bob Vokey. The second is a new finish on a proven line of wedges from a clubmaker you might not have heard of yet – but which you will be happy to learn about.

Titleist Vokey 60-V
The first comes from master wedge maker Bob Vokey. He has made available, in limited release albeit, the Spin Milled 60-V. This is the same wedge used by Zach Johnson, the same Zach Johnson that is currently third on the FedExCup points list, and has seven top-10 finishes this year. Now, Titleist and Bob Vokey want to give 250 of us the chance to own the same wedge.
The cosmetic differences between Vokey's current offerings and the Spin Milled 60-V will be almost immediately identifiable starting with the finish. The 60-V has an all-black appearance dubbed "black ion." The finish appears similar to the current black nickel offering, but with a flatter, somewhat more "satin-y" or deeper matte finish, which will further help reduce glare. The head also features different stamping than the Spin Milled and 200 Series wedges.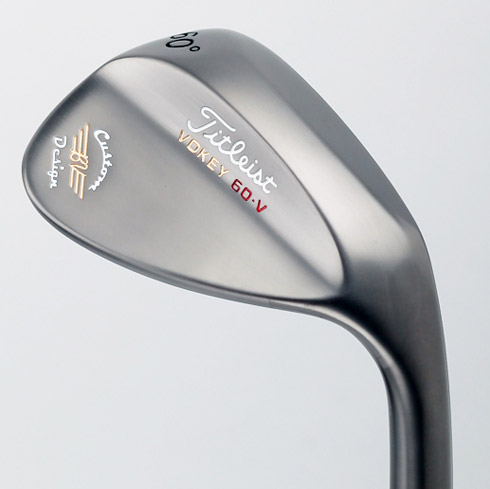 The key feature of the 60-V is the "V grind" sole. The V grind provides quite a few advantages. First, when set up square, the relieved sole allows the wedge to slide under the ball without excessive digging, while also providing the versatility to open the face up easily without adding a lot of bounce.
In order to complement the black ion head, Bob Vokey has chosen to pair the head with the KBS Tour Black Nickel steel shaft. The appearance wasn't the only reason for this shaft, as it also features wedge-specific progressive weighting, which adds to the stability of the club. Of course the color of the shaft continues the concept of reducing glare, so that the player can concentrate at the shot at hand, not the sun reflecting in his or her eyes.
As for the grooves, they're the current standard Spin Milled variety grooves: non-conforming as of January 1, 2010 for professional golfers. Don't be misled by the "V" in the name – that refers to the sole grind and not the groove shape.
And finally, if you're a lefty, I apologize. Unless you're a collector, this wedge isn't going to do much for you. The 60-V was made available today (August 24, 2009) for righties only. In fact, you're limited to only one loft (60°) and bounce (20° measured, 10° effective) combo. It comes in at 35″ long with a lie angle of 64° and a swing weight at D5. As previously mentioned, the 60-V also uses Spin Milled technology, which helps to impart spin by creating grooves that have a tighter edge radius and steeper draft angle, giving the player the ability to stop the ball on a dime. Along with the Limited Release title comes the limited release price tag. The Spin Milled 60-V sells for $225.
EIDOLON Prime Wedges
Also in the wedge market, EIDOLON has made another finish available for their V-SOLE line of wedges. The finish, which they are calling "PRIME," adds another option to their already highly customizable wedge line.
If you're unfamiliar with EIDOLON Golf, you might want to check these guys out. They're not exactly a newcomer to the market when you consider that President/Founder Terry Koehler has been in the industry for 30 years. He's a former Director of Marketing for Ben Hogan, founder of Reid Lockhart Golf, and President of Reid Lockhart/Ray Cook.
First and foremost, the concept behind the V-SOLE concept is a varying bounce angle, with the leading ¼" of the sole having a steeper bounce angle, and then tapering off to a less aggressive angle, which creates a V shape in the sole of the wedge. The V-SOLE line also features CNC-milled faces and grooves, made of 8620 soft carbon steel. This allows the loft and lie adjustments to be made if needed.
The PRIME wedges differ from the other V-SOLE wedges in that they are the first EIDOLON has offered with a raw finish. They are dipped in hot oil, and left with their natural bronze color. This finish, or lack thereof, leads to a glare-free appearance which, for those that like it, can lead to a rusted or at least oxidized appearance.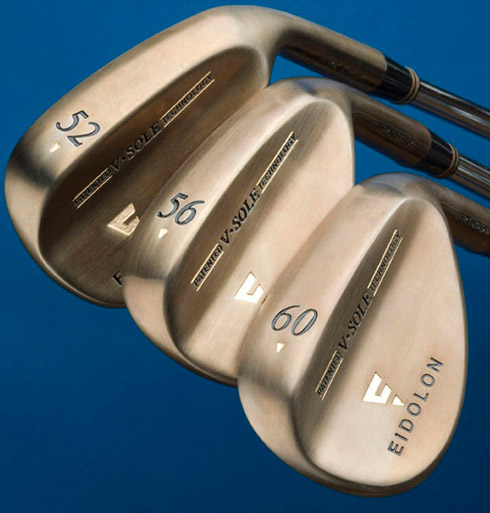 You'll have the choice of two different shafts – the graphite EIDOLON SCoR, and the steel Rifle Spinner – both available in firm or regular flex so that no swing speed is left without an option. EIDOLON recommends the graphite shaft if you use graphite for your irons, and steel if your irons have steel shafts. Most golfers will get the best results with the firm flex, but the regular flex remains an option if you feel it better suits your swing.
Again, the question of conforming grooves probably comes to mind. Since EIDOLON doesn't explicitly state that these wedges conform to the new regulations, it is assumed that they don't. Again, remember that the mass majority of you reading this will be able to safely play these wedges for quite a number of years to come. If you plan on playing any PGA Tour or high-level USGA-sanctioned events, you might want to get your time in with these before January 1st.
EIDOLON offers their entire V-SOLE line in a number of different lofts, ranging from 48° up to 60°, and they custom build each order. Custom length, lie, or loft alterations can be done at no additional cost.
Availability is limited at this point, with some pre-production PRIME models available in 52°, 56°, and 60° lofts, at $139 each. Once again, lefties are left out in the cold, but only for a little while. If you're in the market for more than one wedge, you will get discounts for buying a matched pair or a full set. You might be saying to yourself that at $139, these wedges are a little pricey but consider the fact that EIDOLON custom builds every order and they also include receive a copy of "The SCoR Method – A Simple Way to Achieve Precision in Your Shotmaking". EIDOLON also offers to buy you any other wedge of your choice (of equal or lesser value), if the V-SOLE doesn't work out to be all they claim it is. That's a pretty amazing guarantee, if you ask me, especially for a smaller company. That tells me they're extremely confident in their product, and it's not just a gimmick.
Final Thoughts
EIDOLON refers to their wedges as "scoring tools" and these new PRIME wedges are no different. The V-SOLE makes these wedges a very versatile choice, and may help add some shots to your arsenal that you may not have had before. If you're happy with your current wedges, then by all means, stick with what works for you, but if you are in the market for a new wedge, these are definitely worth consideration, especially if the raw finish fits your eye.
The Titleist Vokey Spin Milled 60-V offers a sole similar to the V-SOLE, although for the higher price that a limited edition release commands. Bob Vokey's past wedges speak for themselves, and I'd expect the 60-V to be no different. I personally prefer black, and hope to see the 60-V's finish make it to the retail line sometime soon. Hey, a guy can dream, right? Those 250 wedges are likely spoken for already, but I think the combination of the black ion finish, and the black steel shaft is very interesting, and I wouldn't be surprised to see that trend continue in other lines of clubs.
Still, one thing sticks in my mind – why aren't most of the companies releasing wedges which conform to the 2010 rule for pros yet? Titleist will introduce conforming Vokey wedges November 1, but we haven't heard much from other companies.