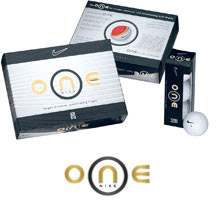 According to GolfWorld, Nike is asking their staff players to use an all-black golf ball at the Sony Open to promote the Nike ONE Black.
This comes on heels of the rumor that all Nike golf balls – from the ONE to the Mojo and TA lines – will be packaged differently in 2005. The rumor says that Nike golf ball 12-packs will ship with 11 regular white balls and one differently colored ball. In the Mojo line, the ball may be orange (see below) and called the "Karma" ball. In the ONE Black line, it will be black.
Here's to hoping that Nike never develops the Nike ONE Blue, because, well, that'd just be unfortunate.