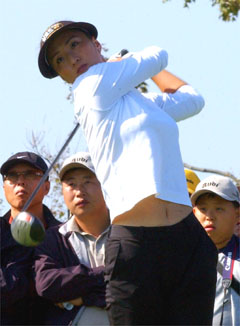 South Korean native Grace Park shot a 7-under par 65 on Sunday to win the CJ Nine Bridges Classic by five strokes. Coming off a final-round collapse two weeks ago, Park closed this one in style, saying "I can't describe my happiness with words."
Park, who described her play as "really good today," and her eight birdies in the final round helped her to repel the likes of Annika Sorenstam, who beat her two weeks ago at the Samsung. Sorenstam carded a 67 to finish in a tie for second with fellow Swede Carin Koch at 200. Defending champion Ahn Shi-hyun shared fourth place with Lorena Ochoa and Jeong Jang, six strokes off the pace.
This tournament was conducted at Jeju Island, South Korea. Stops on next year's LPGA Tour include Mexico, Canada, and South Korea as well.