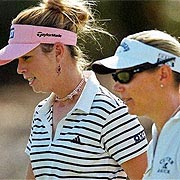 There were two reasons why Annika Sorenstam played golf at the World Cup this week. Not only was she intent upon winning her first tournament of the new year but she also had an announcement of grand proportions.
Sorenstam wasn't the only LPGA golfer to create a buzz in South Africa although her news was directly related to this small country. The number-two player in the world created headlines of her own.
Paula Creamer is now playing golf with a Precept ball. Her intent? "Everything I do, I do with the goal in mind of becoming the number-one ranked women's player in the world."
The problem is that nobody told this to Annika as she soundly trounced Team USA.
Continue reading "Sorenstam and Creamer Create Buzz in South Africa"