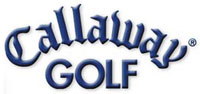 My annual trek to Orlando included a round of golf with the good folks from Callaway Golf, giving me a chance to try some of the company's new clubs and balls. While the really new stuff — like either of the prototype Fusion drivers being tested on tour, or the softer prototype HX Tour ball that Phil Mickelson is playing — stayed under wraps, there was still a wide berth of Berthas to put through their paces. Here's one hacker's opinion on Callaway's latest products to hit the market, based on a morning of scramble golf.

Big Bertha Ti 454
Hard to believe it took the maker of the Biggest Big Bertha this long to finally make what is really the biggest Big Bertha ever (or yet). Is it better late than never? The good news for Callaway driver fans is that this is a solid driver at a good price. Current street price is $299, and the BB454 will hang with anything in that range. The 10° model I used set up square and looked big without being grotesque. The dark grey head takes me back to my beloved old Great Big Bertha, though I miss the old unpainted clubheads with just a couple clear coats on them. Performance-wise, the club is solid. Longer and louder than the more expensive ERC Fusion driver, if not quite as accurate. The stock firm shaft wasn't objectionable, but there are plenty of custom options available from the factory. Other than the size, the BB454 doesn't break any new ground, but it delivers on the post-millennium Big Bertha branding of performance with value. David Mobley used it to win the World Long Drive Championships last fall, and it is getting some serious tour play. Worth a try.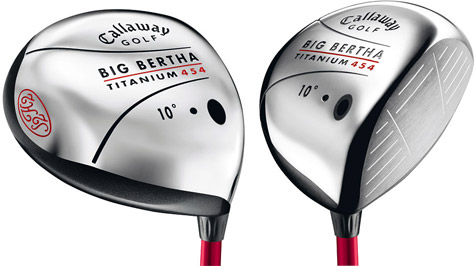 X-Tour Irons
Forged irons? From Callaway? Next thing you know, Ping will make a blade. Oh, wait… At any rate, Callaway's first foray into forged irons in many, many moons (they made some pre-Big Bertha) is a bold statement. Roger Cleveland's design fingerprints are all over these clubs. At address, the club is graceful with a fairly thin topline and a traditoinal ferrule (the plastic sleeve at the top of the hosel). The club is still beefy when viewed from behind, but in a muscular way. The sole grind gives relief on the back of the sole to minimize turf contact. The wedges felt great and put plenty of tour sauce on the ball. These will be big winners with the Titleist/Cleveland "serious players" if they're willing to give Callaway a chance. With players like Mickelson and Charles Howell III using them, I'm thinking that has a good chance of happening. You'll be seeing a lot of these on TV this year.
X-18 Irons
Even the company admits these are evolution, not revolution. If you liked the X-16s and never got around to buying them, try these. Each iteration of the X-irons has gotten sleeker and better-looking, and the performance is strong. But if you didn't like Callaway irons before, these aren't the ones that are going to change your minds (those are the aforementioned X-Tours).
iTrax putter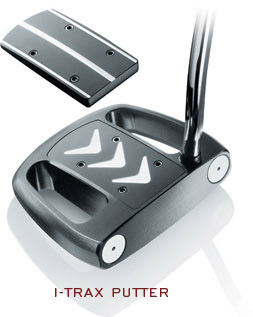 A bit of a surprise that Callaway is getting back into the putter game, what with sister company Odyssey going great guns. But on the heels of last year's Tour Blue tungsten-titanium putters comes the new iTrax. This is a big branding-iron type putter in the vein of the MacGregor-Bobby Grace mallets that Vijay Singh and others were using last year. The head is an attractive black milled aluminum with three fixed weights, one on the sole and one at either end of the putter's face. The iTrax trick is a removable plate atop the putter that allows you to switch from three bold white lines to three big white chevrons for alignment. I preferred the lines, and made a few long putts. Putters are pure personal preference. If you're in the market for a son-of-2-Ball big mallet, this is worth a look.
HX Hot
A pleasant surprise. This is a 3-piece ball, but with a surlyn cover instead of urethane. I'm surprised more companies don't have ball products like this, unabashedly in between the top of the line and the distance rocks. The HX Hot was, well, hot off the driver. But it felt good off the irons and behaved well around the greens. For $25 a dozen, I haven't played a better ball. If you're single digits and like to put plenty of sauce on your approach shots, you're probably not looking at these anyway. If you're in the other 95 percent of the golfing public, you should buy a sleeve of these and give them a tryout.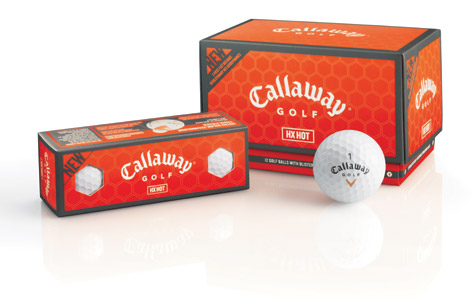 Heavenwood Hybrids
These were released last year, but this was my first chance to hit them. Let's just say I wasn't sad to leave these behind. They just didn't suit my eye, and my results varied widely. These seem a step behind other hybrids, like the Sonartec MD or TaylorMade Rescue.
Fusion Irons
Another mid-season entry from last year. This is Callaway's standard-bearer in the high-tech iron category. There's nothing else like them: a titanium face married to a heavy alloy body with a shock-dampening inner section. In the bag, they look very busy. At address, they look sweet. And they feel great on every shot, no matter how bad you hit it. If you value feedback, you'll want to try the X-Tours. The Fusion irons are like a Cadillac: big, brawny and plush. But if you're looking for Porsche performance, X-Tour irons are the ride for you.
That's the lineup from Callaway as it tries to mount a comeback in 2005. If the coming new HX Tour and Fusion driver products live up to their promise, and if Phil Mickelson and Annika Sorenstam have interesting years, then the future will be looking up for the once undisputed #1 equipment company in golf.
Photo Credits: © Callaway Golf.