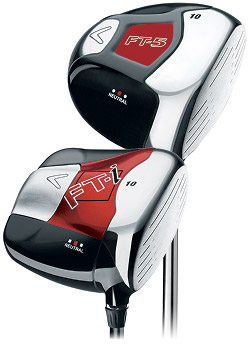 A pair of new drivers from Callaway Golf hit golf shops earlier this spring. Though they share the company's Fusion multimaterial technology, the two 460cc big sticks couldn't be much more different.
The FT-5 is a refined, evolutionary update to the FT-3 driver from mid-2005. Meanwhile, the FT-i (the i is for inertia) is something completely different, sporting the aggressively odd square shape that has, along with the Nike Sumo2 and Nickent's 3DX Square, drawn so much attention to square-shaped drivers this year. The differences are more than cosmetic, as each driver will appeal to a certain type of player.
Read on to see which one might be best for you.