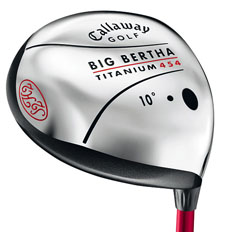 Callaway Golf rushed into the holiday season this year by bringing out all kinds of new stuff. First off, as previously noted, the Big Bertha© Titanium 454 Driver (right) has already made a splash by winning the Re/Max World Long Drive Championship televised earlier today. Sticking to the Callaway's Big Bertha maxim of "when properly engineered, Bigger is Better", the 454 Driver (that's 454cc) is Callaway's largest driver to date, yet by using subtle design curves, gives a surprisingly compact look at address. It is designed to reach the maximum allowable level for springlike effect as measured by the USGA's new characteristic time (CT) test, and conforms to all USGA Rules.
That may be some good press release rhetoric, but I'm quite anxious to get this puppy on to the driving range.
The next stop on the product tour is the iron department.


The next generation of X-series irons, a long time favorite of a broad spectrum of golfers, is predictably called the X-18s. The irons carry the standard Callaway technologies: Extreme Notch Weighting, S2H2® (Short Straight Hollow Hosel), Tru-Bore® Technology, which extends the shaft tip completely through the clubhead to the sole for greater feel and superior control and VFT® (Variable Face Thickness) face design technology which allows Callaway Golf to raise or lower the center of gravity for optimum trajectory with each iron in the set resulting in a higher launch angle in the long irons and better trajectory height control in the short irons and wedges.
Both the driver and irons will ship to retailers beginning January 1, 2005.