Adams Golf has become known primarily for their presence on the Champions Tour and for making some of the most forgiving irons and hybrids in the game.
More recently they've leveraged their success in hybrids to pioneer integrated hybrid/iron sets as we wrote about here. That they're the leading hybrid brand on the combined PGA, Champions, and Nationwide Tours is extraordinary given their limited professional endorsements.
Given this background, I was somewhat surprised last fall when at a press gathering I was introduced to and hit their new forged iron, a true player's cavity back blade. I was impressed. That's why when the chance came to do a full review of these clubs I jumped at it. Here's what I found out…

The Concept
Chip Brewer, the president of Adams Golf, is committed to creating sets that integrate hybrids with irons, as he believes hybrids have real advantages over long irons in playability and versatility. I agree.
While the concept first showed up in game-improvement sets aimed at seniors and slower swingers, with the Idea Pro Forged Irons Adams is clearly trying to bring the better player into the fold. Given that even touring professionals are finally coming around to hybrids, that makes a lot of sense.
Many good players embrace the advantages of hybrids as long iron replacements. At the same time, they still would like the workability and feel of forged blades in their mid- and short-irons. And that's just what this set of irons is all about.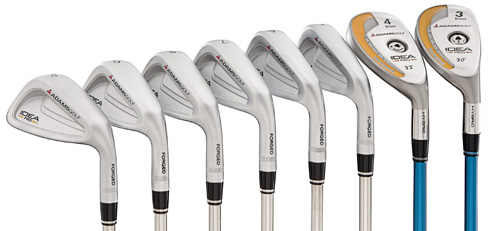 In its standard configuration, the set combines 3- and 4-Idea Pro hybrids with Idea Pro forged irons 5-PW. The Sand Trap's Jeff Smith wrote an extensive review of the hybrids, so I won't attempt to duplicate his efforts here, despite some occasional references. But I will say these extremely popular hybrids are a perfect match for these irons.
Design and Construction
To be honest, I found it quite interesting that a company so known for game improvement clubs has done such a good job coming up with their first player's forged iron. Michael Guerrette, Adams senior design engineer, and his team have done an exceptional job producing what looks like a pure players club, but which retains touches of welcome forgiveness.
The heads are forged of very soft 8620 carbon steel and then plated with a satin finish. The top line is thin, the leading edge straight, and the progressive offset through the set minimal… just what most better players are looking for.
The irons have a fairly shallow cavity back design but, at the same time, a comparatively low center of gravity and high moment of inertia compared to many forged blades. You can see hints of this inherent design feature in the soles of the irons that gradually broaden as you move from the mid irons to the short irons.
To my eye, they are slightly scaled up in size from the forged irons I grew up with in the 60s and 70s. But, understand, the forgiveness is relative. These are not your father's Callaway shovels.
All this speaks to the origins of the design. Adams Golf staffers Tom Watson, Bubba Dickerson, and others had been playing custom forged Adams irons. Using those clubs as a starting point, Adams designers and engineers tweaked weight placement and shape slightly to increase playability for a broader spectrum of serious golfers. As I'll discuss later, they succeeded.
The stock steel shaft is a relatively new model from True Temper. The Black Gold shaft comes with a unique "gold nickel" plating process that gives it just the slightest gold tinge. Nothing weird, just subtle like the rest of the club's design. I actually spotted one on TV recently in the hands of Steve Stricker. It's definitely a premium shaft just as is the Aldila VS Proto shaft in the hybrids.
The Black Gold is a stepless design patterned in specification and performance on the Project X shaft. It's not a lightweight shaft by any means. In my experience the performance and feel was remarkably consistent throughout the set.
Of note is that the shafts are .355″ taper-tipped models. As I noted in a recent Bag Drop, I believe taper-tipped shafts are superior to parallel tipped, or unitized, shafts both in feel and performance. Once again Adams proves they were serious about producing a club for serious players.
The Golf Pride Tour Velvet grip seems to have become the most popular among better players and that's the stock grip found on the Idea Pro irons. As evidence of Adams' attention to detail, their logo on the grips is positioned on the bottom, just like you see on TV with tour players. Understated coolness.
Esthetics
These are simply beautiful clubs. The satin finish is completely non-glare. All the edges are gracefully curved. I really like how the face is devoid of extraneous stamping or paint fill and displays just a hint of frosting over the grooves. In the playing position you're presented with a simple, clean look that makes lining up your shot with the straight leading edge and grooves simple.
I'm also partial to the shape of the irons. They're basically squared-toed but with enough radius to the corners to be exceptionally pleasing, at least to my eye. According to what I've learned, the most difficult iron to design is the 8-iron as it is the transition club from the shape of the mid irons to that of the short irons and wedges. The Idea Pro 8-iron is one of the best I've ever seen in that it makes the visual transition from 7-iron to 9-iron seamlessly. It's a great, great design.
I also like other, more minor things about the looks. I like that the Adams and Idea Pro logos are small and understated. So too is the design of the forged cavity which has been finished with a soft-to-the-touch silver paint. The knurling on the hosel is simple and old school. Even the engraved iron numbers, positioned toward the toe where they are subject to less dirt and wear, are unfussy and minimalist.
Playability
Beauty is as beauty does. So are these beautiful irons as good as they look? Yes. If you can do it with your swing, so can these clubs. Knockdowns, fades, draws, cuts, are all within their repertoire… if those shots are within yours.
The feel on a center hit can only be described as solid, rewarding, and a visceral trip. While perhaps not as butter-soft as Mizuno MP14s I once played, it is still clearly the feel of a forged clubhead. There is not a sweeter feeling left in golf today.
And that brings up a personal opinion of mine about forged players clubs. Playing them with a modicum of skill and a reasonably repeatable swing, I believe you learn to hit the sweet spot consistently in time. And, in that respect, perhaps they are game improvement clubs after all.
Years ago when irons were still pretty crude, people noticed that the best players, like Ben Hogan, wore out a small spot on the face skewed toward the heel. They thought this was some sort of secret impact location so they tried to emulate that strike point. Turns out, the irons weren't well designed. The spot toward the heel lay in line with a misplaced center of gravity. The pros were just good enough to find the sweet spot on their own.
I tested the 4-PW in a stiff shaft that was delivered in my specs (½" long, 2° upright). Accompanying them in my bag were three of the Idea Pro hybrids in 18°, 20°, and 23° versions, two of which I've been playing with since last fall.
Essentially, then, I had a chance to compare the 4-iron to the 4-hybrid. Both have their merits, but for me and my swing, the 4-hybrid won out. I could hit it higher, a touch further, and it quickly became my trouble club out of rough. But then again, I'm probably on the lower end of clubhead speed for these clubs.
Just so you can relate to what I'm about to write, I came to these clubs fresh off an extended period with Srixon 506 forged irons that I gave up on and before returning to some trusty Callaway X-16 pro series irons that had been reshafted with moderately light Nippon shafts.
I could never adjust to the (to me) odd look of the Srixon's and their playing propensity to be "digger" clubs. Add to that I've been somewhat hampered by a bad back this season and seriously auditioning new irons was a challenge.
I had my trepidations. The shafts were a good deal heavier than I had been accustomed to playing the last few seasons. The narrow topline and sole of these clubs harkened back to days when I was a lot stronger player.
Still, I gave them a go. Gosh, I'm glad I did. Once I got a little healthier, I picked up a full club in distance with my irons. I don't know why. I should know, but I don't. They just worked. Golf clubs are like that sometimes. In the process I regained a lot of touch and the ability to once again work the ball a little. Marvelous.
Here's my bottom line judgment: they are more forgiving than most forged clubs I've hit recently, while at the same time not giving up any workability. Against my Callaway X-16 Pro irons, I'd say I gave up less than a ¼" margin of error on either side of the sweet spot.
I don't know the precise camber or bounce of the sole on these irons, but I do know that I now produce shallow and consistently even divots on my iron shots. That's a very good sign.
Still, be warned. Don't be going hitting these devils thin. They are not shovels that will bail you out from a real mis-hit. But I believe these are the kind of clubs that teach you through feel to avoid that kind of blunder.
Specifications
When you look at the specifications for these clubs, you can see how Adams has skewed them slightly toward their overall bias toward game improvement clubs. Check out the lofts. They're a touch stronger than you'll find on some players clubs. For instance, the pitching wedge at 46° is a couple of degrees stronger than a few player's clubs.
Still, the lofts aren't out of range. The short irons are the same lofts as the Callaway X-20 Tour irons and only 1° stronger than Mizuno MP-60s.
Club      Loft    Length     Lie     Swing Weight
----      ----    ------     ---     ------------
3-hybrid   20°    39.75"     59.5°       D2
4-hybrid   23°    39"        60°         D2
5-iron     26°    38.25"     60.5°       D2
6-iron     30°    37.5"      61°         D2
7-iron     34°    37"        61.5°       D2
8-iron     38°    36.5"      62°         D2
9-iron     42°    36"        62.5°       D2
PW         46°    35.5"      63°         D2
Options
Good players are generally very picky about their equipment. And, with this line of irons, Adams Golf tries hard to please with a lot of different set makeup possibilities.
Don't want the 4-hybrid or 4-iron? Then you might choose to add the optional TriTech 4-iron. With its forged stainless steel face, 30-gram tungsten sole weight, and a thermal plastic urethane vibration dampener, it's extremely forgiving without losing the look of an iron.
The Idea Pro hybrids are available in five models with lofts ranging from 16° (1-iron) to 26° (5-iron). There's also a 50.5° gap wedge with 8° of bounce, a 55° sand wedge with 10° bounce, and a 60° lob wedge with 8° bounce.
The irons are also available in graphite. The stock graphite shaft is a Graphite Design GAT 95 model. Still, special orders through the Adams Custom Department can get you just about any major brand: True Temper, Rifle, Nippon, etc.
Price and Availability
The irons and hybrids are available in right and left handed versions, although the 5-hybrid is right hand only.
The suggested retail price for the 8-piece set is $1,099 for graphite and $899 for steel. The suggested retail price for the individual TriTech 4-iron and optional wedges is $149 for graphite and $119 for steel. Our friends over at Edwin Watts have the 8-piece set available in steel for $799.99.
Conclusions and Recommendations
Here's what I think: if you're a 0-8 handicapper, you know what you like and can pick out clubs for yourself. But when you choose, I think the Idea Pro irons and hybrids should be among the options you consider. Definitely, definitely check these out.
If you're an 8-12 handicapper and interested in delving into forged irons, these clubs may be the perfect place to start looking. I think most amateurs in this handicap range have the capability to hit the 6-iron on down without heavy game improvement features. You might want to think about a custom set with a 26° Idea Pro hybrid to replace your 5-iron.
Dana Quigley of the Champions Tour has done something similar and he's made quite a few bucks going that route. Breaking 80 regularly may be possible for you with such a strategy. Give it some thought.
As you can guess by now, I'm a big fan of these irons.