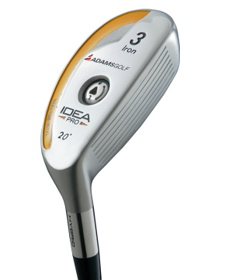 The Adams Idea Pro hybrids follow in the footsteps of the popular Adams utility family. The difference here is that Adams is, with the advent of the Idea Pro hybrids continuing their foray into club-building for the player's market.
They have been very well received on the PGA, Champions, and Nationwide Tours. Trevor Immelman won the Western Open with an 18° Idea Pro in his bag, John Rollins won the B.C. Open using an Idea Pro hybrid, Jason Wagner won the Nationwide's Cox Classic with an Idea Pro, Kevin Stadler used one to win the Nationwide's Xerox Classic, and Allen Doyle used one to win his second consecutive U.S. Senior Open Championship. This club has become very popular in a short amount of time.
Adams spent a considerable amount of time and effort getting this club in play on Tour prior to its September release so it will have been well tested before it makes its way into your hands.

Design and Technology
According to the press release, the Adams Idea Pro is "a sleek combination of aesthetics and high-performance elements crafted for accomplished golfers." Adams wanted to create a club that would meet the needs of better amateurs and professionals.
Pull-face construction and a low custom-steel face promote low spin and increased ball-speed. The club's center of gravity has been optimized for ball speed and low spin. The forward positioned and adjustable weight screw promotes lower spin while allowing for swing-weighting and shaft adjustment.
The Adams Idea Pro comes in loft offerings of 16°, 18°, 20°, 23°, and 26°, enough to meet a wide range of needs. All lofts are available right or left handed. Stock offerings include an Aldila VS 80-gram graphite shaft and Golf Pride Tour Velvet grips.
Looks and Setup
This is a great looking club. At address Adams has created a unique and identifiable look with a black composite top married to a silver chassis. While I'm a fan of a simple paint job this one is easy to get used to and doesn't make it difficult to line up for a safe tee or long approach shot.
Maybe I don't get out much but I don't remember seeing less offset in a hybrid. The lack of offset looks great and will inspire confidence in players who don't want performance enhancing technology messing with their finely crafted swing.
Turn this club upside down and the first you'll notice an interchangeable screw for adjusting swingweight. This is a great idea for post-purchase customization. It comes factory set to a D2. Styling is bold with a loud yellow/gold bar along the back.
The boxy face has tradition written all over it. If there's a selling point for this hybrid it's the face. I love the boxy and iron-like appearance. For some reason the look gave me a considerable amount of confidence.
Overall, this club has technology under control. I liked the fact that Adams Golf stamped a simple loft° instead of choosing the more cryptic iron numbers. Its easier to identify which club you need without doing research on loft.
Performance
Adams has produced a club that performs well in many conditions. Off the tee it does what you expect. The 20° club I tested was great at getting the ball in play off the tee. There is something pretty special about having a club that will perform when you need it to.
This hybrid does a great job off the tee as it should. It's a reliable go-to club when hitting the fairway is important or when there's trouble a three-wood away.
Off the fairway the Idea Pro is a gem. There are few things as sweet as nipping the ball off the fairway with an Idea Pro fairway wood. Among them must be nipping a two-iron off the turf but I'm not Ben Hogan so the Idea Pro does the trick. It produces a solid ball-flight and distance off the fairway.
The Idea Pro does well out of the first cut and in a reasonable amount of rough. I felt that the compact profile worked to my advantage in the hay. It glides through the rough stuff well and advances the ball much better than a long-iron in a similar situation.

br>Aldila's VS Proto "By You" 80-gram shaft is a very stable shaft. It is a big improvement over the NV hybrid.
It is wonderful for punch shots, little touchy shots with unobstructed views to the green, and high or low full shots. It is a versatile club.
The lack of offset and stiffer shaft greatly reduces the chance of a hook. If you suffer from the lefts with game improvement or higher-flight shafting options this club may be for you. It is a no-nonsense club built for those who want their swing, not game improvement technology to do the talking.
Adams choice of the Aldila's VS Proto 'By You' is great stock shaft. It handles an aggressive swing better than the popular NV Hybrid and is a more stable grip to tip. Its easier to feel the clubhead during the swing and prevents offline shots resulting from an overpowered swing. While the NV gets the ball up quick and high the VS Proto produces a more piercing trajectory. The VS Proto fit my swing well and I highly recommended it for accuracy and stability.
The headcover is unique and functional. Magnets hold the back and front of the cover together. Its easy to get on and off and looks good.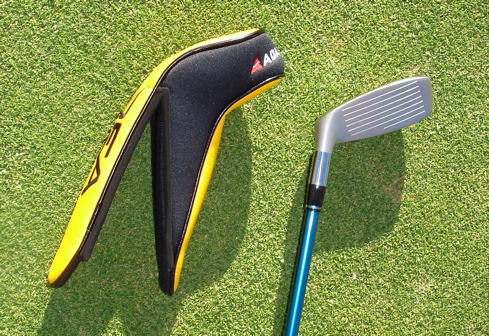 If bumble-bee yellow is your thing or you can never find your hybrid when you need it you'll appreciate the loud but functional headcover.
Feel
The Idea Pro feels solid at impact. It provides plenty of feedback without a dead, hollow, or springy feel I've gotten from other hybrids before.
It provides ample and solid feedback on a variety of shots. Whether you only use it for a full swing or for chipping as well you should be satisfied with the feel provided by the Idea Pro.
Married to the VS Proto shaft the Idea Pro hybrid produces a very solid and stable feel. Adams got the feel right and choosing a good shaft was a step in the right direction for feel.
Conclusion
While I wasn't sure I liked the look of the composite top at first it didn't take long for me to get used to it. The low-profile and efficient look of the Idea Pro hybrid is just about right. It handles a variety of turf conditions very well, holds up well during a swing thanks to the shafting, produces a piercing ball-flight, and provides ample and solid feel.
I suppose all thats left to do is highly recommend this little gem. At $199 retail it's a little more expensive than some other hybrids you may be looking at but it is a stand-out. If you like an iron-like players-hybrid this very well may be a club that will be the right one for your bag.