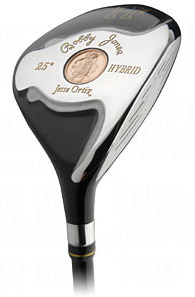 Anybody who watches the Golf Channel has seen the infomercial. I've seen it and I'm betting, since you're reading this review, a good portion of you have seen it as well. It's for the Bobby Jones hybrid by Jesse Ortiz.
Now I'm not the kind of guy who sits around watching infomercials. I'm also not the kind of guy who will believe the five minutes or so that I catch of one. That being said, if the Bobby Jones Golf Company hadn't promoted their hybrid as much as they did, I wouldn't have jumped at the chance to review a couple of them. I've been on the hybrid bandwagon since 2005 and haven't gotten off.
The Bobby Jones hybrid hasn't had a breakthrough in a tournament like the Sonartec in the 2004 British Open. What it has had is some of the highest rankings in the Golf Digest Hot List in the past couple years though. Are those high rankings deserved? Can we actually believe an infomercial? Is this club worthy of having Bobby Jones' name on it? Read on to find out.

Build and Technology
Jesse Ortiz has gone old-style with his build of the Bobby Jones hybrid. Instead of leaning towards a design that looks more like an iron, Ortiz went the other way. The Bobby Jones hybrids take more design elements and looks from fairway metal woods. This might be because Ortiz once owned and ran the Orlimar company and is known for his fairway wood designs.
Whatever the reason, Ortiz's hybrid design is much different than hybrids on the market. I currently own and use a TaylorMade Rescue Dual TP and have also had the Sonartec MD in my bag. Both have very flat and long leading edges that, as mentioned above, look like irons. The Bobby Jones hybrid, from the face, looks just like a fairway metal and has a deep leading edge. This design, according to Ortiz, takes advantage of a fairway metal's low center of gravity, its wide bodied triangle-of-stability (TOS), and its versatile contoured sole.
The length of the shafts in the Bobby Jones hybrids is a bit shorter to help with accuracy. A quick check against the TaylorMade shows that this is true for the 19° (40.25″ versus 40.5″ in the TM) but not in the 21° (40.25″ versus 40″ in the TM).
Look and Feel
I still think all hybrids have a bit of a strange look to them. When I first started using them, hybrids never really inspired confidence at setup. Now, after a couple years in the bag, I look for excuses to use my hybrid.
I received both a 19° and 21° hybrid to review. While they both have distinct looks, they are exactly as described on the Bobby Jones website. They are "a throwback to the old Cleek or Mashee." At setup, it feels like you've been taken back in time. I've picked up a few of those older, hickory-shafted clubs before and if the Bobby Jones hybrid was made of wood, it could be mistaken for one of the classics.
The bottom of the hybrids is also classic. It looks like something from the 1920s with a blend of the dark green clubhead, a polished steel plate, and a copper-looking insert stamped with the image of Bobby Jones himself.
Performance
When I evaluate a hybrid, I have in mind two main features or areas of interest. The first area is the long, high shot that my irons have never been able to execute.
I call it the 220 yard shot of death. You have all manner of disaster around the green and have to carry the ball 220 yards to the green. A 3-wood is too hot (and too much) and I can't carry a 2- or 3-iron that far. My low ball flight and lack of Tiger clubhead speed keeps me from carrying any iron longer than 210 and not screaming through the green. So did Jesse Ortiz design that type of club? I think so.
First off, these hybrids just feel easy to hit. From the first ball I could tell that the Bobby Jones hybrid was a solid club. Everyone talks about how a purely struck golf shot feels. More often than not, I could produce that feeling with the Bobby Jones hybrid. Even with what looks like a smaller face on the golf club, I rarely had a mis-hit.
As I said before, I received 19° and 21° hybrids to review. Also, I have a 21° TaylorMade Rescue Dual TP in my bag as well. I chose the TaylorMade because it has a higher launch angle than any other hybrid I tried – including the Sonartec. After hitting the first handful of balls with the 19° Bobby Jones, I got a very Sonartec-like feeling. Its flight was lower than the TaylorMade and even the Sonartec. I wasn't thrilled with the Sonartec's flight and the Bobby Jones 19° gave me the same feeling. It left me wanting a bit more lift.
The 19° may have been a little flat, but the 21° Bobby Jones was much better. It had a trajectory similar to my TaylorMade. In fact, probably it was probably a bit better. The TaylorMade has a tendency to float a bit. The Bobby Jones never floated once and bore through the air much better.
To compare the Bobby Jones and TaylorMade hybrids, I did a test for the shot of death. I hit a series of balls from about 225 out with all three clubs. As experienced before, my TaylorMade 19° TP would easily reach the green with a high ball flight. On occasion, the ball would float a bit and not bore as much as I would like. The 19° Bobby Jones didn't carry nearly as long as the TaylorMade. In fact, it would always come up short of the green and trickle on to the green. On the other hand, the 21° carried further – to the front of the green. There were some shots with the 21° that I carried as far as the TaylorMade. This was with a much better ball flight. The boring flight was much more consistent and predictable with the Bobby Jones.
The second area I like to review hybrids is in its "recueability" – which is the ability get you out of trouble. There are three rescue shots I like to run through with any hybrid. The first is out of some thick rough. Both of the Bobby Jones hybrids did a good job but I'd have to give a slight advantage to the 21° as the 19 wasn't able to get the ball up as easily. I think that this is certainly one area where that deep leading edge helps out. You can feel it digging down and getting to the bottom of the ball.
The next trouble area to test was the thin lie. Often times you'll find yourself on some dirt or very thin grass and needing to hit that long, high shot. I've never had a problem with the TaylorMade given its high launch angle. The 21° Bobby Jones hybrid also did a very good job. Again, the flight was consistent and the deep leading edge made it easy to get down at the ball and get it up in the air quick enough and not sacrifice too much distance.
Lastly, I always like to try out a few punch shots. Whether it is getting out of the trees or hitting some wind-cheaters, a reliable low shot is a great one to fall back on. Both Bobby Jones hybrids performed remarkably well. That consistent ball flight I've been talking about was key during testing. I could control my trajectory better with the Bobby Jones hybrids than I could with my TaylorMade.
The Bobby Jones hybrids can produce nearly every shot that you need it to. It's a versatile jack-of-all-clubs that didn't disappoint with its performance.
Options & Extras
19° and 21° models are not the only option for the Bobby Jones hybrids. They offer a 24° and 30° to replace the 4- and 5-irons as well. I found that the 21° traveled much further than my 3-iron, so if I were to make a replacement, I would consider the 24° instead.
As for shafts, all of the Bobby Jones hybrids come with a proprietary JS-6 or JS-7 shaft. I'm not sure what the difference is between the two, but the stiff JS-7 shaft that I received in both of my hybrids performed admirably. You can get the shaft in four different flexes: Senior, Regular, Stiff, X-Stiff.
The head cover provided is a retro, pom-pom looking, knitted sock. While I'm cool with going old-school, it isn't very functional. I nearly lost both at least twice because they don't stay on very well. I also don't think the headcovers will be very durable over the long haul. I think a club that looks as pretty as the Bobby Jones hybrid should be protected a little better than this.
Conclusion
I really was impressed by the Bobby Jones hybrid. I don't think that it really needs an infomercial to sell it. Just put your hands on one and it will sell itself to you.
The 19° might have had too low of a launch angle, but the 21° was more than adequate. I was surprised at how far I could hit it. I really never thought that any other hybrid could touch my TaylorMade, but I was proven wrong very quickly. I'd also put the Bobby Jones in the same class as the Sonartec as well. If you're in the market for a hybrid, do yourself a big favor and give the Bobby Jones hybrids a whirl. Just be sure to pick up a spare headcover.