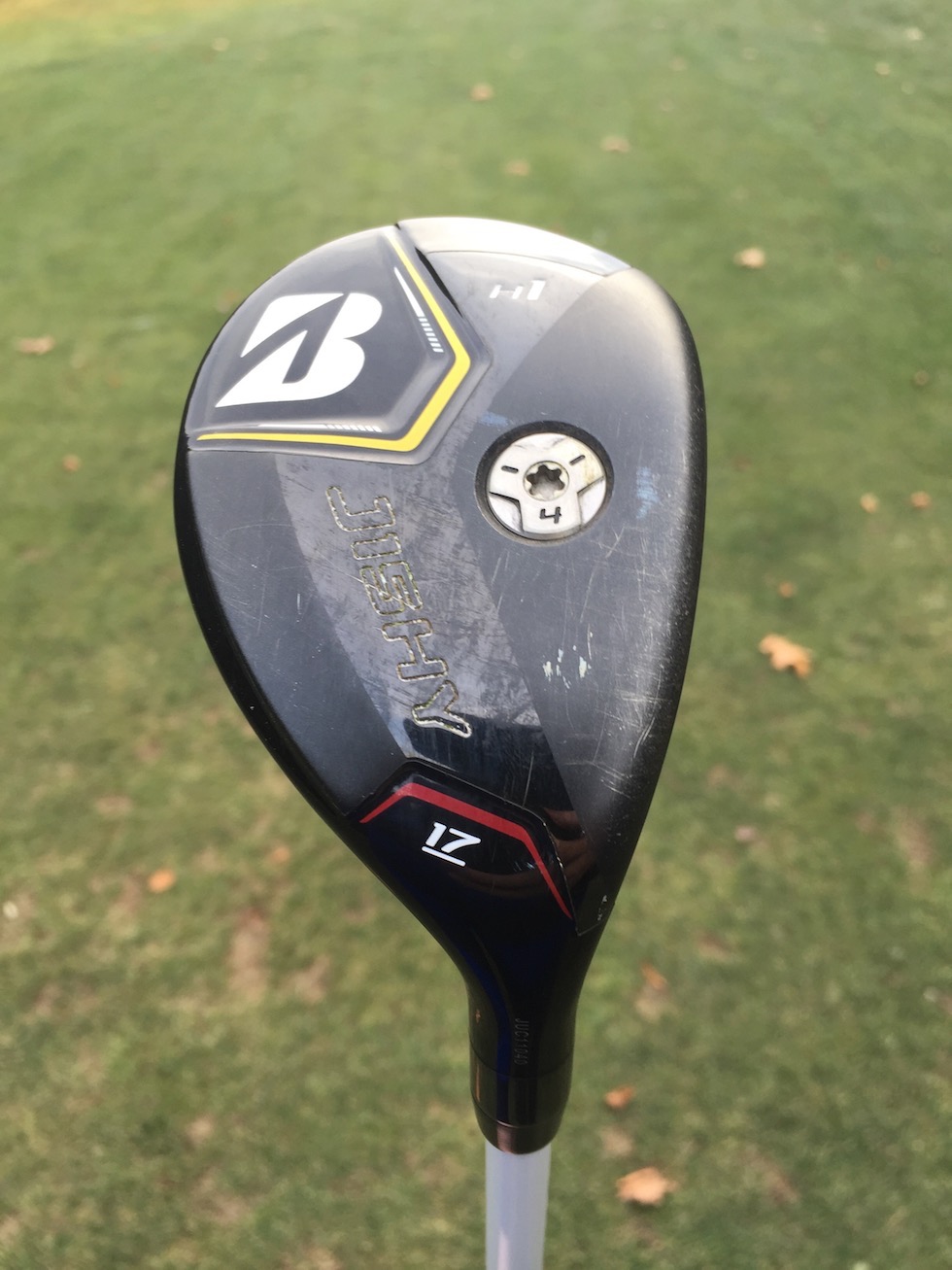 When I say "Bridgestone" to you, hybrids probably aren't what come to mind right away. You'd think of golf balls, tires, Brandt Snedeker, the annual WGC event, and maybe even their forged irons. Hybrids would probably be well down the list.
Bridgestone has spent more than a decade trying to change that, but I'm not sure they've actually made much headway. They're a little like Mizuno: hyper-specialized, but with the ability to occasionally surprise you when you don't expect it. I played a Mizuno MX-700 hybrid for several years, and never thought twice about how strange that was because that club played go great.
The Bridgestone J15 is a lot like MX-700. No one is going to be beating any doors down to get their hands on a J15 hybrid, but the few who do are going to come away glad they did.

Design and Technology
Often when I write these reviews, I'll poke around online to see what else has been written about the club I'm reviewing, but that's next to impossible with the J15 hybrid. Bridgestone puts essentially no money into marketing their woods.
Bridgestone's own website is similarly devoid of details when it comes to pimping their own clubs, so finding out what kind of technology went into the J15 was a little difficult.
The entire "Features" section on the J15 hybrid consists of the F.A.S.T. (Flex Action Speed Technology) crown design, and the adjustable weight port. The F.A.S.T. crown design is OEM-speak for a thin, light crown design that moves the center of gravity lower in the clubhead. Pretty standard fare.
The adjustable weight port is just sort of … there. You can get it set during a fitting, but otherwise you can't buy a few online and change them out on a whim.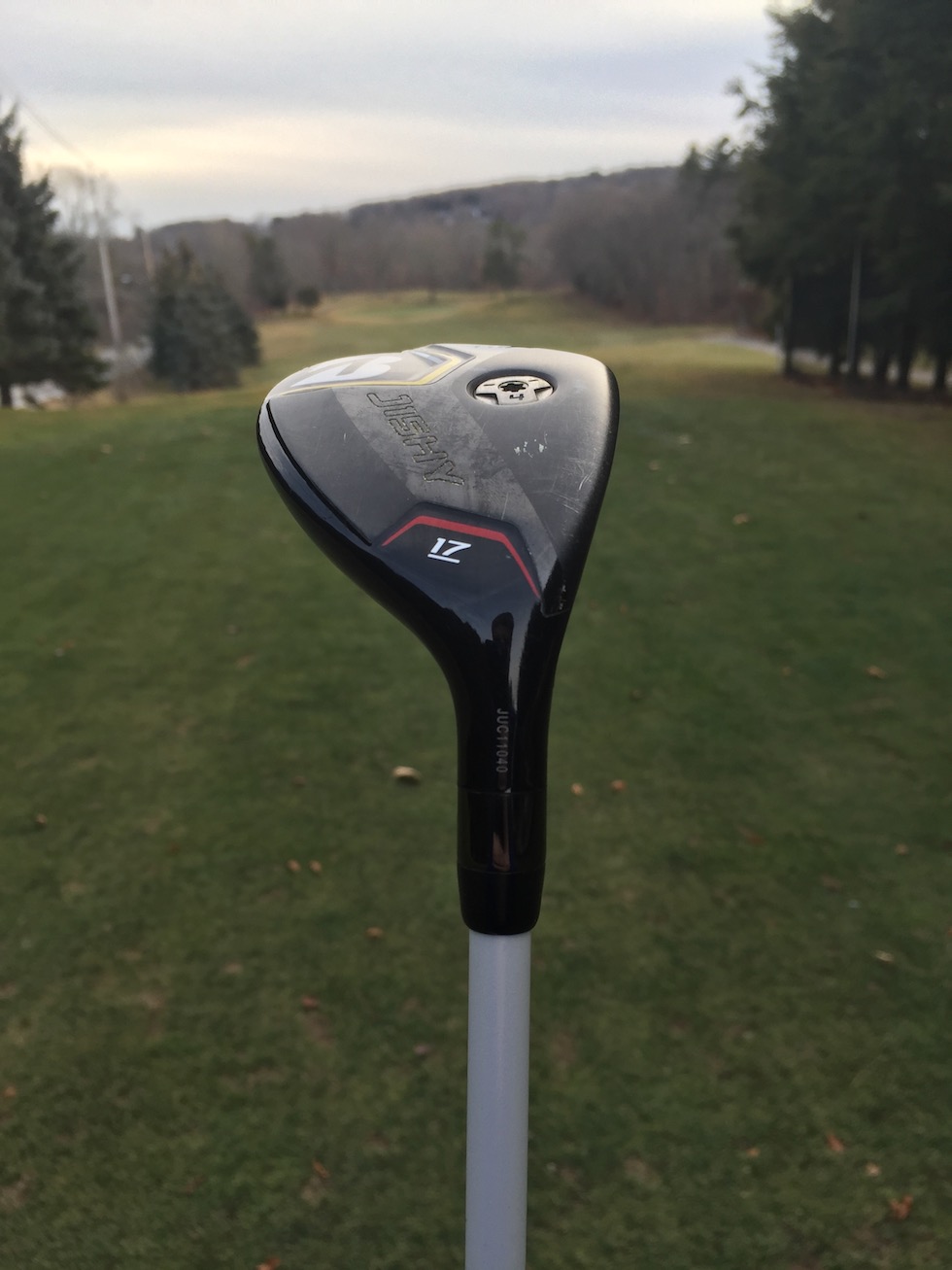 Aside from that, you're just getting a hybrid. The J15 doesn't have any sort of special sole design, or hosel adjustability, or aerodynamic face. It doesn't profess to give you a dozen extra yards or promise that you'll never slice one into the woods. Bridgestone is refreshingly low-key about their golf clubs, letting them speak almost entirely for themselves.
(I may as well be writing this about a Mizuno.)
Esthetics
I have yet to fully make heads or tails of the way the J15 hybrid looks. The crown is jet black, and absolutely devoid of any sort of alignment aid or marking. I think I tend to lose sight of how much I like a simplistic crown design when I start using a busier club, but every time I go back to something like the J15, I fall back in love all over again. It's great to look down at the ball at address and be absolutely focused on the golf ball.
It's simple. It's elegant. It's clean. It's just plain nice to look at.
The sole of the J15 hybrid is surprisingly more busy. It's still mostly black, but with red and yellow accent stripes. The Bridgestone "B" logo is sectioned off by the yellow accent marking, while the red stripe partitions off the loft number. The letter "H" and the club number sit directly beneath the "Bridgestone Golf" script, while the model name, "J15HY" is etched horizontally across the heel of the sole. (It also took me quite a while to figure out that they were't giving a shout out to some late clubmaker named "Jishy.")
The clubface continues the all-black look of the J15, broken up by white alignment stripes and tiny red dots that abut their outside edges. The clubface is another example of the J15 hybrid's understated elegance. It's a small touch that just screams professionalism.
Despite the busyness of the sole, The J15 retains quite a bit of classiness. It's a slick-looking club that doesn't overdo much esthetically, which I appreciate. It might not jump out at you when you pass it at Golfsmith, but when you've got it in the bag, when you're actually playing a round with it, there shouldn't be any complaints about the way the J15 looks.
Everything about this club so far, on both the design and engineering sides, is just plain nice. It's elegant and clean and just damn nice.
Performance
For whatever reason, the Bridgestone J15's shaft feels longer than it is. That's the first thought I had the moment I picked it up, and the first thought I had when I sat down to write this. Whether it's the color combination of the shaft, the smallish clubhead, or something else, I've never quite been able to put my finger on it. It feels like hitting a hybrid on a fairway wood's shaft. The J15 just seems to be longer than it is, even though it's approximately the same length as my old Titleist 910h.
Despite not actually being longer than usual, the J15 plays like it is. The ballfight is long, piercing, and boring. It comes off hot, stays relatively low, and spins like crazy. The J15 is not a new-age high launch, low spin hybrid; it's a true long iron replacement.
The shaft of the J15 feels a little heavier than that of most hybrid shafts, so the clubbed doesn't feel distinctly heavy. To me, golf clubs where you can't so much feel the weight of the clubhead tend to be better off the tee, and worse off the turf. There's something about a club with a heavier shaft that makes it a little tougher to go down and get the ball when it's sitting down. The J15 also doesn't have any sort of rough-cutting sole design, so it's not the absolute best at rescuing the ball when you're hacking it out of the fescue.
The perceived length and weight of the J15 makes it really quite incredible to hit off the tee. With the ball raised up off the turf, I'd never been able to really go after a hybrid like I can with the J15. Swing as hard as you like – the J15 isn't going to balloon on you. I've never had this much confidence hitting a hybrid off the tee.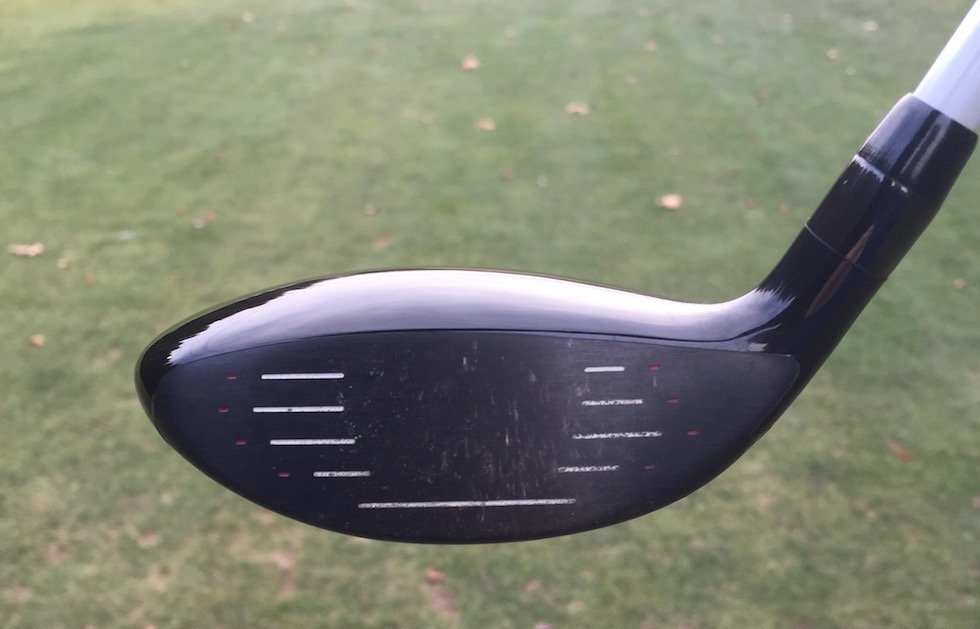 The one thing I will say about the extra heft of the J15 is that it feels like the club almost swings itself. The feel and sound of the J15, which are both very deep and muted, also benefit from the extra weight. This isn't a club that will wake up the whole neighborhood; it's quiet and classic. Noticing a pattern?
Cuts, draws, and straight shots – I could hit them all with the J15 hybrid, but I must say that it's had a slight tendency to go left on me, which I attribute simply to the way the club is shaped. For whatever reason, it just screams "DRAW!" at me when I look at it. Most of the time I can overlook that and put a good swing on it, but every now and then I'll snap one left. This makes hitting a controlled draw a little difficult, because I was always worried I'd overcook it, but in all the time it's been in my bag, I haven't hit a single slice. I imagine, in this instance, your milage may very. (And, hey, maybe you need a bit of draw action out of your hybrid.)
Off the tee, from the fairway, or sitting in the rough, all I had to do was put an average swing at the ball, and boy did it take off.
Specifications
The unit I was given for review was Bridgestone's H1, the 17-degree club. I find that a 17-degree hybrid fits nicely between my 15-degree 3-wood and my 21-degree 3-iron. OEMs aren't perfectly consistent with assigning club numbers to lofts, but every 17-degree I've ever had has been a 2-hybrid. I checked the shaft length against my old Titleist 910h and it was no different, so this is just a case of inconsistent numbering among manufacturers.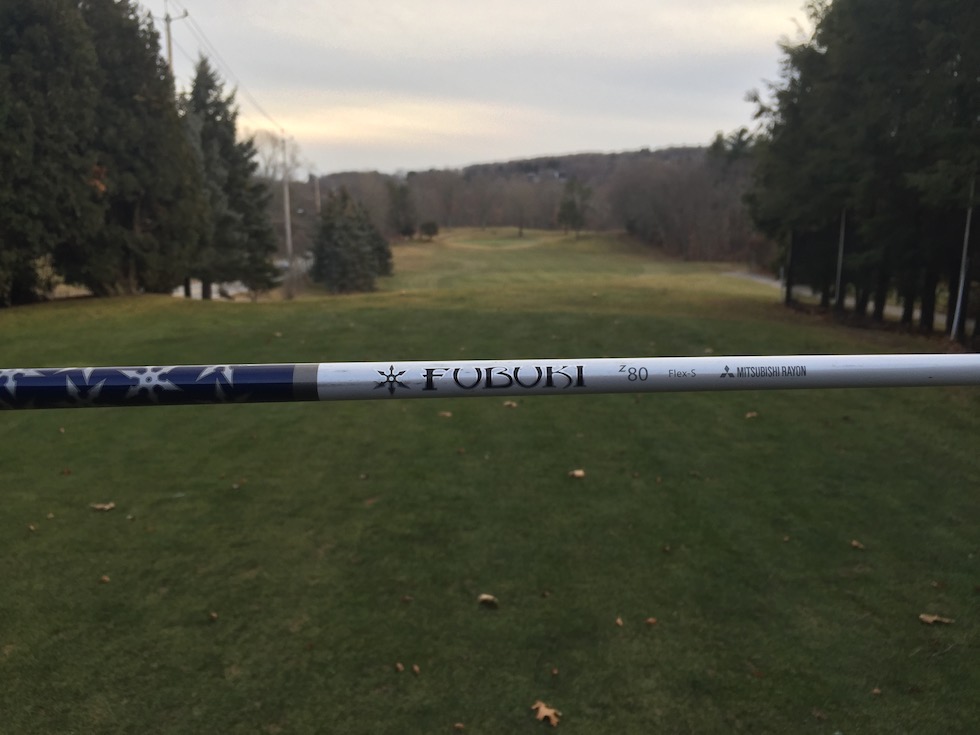 For righties, the J15 comes in 17-, 19-, 21-, and 23-degree variants to fit just about any loft gap. Lefties are stuck with just the 21- and 23-degree versions.
The stock shaft is a Mitsubishi Fukui Z model, which I liked a lot. It's quite boardy, which gave the J15 a little bit more of an iron feel that I really liked. It also looks really, really cool (an underrated feature of shafts, in my opinion). Bridgestone offers custom lots, grips, and – get this – ferrules.
The stock headcover is a somewhat stiff sock-style (think ankle sock, not crew sock) design that often takes two hands to put on. It's easy to take off – maybe too easy – but getting it back on can be a pain due to the relatively small and inelastic opening.
Conclusion
I did't go into this review expecting to fall in love with Bridgestone's latest offering. They don't have the best track record, and they certainly don't have the most aggressive marketing. But the J15 quickly earned a spot in my bag, kicking my old Titleist 910h to the curb. The J15 is longer, straighter, and more consistent than my old Titleist, and takes the right side of the golf course completely out of the equation.
My hybrid is increasingly becoming an off-the-tee club rather than a rescue-me-from-the-woods-or-fescue club. If I need to bend one around a tree (or even clear a line of trees), my hybrid is still my go-to, but most of its action comes when I need less than driver but don't want to have to hit a long iron, or if I'm going for a green in two.
And for those applications, the J15 is perfect. Next time you're looking for a new hybrid, and you grab the newest models from TaylorMade, Nike, and Callaway, grab the Bridgestone J15 on your way. You'll be glad you did.