I have a love-hate relationship with my driver. Some days we're perfect for each other. Other days I wish I left it at home so I can enjoy a round of golf. It's such a fickle beast that I'll even have problems with it from hole to hole, never quite knowing if it's going to cooperate or not until I hit the ball.
I'd have to be in utter denial to think that the problem lies with my driver and not my swing. Still, I can't change my swing overnight and I certainly can't change it mid-round, so I need a viable option off the tee that's going to keep my ball in play. My backup option is usually my 3W, but it's significantly shallower than my driver which can cause issues sometimes if I start to miss the ball high or low. With this in mind, I started to look into Callaway's Bertha Mini 1.5.
One can point to Phil Mickelson's Phrankenwood and say that club started the mini driver craze, but that's not really the whole story. Club designers have been increasing the head sizes or offering deeper versions of their 3W as a better option off the tee for a while. Designed to be even more forgiving and longer than a 3W, the Bertha Mini 1.5 is Callaway's first official mini driver. Is it the club I've been looking for? Read on to find out more.

Technology and Design
The Bertha Mini 1.5 is a cross between a driver and a fairway wood. At 235cc, it is 35% larger than Callaway's XR 3W, allowing it to be more forgiving, but comes with a shorter shaft than the typical driver making it easier to control for better accuracy. It also feature's Callaway's Forged Composite Crown typically found on their drivers and the Forged Hyper Speed Face Cup technology typically found on their fairway woods. All of these technologies are designed to allow engineers to redistribute the weight around the perimeter of the clubhead to increase ball speed on off-center hits, making the club more forgiving and easier to hit.
The club also has a low center of gravity, making it easier to launch the ball higher. Rounding out the clubhead design (well not really "round") is Callaway's cambered Warbird Sole. It is designed to allow the club to slide more easily through turf, making it easier to hit from a variety of lies.
The Bertha Mini 1.5 also comes with Callaway's OptiFit Hosel. As usual, there are four possible loft settings from -1° to +2° in 1° increments and two lie angle settings, Neutral and Draw bias, for a total of eight possible combinations. This allows you to customize the club's settings to your swing. The other advantage is interchangeability: any club equipped with the OptiFit Hosel can be fitted with a shaft that has the OptiFit Hosel on it.
Esthetics
The Bertha Mini 1.5 is a good looking club. It has a classic pear shape and it's not flashy in its looks. Depending on how you see it, it's either a small driver or an oversized fairway wood. I lean more towards the latter. It was a little odd to see such a large fairway wood at first, but I got used to it pretty quickly. For those who have played golf before modern oversized drivers or is used to vintage equipment, a small driver probably isn't odd to look at. In case anybody is wondering, the Bertha Mini 1.5 is actually larger than the original Big Bertha oversized driver (235cc vs 190cc).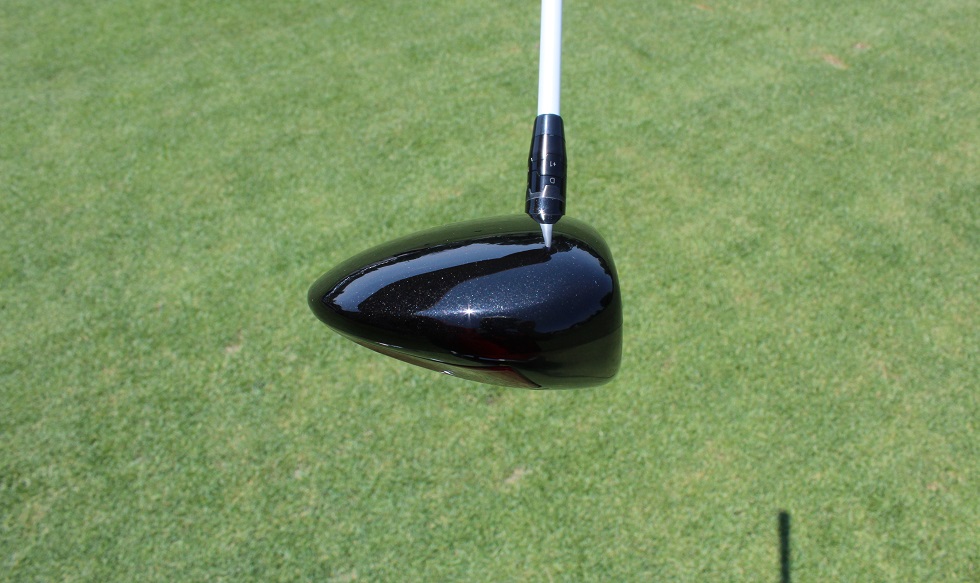 From address, it has a very clean look. The crown is finished in a glossy black. The alignment aid is a muted grey chevron that isn't obtrusive at all, but it is set up slightly favoring the heel of the club as opposed to what I would consider the center line of the clubhead. Other than that, it sets up fairly neutral to my eye. The clubhead bulges out more towards the rear and toe, which gave me the impression that the club was easy to launch higher and had a fade bias.
The face is interesting. What I noticed right away was that the whole face looks like it's shifted a bit towards the heel, confirming what I thought from looking at address. There is a lot more non-face material on the toe side of it than the heel side, confirming the offset look I saw at address. The whole face is asymmetrical; the apex of the curve on the bottom of the face is slightly closer to the toe than the indicated sweetspot, which is marked with Callaway's signature chevron "X" like their drivers. I don't know enough to tell you if it's intentionally designed for performance or it just happened to come out this way because of how the club was shaped. The face is rather deep, too. It's deeper than any other fairway wood I've seen, which gave me concerns about being able to hit it off the fairway.
The sole of the club is also pretty clean. There is nothing adjustable on the clubhead itself, so compared to the last two Callaway clubs I reviewed (Big Bertha Alpha 815 Driver and Fairway), there's not much going on in the bottom of the club. You'll notice the Warbird Sole with its ridge in the middle. The Callaway logo and Bertha Mini 1.5 are prominently displayed as well as the Hyper Speed Face Cup in smaller print along the face. They adopted the red, black, and gray motif that I am a big fan of on the Big Bertha Alpha line.
Club Specifications
The Bertha Mini 1.5 comes in 12° and 14° in both right and left-handed models. As mentioned earlier, they all feature Callaway's OptiFit hosel which allows the loft and lie angles to be adjusted further. Stock length is 44″.
The two stock shaft options are the Fujikura Motore Speeder 565 (same shaft as the Big Bertha Alpha 815) or the Mitsubishi Kuro Kage Silver TiNi 60. As always, Callaway offers a number of other custom shaft options at with various upcharges. MSRP is $299.
Performance
For this review, I received the Bertha Mini 1.5 in 12° with the Fujikura Motore Speeder 565 shaft in stiff.
My first experience with this club was at a golf store. I was killing some time one day so I stopped in to try some clubs out. The store had this club to demo next to the Big Bertha Alpha 815, my current driver. While it wasn't an entirely fair comparison since I didn't adjust the Alpha 815 to my custom settings, I was rather impressed with the Big Bertha Mini 1.5. According to the store's launch monitor, I hit the Mini 1.5 just as far as the Alpha 815 with fewer mis-hits. I left the store feeling confident that this was exactly the club I'd been looking for.
My first time out on the range with the Bertha Mini 1.5 did not go as well. I kept hitting high cuts which I thought was odd because I typically draw my driver. Every now and then I would hit a big push or a low bullet. I thought to myself that it might have been the tee height at the range, which uses those white rubber tees. I reminded myself that I should tee it lower than I had it at the range when I got out on the course.
I'm glad I did, because I drove the ball pretty well using the Bertha Mini 1.5 exclusively on all tee shots that weren't on par 3s. The only bad shot I hit with it was mis-hit just short enough to land in a creek that crossed the fairway. Without the creek, it would have been a 200 yard carry that split the middle of the fairway. I'll take that for a miss any day. Flight was my standard draw that I didn't see on the range.
Subsequent rounds basically went the same way. I found the Bertha Mini 1.5 to be really easy to hit off the tee, much like a driver. Even when I missed, I was able to get the ball out there with some decent distance. I especially appreciate the forgiveness on shots missed low on the face, which for me comes out as "stinger" type shots that still run a good distance. The only big misses I have with this club are due to my personal swing issues. As long as I get halfway decent contact, the ball will be in play at a fair distance with this club.
I really wanted to get a good feel for how the Bertha Mini 1.5 performs off the deck, so I've tried a number of times, both on the course and on the driving range with very little success. I haven't been able to hit one good shot with the ball on the ground. Callaway has promoted this club as a longer option off the fairway than a 3W for better players. For me, this club is not an option off the fairway.
For comparisons off the tee, I found the Bertha Mini 1.5 to be shorter than my driver on a good strike. My best shots with it are not as good as my best shots with my driver. It does launch the ball a bit lower, too, which is helpful in the wind. Distance-wise, it's slightly longer than my 3W, but more forgiving on mis-hits, especially above and below the sweetspot. Thin shots go farther than equivalent shots with my 3W and I have yet to sky a pop-up with the Mini 1.5. When I do make a big mis-hit with the Bertha Mini 1.5, I can hit the ball OB just as easily as I can with a driver.
Conclusion
My experience with the Bertha Mini 1.5 is that it is kind of a niche club. As a 3W replacement, I really like it off the tee, but I can't hit it off the deck. It lacks the versatility of a 3W which is pretty important to me because of the times where I require a long second shot, whether it is due to a mis-hit tee shot or I'm trying to reach a par 5 in two. Replacing my 3W with the Mini 1.5 would take that option out of my bag.
As a driver replacement, I have a lot of confidence in this club on tighter holes. However, my swing has been improving lately and it's hard to tell if it's the club that's responsible since I've been driving the ball better altogether. As I stated, a good drive with the Mini 1.5 does not match a good drive with my driver and I can easily lose 20 yards, which is a pretty significant difference. The fact that I can still hit big misses with the Mini 1.5 doesn't help its case, either.
I've written a lot of good things about the Bertha Mini 1.5 and I believe every word of it. It is a good golf club: long, forgiving, and confidence-inspiring. I was torn over finding a spot in the bag for it for a while and I decided that if I needed to work this hard to find a spot for a club, there probably isn't a spot for it in my bag. I've heard feedback from some people who love it and have replaced their drivers with it, and others who feel the same as I do. Still, I can't help but feel that I'll put it right back in the bag as soon as I play a round where I struggle with either the driver or 3W, and it definitely is going in the bag on a windy day.
The only other reservation I have is, at $299 the Bertha Mini 1.5 is pretty expensive for a 15th club. That's my opinion because that's what it is in my bag. You may find that you hit it well enough or better than either your driver or 3W to be able replace one of those clubs. In the end, I recommend trying it out for yourself.