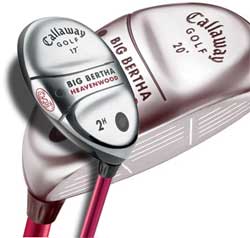 Back on September 1st, Callaway introduced the Big Bertha Heavenwood hybrid series of clubs aimed at golfers who struggle with the longer irons. Combining the accuracy and control of a long iron and the distance of a fairway wood, the Heavenwood hybrids join a growing array of hybrid clubs now available on the market.
"Our new Big Bertha Heavenwood Hybrids represent the best of everything you expect from the Big Bertha name and live up to our brand promise of Demonstrably Superior and Pleasingly Different(R) products," said Patrice Hutin, President and Chief Operating Officer of Callaway Golf. "They are an entirely new category of club that gives you the distance and control to take on the most difficult long shots, with the confidence and skill to get you there in two."
The Big Bertha Heavenwood Hybrids are offered in lofts 1H (14°), 2H (17°), 3H (20°), 4H (23°) and 5H (26°), which correspond to traditional 1-, 2-, 3-, 4- and 5-irons. They should be available now in a store or pro-shop near you. I, myself, plan to check the availability of a demo the next time I'm at the range.