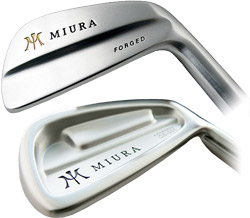 If you're into golf equipment, forged irons, Tiger Woods, or even perhaps Japanese samurai swords, you've probably heard about Katsuhiro Miura (or his golf clubs).
Though the common belief that Miura once forged samurai swords before moving on to golf clubs is a myth, it's true that Miura grew up in the area region of Japan famous for its steelwork and sword-making.
It's also true that though players like Tiger Woods have played clubs that have said "Mizuno" or "Titleist" or "Nike" on them, many of his clubs have been forged and shaped by the legend himself.
Katsuhiro Miura and the clubs he produces are surrounded by an almost mythic aura. The reverence people will show to a company like Mizuno or Scratch Golf ratchets up significantly when Miura is mentioned.
It all seems like a lot to live up to. Do the clubs live up to the hype? Let's find out. I've spent a few months with both the CB-501 and the Blade 2007 models.

Design and Technology
Miura irons don't include plastics, carbon fiber, adjustable weights, "super expanded sweet spots cones of power," or, well, anything invented after roughly 1957.
If you believe that you need the latest in technology to enjoy the game, then Miura clubs may not be for you. However, if you're the type that appreciates a well-designed tool, the type who savors the feeling of pure contact on a soft forged blade, the type who is at least a bit more immune to the marketing claims of golf equipment companies, then you may have a home with Miura.
The "Design and Technology" section of our reviews is usually where we put the claims the companies make about how this feature allows you to control your shots and this other feature gives you 15 extra yards, but Miura doesn't really play that game.
The Blade 2007 and CB-501 irons are forged with a "Precision forging" process and are made of "Mild steel" (reports are that this is 1025 carbon steel, or the same steel used in Mizuno's MP line). Both are finished with "W nickel (satin) chrome" finishes and come standard 3I-9I, PW (an optional 2I is available in the Blade 2007 line).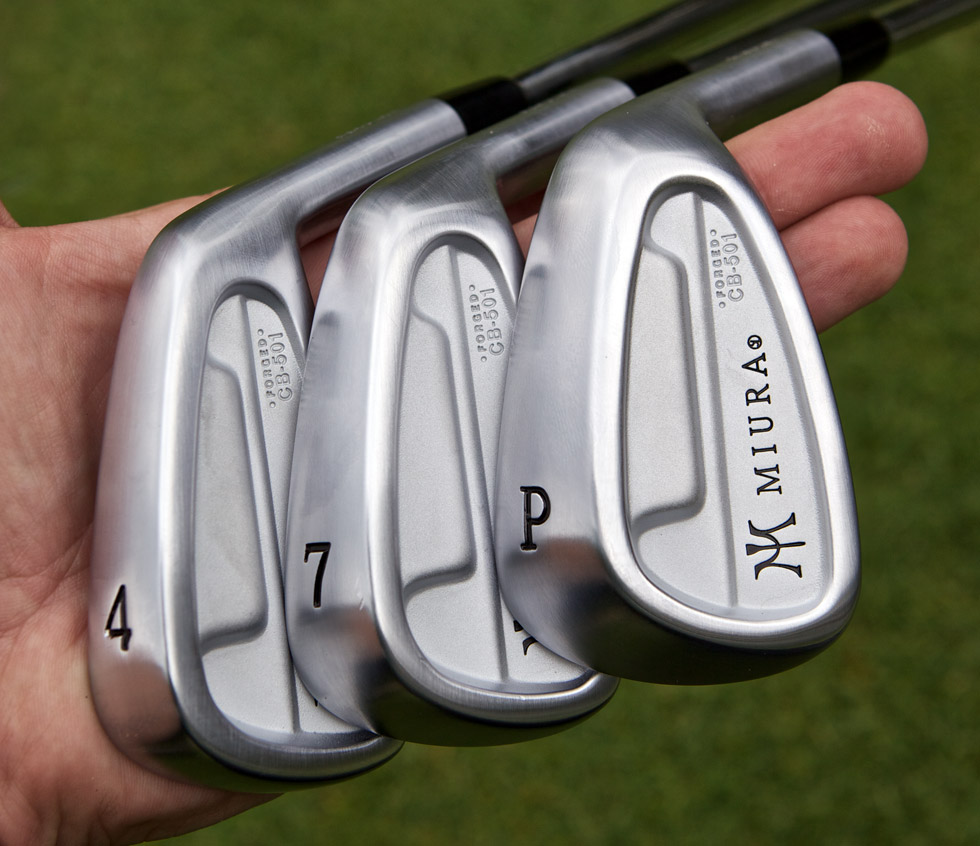 The "product details" are similarly brief.
The Miura website tells us that the CB-501 was built to combine the best features of several of Miura's previous irons, creating an ideal ball flight, enough offset to promote playability, the perfect head size, and a sole grind that would accommodate a wide range of players, including Tour-quality and average players.
The "sweet spot muscle back" club delivers the ball flight of a blade while the cavity features add some forgiveness.
In essence, Miura spent two years trying to create the single greatest iron for the widest range of players ever made.
If that seems like a lot less information and marketing-speak than you're used to, get a load of the description for the Blade 2007 irons:
Miura's forging techniques rearrange the molecular structure of the mild steel in a pattern that is uniform throughout the club head. This eliminates void spots in the club face. This process assures that every Miura club in your bag has the distance control, ball flight, spin, and feel that any golfer should demand.

This tightness in the grain structure of the metal is what gives Miura made clubs the controlled, soft feel that other manufacturers cannot achieve. Miura also uses a proprietary "spin welding" process to produce the industry's most consistent hosel. This unique procedure ensures that the bore depths and hosel heights are identical on every Miura made head and the shaft of every club will be perfectly centered.
That's it. That's all you get under the headlines "Product details" and "Features" on the Miura website.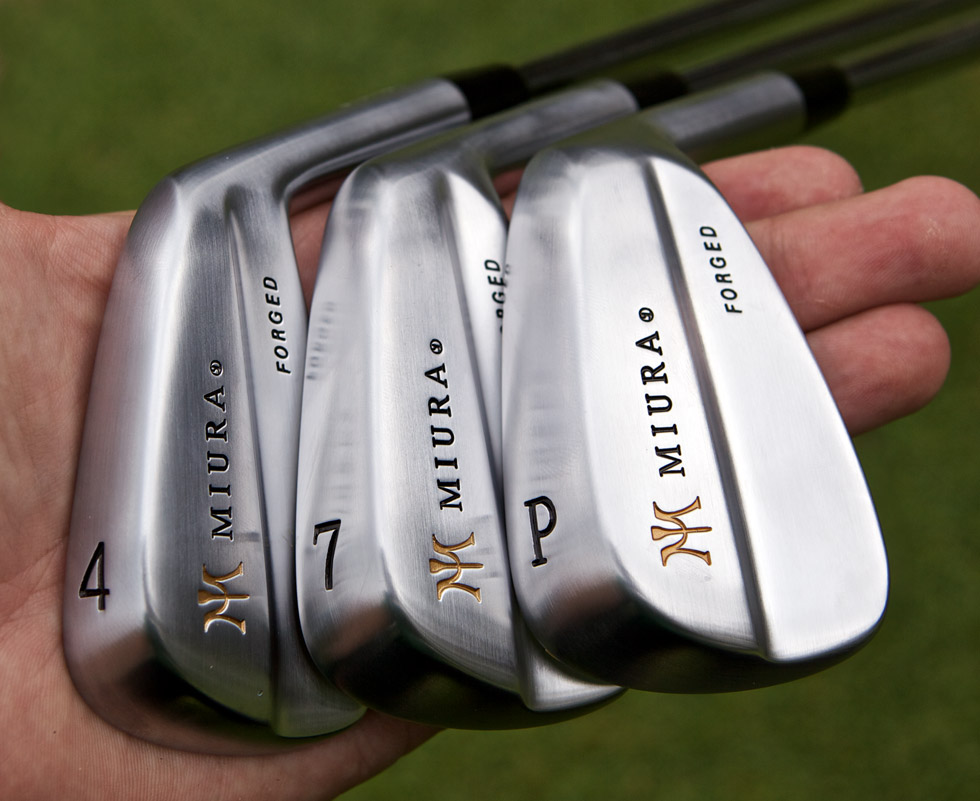 But to many, the only thing they'd truly need is the name "Miura" stamped on the clubs, and a photo or two, and they'd be sold. Design? What can you say about these clubs? They're a classic blade. Just look.
Esthetics
If you've read any of the reviews I've written here, you know that I probably over-use words like "simple" and "austere" and "clean." I'm not a big fan of clubs that scream "look at all of this technology!" In the past five years, my gamers have been musclebacks from TaylorMade, Titleist, and Mizuno, with a brief fling with the Titleist AP2.
I appreciate clean lines, a simple looking clubhead, and austere markings, and the CB-501 and the Blade 2007 may be the cleanest, simplest, and most austere clubheads I've ever had the pleasure of using.
Normally I'd use this section to describe the clubs, but I don't know that it's necessary with either of these models. Look at the images included here and you'll get a great sense of the look of these clubs.
The Blade 2007 clubs are the plainer of the two, but that's almost like saying ivory is whiter than eggshell or something. The Blade 2007 model has a number on the sole, the Miura name and "FORGED" in black and logo in gold along the back, and "GENUINE" on the bottom side of the hosel. The ferrule is solid black.
The CB-501 shares the same characteristics except that "CB-501" is stamped into the back and the word "FORGED" is smaller and likewise has no paint fill. Miura may have thought the CB-501s were bordering on decadent, so the logo is paint filled in black.
The clubface on both models is a sort of frosted or muted chrome look, and the surrounding areas towards the toe, heel, and the entire back of the Blade 2007 line is an incredibly attractive brushed metal look that needs to be seen in person to be appreciated fully. It's incredible looking, and though I realize it's just an exterior finish, details like this matter when you're paying $1600+ for a set of irons. The back of the CB-501, due to the cavity and muscle, is treated with a similar frosted chrome as the clubface.
Getting Fit
Miura may sell a set of clubs to you without getting fit, but I wouldn't bet on it. While other manufacturers will tell you that they "strongly believe in proper fitting," they'll still sell their clubs at sports goods stores and enforce a fairly weak fitting policy.
Except in rare cases, you really can't buy a set of Miura irons from one of their resellers without going through a proper fitting. This fitting process is not the typical "give me your wrist to floor measurement and tell me how far you hit your five iron" type of fitting, as both static and dynamic measurements will be taken. You'll be fit with a clubhead, shaft, lofts, lie, length, and more based on what you do.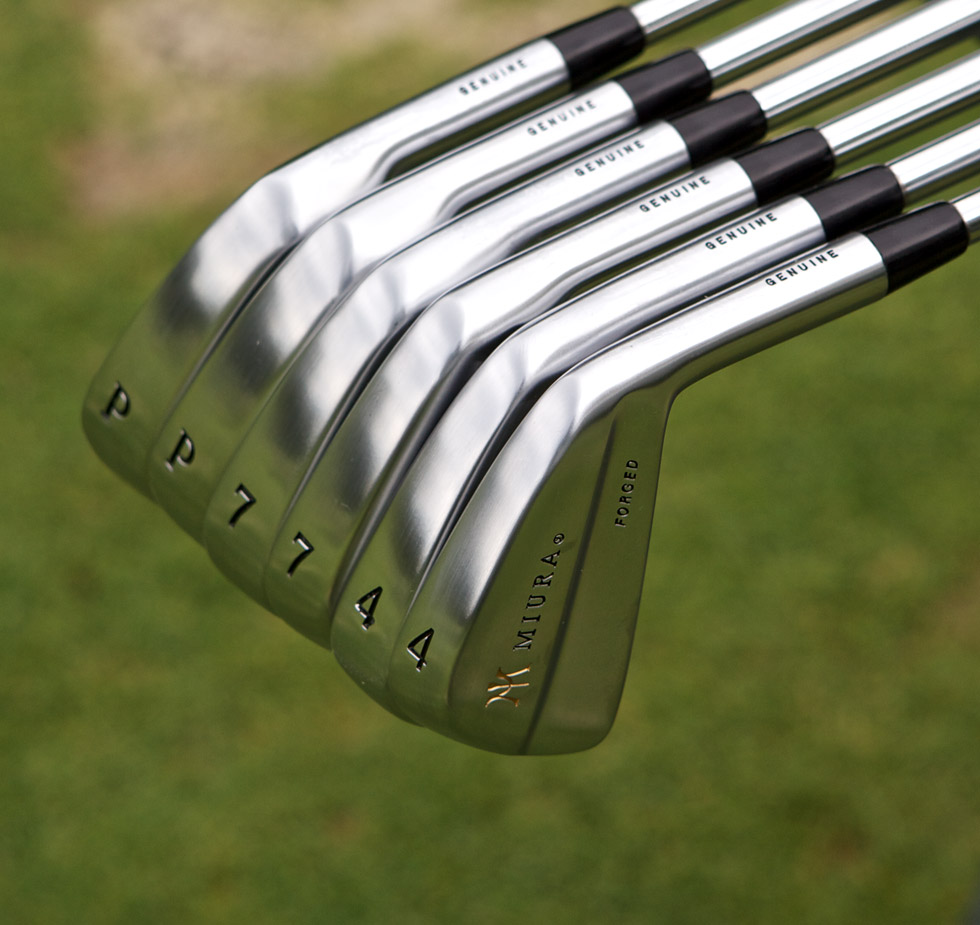 I applaud this effort. Miura clubs are not mass manufactured, and their relative cost combined with their obscurity allows Miura to be picky about their customers.
The only problem? Miura has less than 80 fitters in the United States. The nearest to me was just over four hours away. You can find a list of Miura's fitters and dealers at http://miuragolf.com/dealermap.asp.
Base specifications (remember that 25.4mm = 1 inch) for the two models I tested are as follows:
CB-501 Base Specifications
       Loft (°)      Lie (°)      Offset (mm)      Bounce (°)
       --------      -------      -----------      ----------
3I        21           59.0           3.2              2
4I        24           59.5           3.2              4
5I        27           60.0           3.2              5
6I        30           60.5           2.7              6
7I        34           61.0           2.7              7
8I        38           61.5           2.7              8
9I        42           62.0           2.2              8
PW        47           62.5           1.2             10
Blade 2007 Base Specifications
       Loft (°)      Lie (°)      Offset (in)      Bounce (°)
       --------      -------      -----------      ----------
2I        19           58.5          0.160             2
3I        21           59.0          0.120             2
4I        24           59.5          0.100             4
5I        27           60.0          0.100             5
6I        30           60.5          0.100             6
7I        34           61.0          0.100             7
8I        38           61.5          0.100             8
9I        42           62.0          0.100             8
PW        47           62.5          0.100            10
Note that though Miura's CB-501 has more offset ("enough offset to promote playability"), the 6-iron model of the CB-501 has 0.106 inches while the Blade 2007 has 0.100 inches – not exactly a world of difference between the two. In other words, do the mm-to-inches conversion, because if you're expecting a ton of offset, you won't find it in the CB-501 (you'll find even less in Miura's still-popular CB-202).
There's some confusion here, though, as Miura representative Bill Holowaty tells me that folks are often a bit confused because the website shows some of the models as "Face Progression (FP)" and some as "Offset." Typically, Bill says, FP is measured in mm while offset is measure in inches. He admits it's confusing, but points out that some of the measurements are in mm to line up with the Japanese website, with some standardization coming in 2011.
Bill also asserts that in the respective PWs the CB-501 has more offset than the Blade: Blade – Offset is 0.18 inches, CB-501 – Offset is 0.25 inches. All I can tell you is that there's not much offset – at all – in either model by looking at them. I have a hard time seeing a quarter of an inch offset in any of the 16 clubs I've got.
If I can get a definitive answer, I'll update this section. This information comes directly from the website, though, so it should be accurate.
Performance
At about $1600, these clubs had better do more than have an "austere" design and a nice brushed look.
They do. I tested both the CB-501 and the Blade 2007, both with a KBS Tour X (7.5) flex shaft soft-stepped once. I've played clubs with the KBS Tour before, but it's worth noting early on that these are very smooth shafts that have a reputation for making impact feel soft and for feeling like they're a far weaker flex than they truly are – kind of the opposite of the Project X, which feels firmer than its true specification.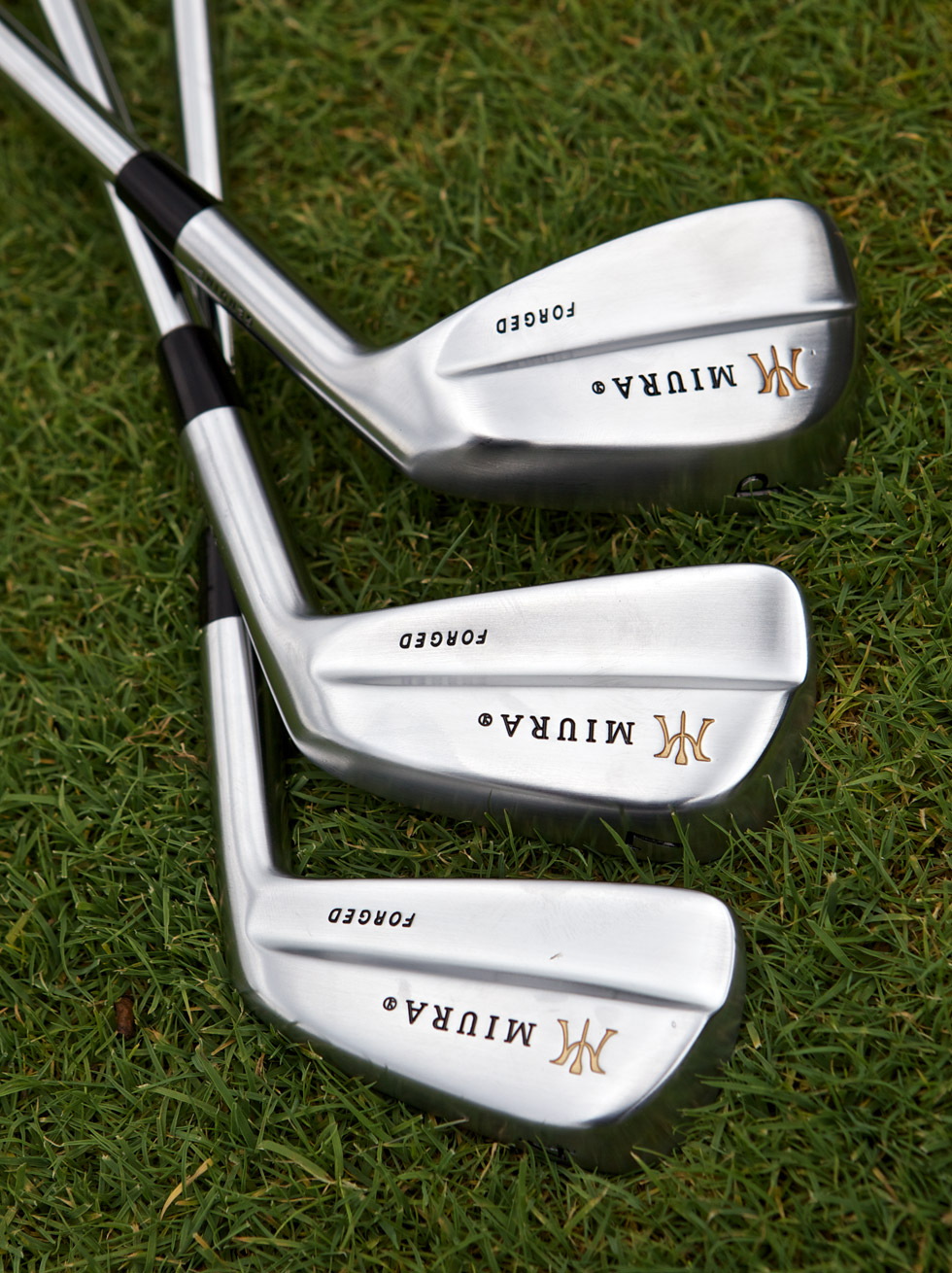 I'd originally planned to do two reviews of these clubs, but decided to combine them into one sort of mega-review because the performance is so similar. It seems clear to me that Miura believes in a certain ball flight, and does all he can to have that ball flight across all of his models.
The main differences? The CB-501 flies a touch higher and with a little more backspin and a softer landing, though if the naked eye is your only gauge you wouldn't know it: Trackman says the difference was about half a degree in ball flight and just over 200 RPM backspin with a 6-iron (the numbers were fairly consistent throughout the set – up to 0.7 degrees and 240 RPM in the long irons and as low as 0.2 degrees and 80 RPM in the short irons).
Both clubs present an incredibly strong ball flight. The ball rockets out to a peak height similar to that found in other clubs and coasts to a soft landing. Though spin is largely a factor of the shaft, these heads feel like they can take a variety of shafts and still present a good ball flight – they aren't the types of heads that "require" a flighted shaft, a slightly softer shaft, etc.
Turf interaction was great in the long irons, but I might have liked a few degrees less bounce in the shorter irons. My swing tends to be largely in the middle of "steep or shallow," so I'm sure the extra few degrees of bounce is welcome among the steeper swingers. Both feature rather thin soles, so this concern is really of the nit-picking variety.
And yes, if I'm having to nitpick things like that, I don't have much bad to say about these clubs. In addition to their thin toplines, both models feature relatively short blade lengths. If you've got any speed at all, these clubs will cut through rough and extricate your ball as well as can be expected.
Working the ball with either club is a joy and a simple pleasure. The Blade 2007 line will let you alter the vertical trajectory just a little bit more, but you've got to really pay attention to notice this and both lines are among the most workable clubs I've ever played.
Forgiveness and feedback? Look, if you want to hit the ball all over the face and still get a lot of performance out of your clubs, you're not looking at getting these clubs. These are built for guys who can find the sweet spot or at least an approximation of it fairly regularly. Forgiveness is low. I've hit less forgiving clubs, but these clubs are exactly as forgiving as you'd expect for a pure blade and a very shallow cavity back.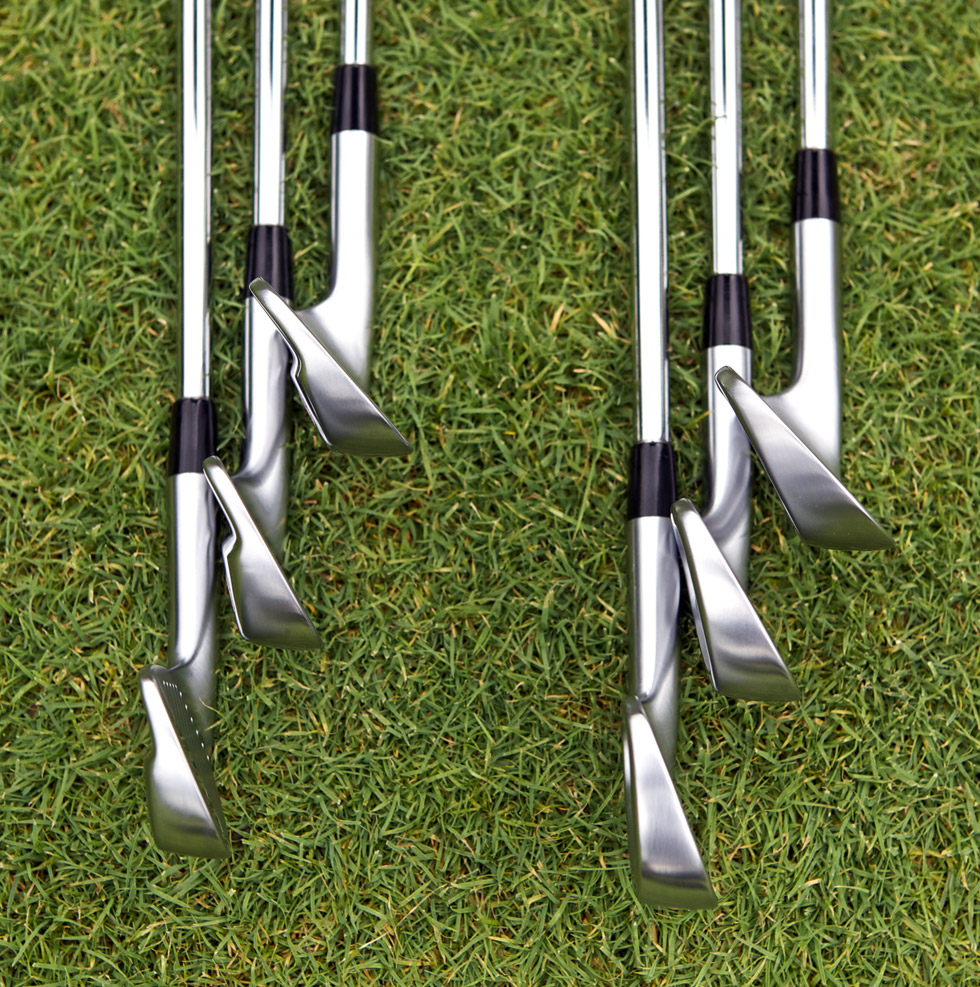 The tradeoff is in feel. I've always been a fan of clubs that do a good job of transferring enough feel to my hands that I know where I hit the ball on the face. If I'm heeling the ball a little, I'd like to know, and both clubs do a fine job of sharing that feedback with me. The slightly softer feeling KBS Tour shaft helps to filter off any excessive vibrations and smooth things out, yielding what to me is the best of both worlds: precise information without harsh feedback.
I'm not a fan of offset. Contrary to what you hear, offset doesn't "give you more time to square the face." How much more time do you think two tenths of an inch really give you at 80 MPH, anyway? No, I dislike offset because it's a visual trick that leads to a more closed face. As I've said, the CB-501 has the "most" offset of the two sets, and it's basically non-existent. Another win.
These particular clubs came with the 2010 conforming grooves, but I'm happy to report that performance from damp or scruffy conditions was on par or even better than some of the other conforming equipment I've tried. Wedges spun about as much as you could expect in all conditions, and flier lies seemed to be just a touch less "jump" than with some other first-generation conforming grooves.
Feel? Softness? Again, it's largely a matter of the shaft and the club's design, but these ranked high. The ball felt like it had the appropriate blend of "marshmallow" and "rocket" coming off the clubface, and it's just what I expected from relatively soft steel (again, 1025 carbon) and the KBS Tour shafts.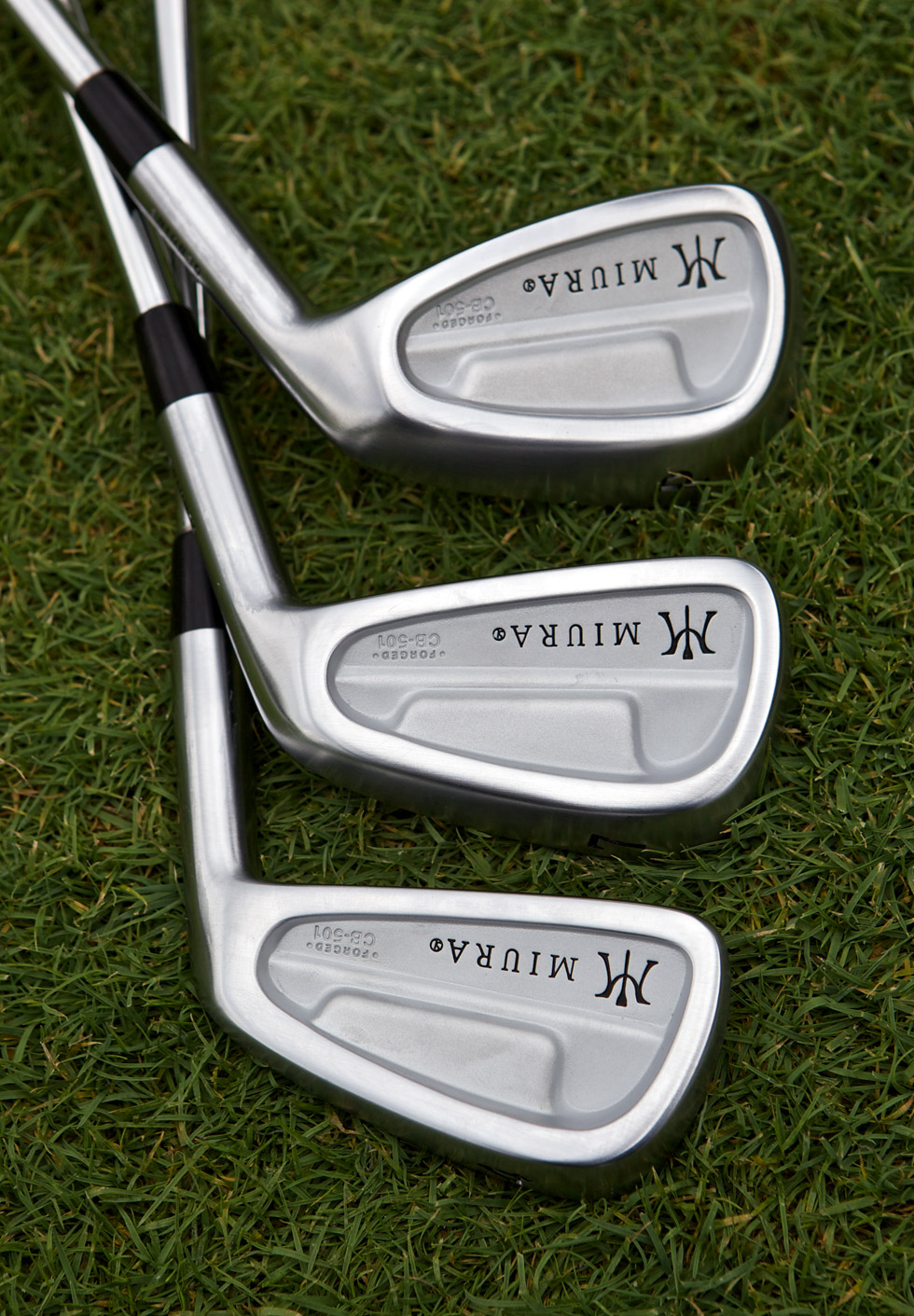 Those in the industry know that equipment companies have varying degrees of quality assurance. I once received a 7-iron from a popular equipment company that had less loft than the same set's 6-iron. Both were off a few degrees from their stated specifications. Both the CB-501 and the Blade 2007 irons – every single one of 'em – checked out about as perfectly as you can get. Good stuff.
One final point worth noting: though all clubs from Miura can be heavily customized, swingweight is one area where you're forced into a sort of "take it or leave it" proposition. The heads are each made to a consistent weight, and that weight remains the same whether you play a shaft that's lighter and an inch longer than standard or not. If you want a D2 swingweight, you might very well have to settle for D0 if that's how your fit comes out. I both like this approach and don't – other manufacturers will sometimes just put extra weight in the shaft by the hosel to adjust swingweight, while Miura's measurements are "purer" in that regard.
All told, I couldn't be happier with the performance of the clubs. They're attractive, they deliver a strong ball flight, the feel and feedback is spot on, and they handle adverse conditions well. The blades are surprisingly soft, even on mishits, and the cavity backs slightly more so. These clubs are built to perform in the hands of a skilled golfer, and they get high marks all around.
Conclusion
A set of Miuras will run you $1600 or so. Tiger Woods can afford them, of course, but what do you, the skilled golfer with an extra $600 burning a hole in your pocket, get with the CB-501 or Blade 2007 that you won't get with an iron set from another manufacturer?
You'll get an awesome fitting that's will virtually guarantee a perfect fit. You'll get clubs that match their specifications, unlike (to varying degrees) the clubs you'll get from some of the larger names. You'll get some awesome looking clubs that flat out perform. And, if it matters to you, you'll get clubs that come from the land of the legendary samurai sword craftsmen.
Do these clubs perform 60% better than a set of Mizunos? Not a chance. In software, it's often said that the last 10% of any project requires 90% of the work, and there's a little bit of that at play here. While other blades or shallow cavity-back clubs might earn grades of 90 to 95 or so, the CB-501 and Blade 2007 are just that little bit higher.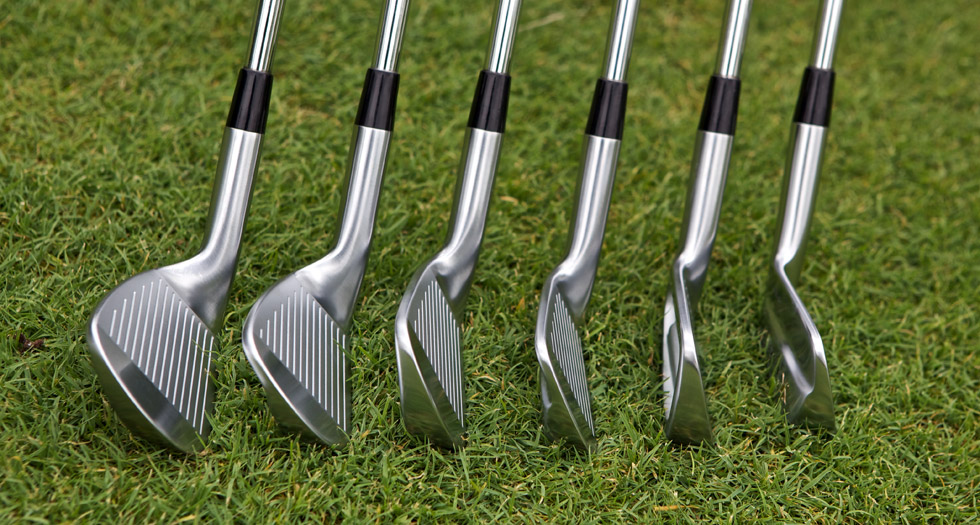 I don't like to swap out iron sets every few years. After all, it's a muscleback and a shallow cavity – not a whole lot is going to change in the next few years, and it hasn't in the past 20 in these categories, maybe longer.
Just as a skilled painter takes great care and will pay more for a finely crafted paintbrush, these irons will reward those who appreciate their qualities and see their purchase as the start of a long and enjoyable relationship.