Mizuno has unveiled their new addition to their JPX series with a forged boron alloy iron. The addition of boron increases the strength of the steel by 30% and allows Mizuno to forge the face thinner to increase ball speed while still keeping that well-known Mizuno iron feel. This is Mizuno's replacement for the JPX-825 Pro iron, which is seen as a bridge between the JPX and MP lines.
This review will take a closer look at the JPX-850 Forged and see if "Born out of Boron" really does have an effect.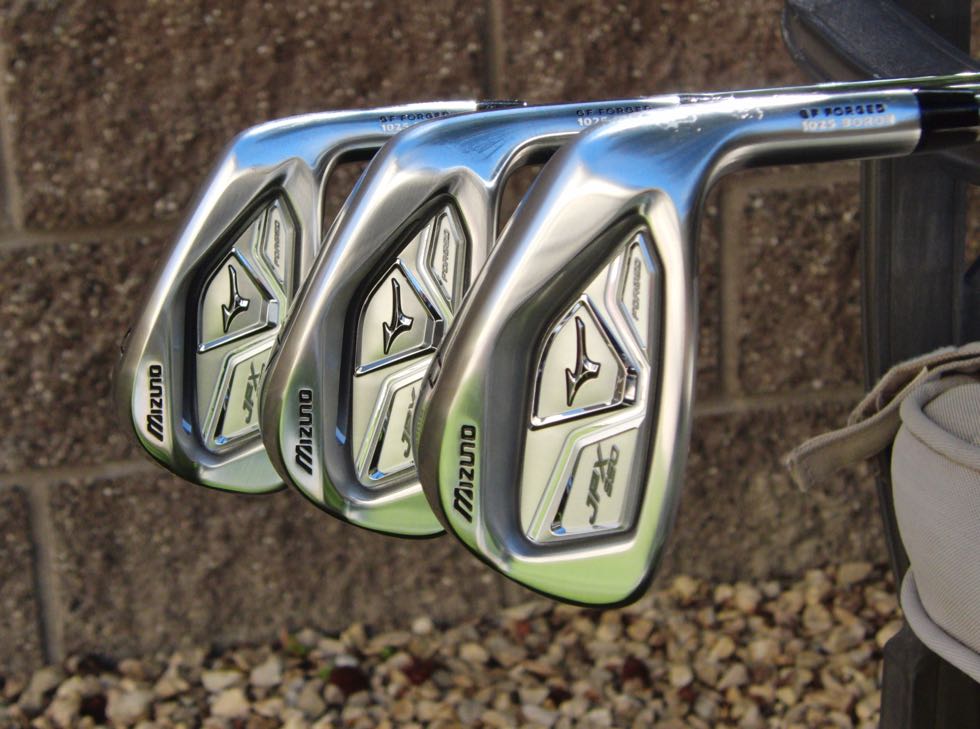 Technology and Design
You all remember from your high school science class that steel is an alloy of iron with other elements added. Or were you daydreaming about playing golf that day? Iron is very strong (think Eiffel Tower) but brittle. You would never make a golf club out of pure iron these days because it would be heavy, rust quickly, and break. Adding carbon, chromium, nickel, molybdenum, and other elements changes the structure of iron to dramatically increase properties like yield and tensile strength, hardness, resistance to rust, etc. Because steel is stronger than iron, you can use less of it to perform the same function, thereby decreasing weight or thickness of a part. Steel manufacturers have a long history of manipulating the properties of steel to improve performance for a target purpose. Mizuno has used their proprietary 1025E steel, along with Grain Flow Forging, to obtain that buttery feel at impact that devotees crave.
But there are limits to every alloy and one of them is yield strength. Yield strength is the stress (force) a material can take without permanent deformation, or translated to golf, how thin you can make the face without it caving in at impact. The thinner you make the face of a golf club, the more trampoline effect you can get at impact (COR). Lately golf club manufacturers have been devising ways to thin the face of irons to get more trampoline effect as they have been doing with woods for years. The weight can then be redistributed to improve MOI (moment of interia) and lower the center of gravity for higher launch. For the average golfer, this means a longer, more forgiving iron.
Enter boron. If you pull out your Periodic Tables you'll see boron is a light element, atomic number 5 just next to carbon (6). Mizuno claims that the addition of boron to their proprietary steel increases the yield strength of steel allowing the face to be forged thinner. A thinner face with the same yield strength translates to a higher COR. Mizuno has spent six years developing a boron alloy to work with their Grain Flow Forging process and their JPX iron design.
The process for creating the JPX-850 Forged iron is similar to the MP line of irons. Mizuno forges a "Power Frame Cavity" design by moving material to the outer edges of the head making a deep pocket, cavity-back iron. Then using CNC milling for the 4-7 irons, Mizuno removes weight from behind the face. This allows more weight to be moved to the perimeter and sole of the club head and creates a larger face area. Adding boron allows Mizuno to make the face thinner and move more weight to the sole and perimeter increasing forgiveness on off center hits and increasing ball speed at impact. The 8-PW and GW are solid with no milled pocket but they have a cavity back for increased forgiveness and improved MOI.
From Mizuno:
After six years of development – the introduction of BORON to Mizuno's Grain Flow Forging process allows the JPX-850 Forged to overcome the distance limitations of traditional forged irons.
Mizuno's new material is 30% stronger than traditional 1025E steel billets – allowing for a thinner face and extreme ball speeds. The result is an incredible iron that combines Grain Flow Forged precision and feel with shocking distance. A combination that was unachievable before BORON.

This new, thinner face is strategically reinforced by a Power Frame cavity which places weight to the extreme corners of the club head for maximum forgiveness along with increased distance. A clean, sleek design combined with these breakthrough technologies delivers an iron that looks and plays like nothing before.
The JPX-850 Forged is similar head design to the other JPX models but using the forging process instead of casting. The Mizuno MP-52, 53 and 54 irons are also a similar concept with a forged iron and CNC milled pocket in the 4-7 irons.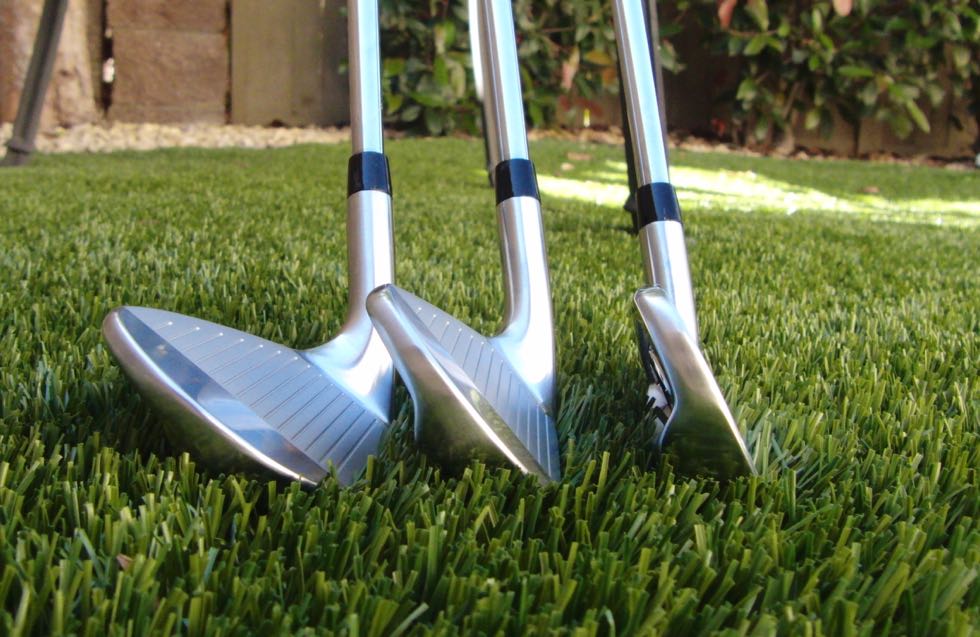 Specifications
Specifications are below. The lofts are a little lower than the MP line, but that is due to the higher launch the head possesses. Higher launching irons need lower loft to achieve the optimum launch angle to maximize carry distance. It is a common misconception that manufacturers lower loft to increase distance. They match loft to launch angle to optimize distance. These clubs are also available left handed.
Club    Loft     Lie     Length    Bounce    Swing Weight
----    ----     ---     ------    ------    ------------
 4I      22°    60.0°    38.25"      1°          D2-D3
 5I      25°    60.5°    37.75"      2°          D2-D3
 6I      28°    61.0°    37.25"      2°          D2-D3
 7I      32°    61.5°    36.75"      3°          D2-D3
 8I      36°    62.0°    36.25"      4°          D2-D3
 9I      40°    62.5°    35.75"      5°          D2-D3
 PW      45°    63.0°    35.50"      6°          D2-D3
 GW      50°    63.0°    35.25"      7°          D2-D3
Another cool thing about Mizuno is their "Handicap Spectrum". The spectrum is Mizuno's recommendation for handicap level for their irons. Mizuno wants you to love your irons and perform your best with them. The recommended handicap for the JPX-850 Forged is 6 to 16, which puts me dead in the center.
Esthetics
My issue with the look of many game improvement irons is they are too busy. They have multi-color graphics, with stick-on emblems and badges with lots of angles or curves. This may be fine for a lot of golfers, but I like a sleeker, more subtle look.
The JPX-850 Forged achieved this by muting the graphics, removing color leaving only silver and black. This gives the back of the head a stealth fighter look to me. The sole and perimeter have a satin finish, smooth and sleek. The sole, which is wider than the MP line irons, has a grind at the rear to ease the club through the turf. The iron numbers are large and easy to read. At address, the top line is thinner than the other JPX irons, which gives it more of an MP iron look.
The stock shaft is True Temper's new XP-115. This is a mid-weight mid-higher launching shaft. The stock grip is Mizuno's logo grip, which is very similar to the Golf Pride Tour Velvet. The grip has nice texture and is easy on the hands. Other grips and sizes are available as well.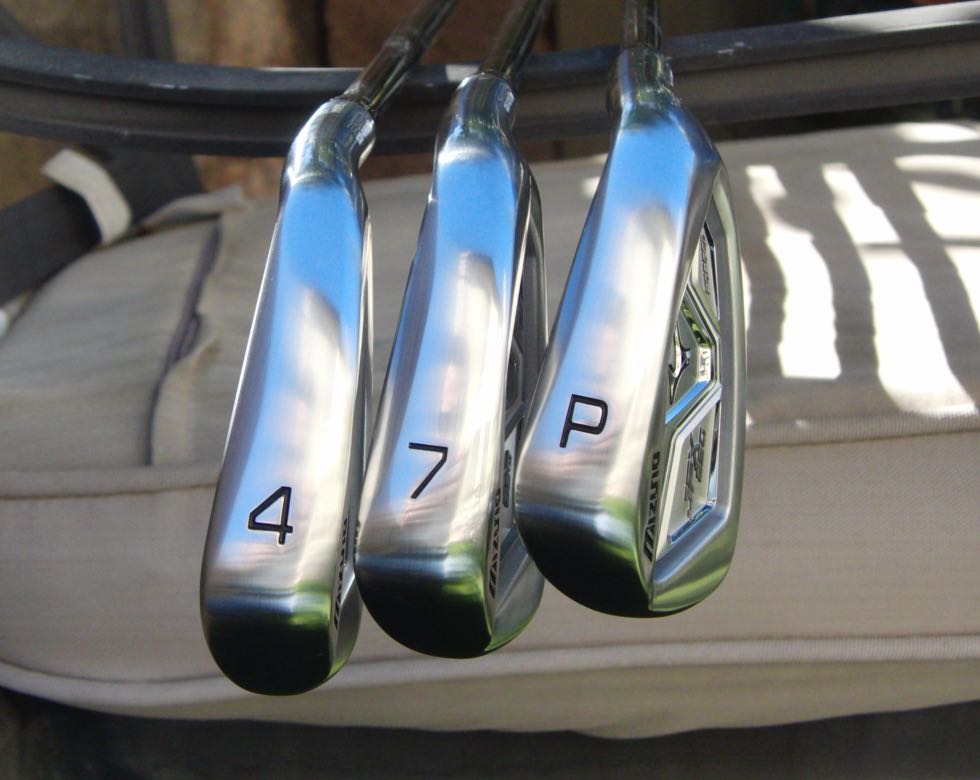 Overall it is a great looking game improvement iron without seeming "too" game improvement.
Performance
I've played Mizuno MP-57 irons for three years with Nippon 950GH shafts. They are a more forgiving cavity back MP iron, but when you are off center, you know it. I also have an MP-60 6-iron, which many Mizuno fans consider the top of the line for Mizuno feel. I took these to the range with the JPX-850 Forged in a stiff True Temper XP-115 shaft for a comparison test drive.
For the 8-PW, the feel was very similar between the MP-57 and JPX-850 Forged. On-center hits popped off the face with seemingly little effort. Launch was a little higher with the JPX, but only slightly. Off-center hits felt less punishing with the JPX.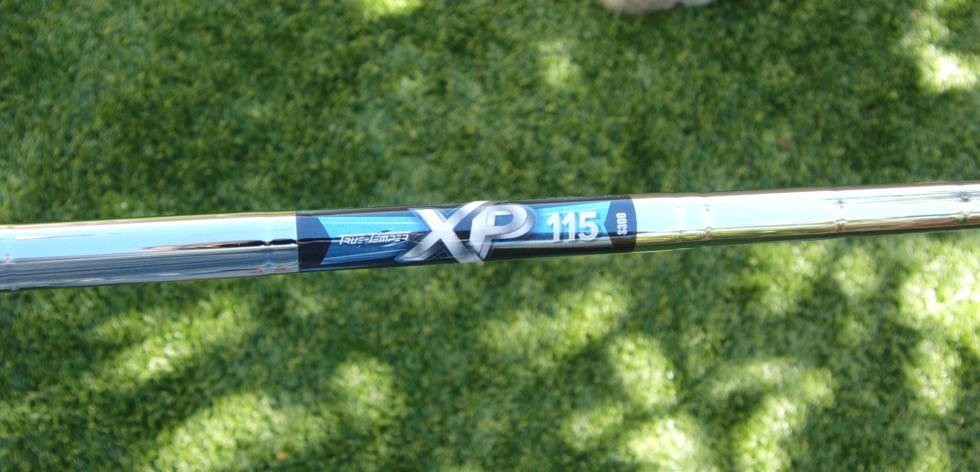 For the 4-7 irons, on-center hits had a slight muted feel with the JPX Forged. They popped off the face but did not quite have that "buttery" effortless feel of the MP-57 and 60. It wasn't far off, but just different. Off center hits did not punish your hands nearly as much as the MP-60 or 57. Distance was also better. I hover between a 10 and 13 handicap, so I know I need some forgiveness. The JPX-850 Forged provides that.
On the launch monitor I was getting a small increase in launch angle (0.5-1.0 degrees at most) and overall distance, maybe three yards with the 6-iron. I did notice the 4-iron had excellent launch and distance for me. I currently use a Mizuno MP Fli-Hi 4-iron, which I love, and the JPX-850 Forged was very similar. Mid handicap players like me have trouble getting the longer irons up in the air. The JPX-850 Forged is designed to do just that.
The True Temper XP-115 shaft is a very nice addition. It has a similar feel to the Dynamic Gold SL shaft but with mid-launch for stiff and mid-to high-launch for regular. It is a few grams heavier, but wasn't that noticeable. The butt end feels smooth at impact. The launch is higher without feeling too whippy. It also feels a bit more solid at impact than the Nippon 950GH.
On the course:
After a thoroughly brutal winter here in Massachusetts, I finally got out on the course. It was a fairly decent day and the ground was firm. What I noticed first was how easily the irons worked their way through the firm ground. Contact felt smooth and the ball flew similar to the range session. I wish my game was a nice as these irons for this round, but I'll chalk that up to being rusty. I did hit a nice 5-iron around 175 to the green. Ball flight was higher than my MP-57s.
I used the PW for some 3/4 shots to the green. The ball popped off the face nicely and bounced a couple of times and stopped. Now that's what I like.
Conclusion
Mizuno has added another great addition to their line with a set that bridges the gap even closer between game improvement and player irons. The velvety looks and smooth feel of this iron will go well with anyone's game. If you are looking for an iron set that moves you closer to player iron feel, check out these clubs.
The JPX-850 Forged retails for $999 for 4-GW. Check out Mizuno's website for more details and a video.