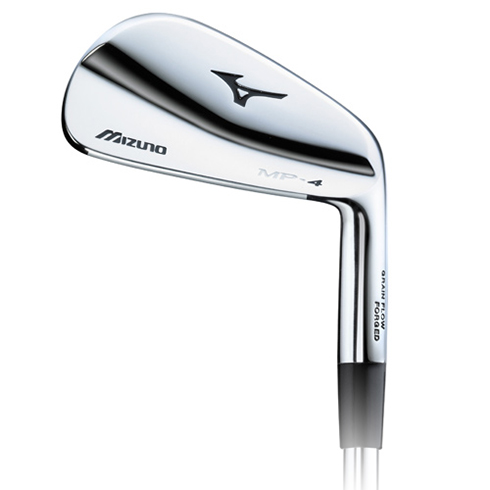 I'm an admitted fan of Mizuno irons. Years back I reviewed the MP-58s and enjoyed them immensely. Before that I've gone through other irons from Mizuno such as the T-Zoids. I only strayed from Mizuno once during that time but quickly came back with a lot of success and great iron shots.
The pure muscle-back MP-4 from Mizuno keeps the train going. I've gone from muscle-back to progressive/hybrid a couple times before. Normally there is a bit of an adjustment period and a player can feel the difference and give up some playability and/or feeling. How did the MP-4s feel and perform? Read on to find out.

Design and Technology
One will often see rather drastic changes year over year in the designs of woods. With irons, sometimes it is not as apparent and a bit subtler. For muscle-backed irons it can be even more understated.
For the Mizuno MP-4's there was one main change in the design. The Pure Muscle Design using Variable Muscle Thickness (VMT)added weight behind and lower in the head for a low sweet spot location and adds more mass behind impact. This is done at the expense of moving weight to the edges of the iron making it a bit longer. The head is a bit more compact but doesn't sacrifice shot making or playability. The shorter irons have a greater thickness for trajectory control, thus the "Variable" in VMT.
Of course the irons are manufactured using Mizuno's patented gran Flow Forging process using 1025E Pure Select mild carbon steel to enhance feel. As mentioned above, the shorter irons are slightly more compact than previous versions but it is hardly noticeable. This and the new Pure Muscle design should give a player a consistent trajectory and feel throughout the set.
Aesthetics
There is nothing I love looking at more in a golf bag than a set of irons. The shine on a set of beautifully forged even after a year or so gives me the same feeling as a well struck shot. The MP-4's do not disappoint at all in that department.
The design is very simple, as usual with most muscle-backed clubs. The back is adorned with the Mizuno logo on the now-thicker Pure Muscle Back. The traditional Mizuno name and model number are stamped near the top of the club leaving a clean line between logo and letters that show the clean shape of the muscle back to appreciate. No need to fancy anything up that looks that clean and shapely.
On the top of the club you'll only find the club number. On some iterations of models from Mizuno you'd find their logo but they've left it off, again, minimizing the designs and keeping the club more pristine. I don't think you can find a better looking iron anywhere in the market…at address or at rest in your bag.
Performance and Feel
As I mentioned before, normally there is a bit of an adjustment period with a new set of irons. With a driver or hybrid it sometimes takes a range session or two to get settled. With irons I've found that it takes time getting use to the flight, spin and overall feel for how irons respond. There are (normally) 7+ irons in your bag and that feel can differ up and down the set. After the first range session with the MP-4's, I had no reservations putting them directly into the bag.
First off, since I was switching from an existing Mizuno set of irons I was hoping it wouldn't take too long. Going from a progressive set to a muscle-backed set gave me a bit of pause. It had been 4+ years since I had those types of irons in my bag. In my mind I was concerned I would give up some forgiveness and that the MP-4's would be more difficult to hit. I was wrong.
I can honestly say that the MP-4's were just as easy to hit as my MP-58's. The sweet spot feels no different in size or feedback. A purely struck ball simply melts into the clubface and jumps off the face. That was the only problem or issue I had in moving the MP-4's. Distance control with the MP-4's for the first couple weeks was a bit challenging. I would estimate that I've added anywhere from 5-10% to my distance with every iron. I had multiple moments on the golf course where I air mailed the green hitting a club I never though I could do so with.
After multiple rounds and range sessions where I used the range finder to hone in my distances I got dialed in for the most part. I still have the occasional shot that jumps a bit more than I would think but those don't happen more than once every couple rounds. Overall, I'm thrilled with how these clubs have performed. Mizuno has consistently delivered amazing irons and have not disappointed me one bit with the MP-4.
Specs
The MP-4's come stock 3-PW with Dynamic Gold S300 shafts. You can go to Mizuno's website to see the multitude of shaft options including Project X and other variations of True Temper including XP and superlite shafts.
Also, a host of different grip options are available as well if you don't want the Mizuno M-32 grips, which are very similar to the Golf Pride tour velvet grips.
Conclusion
If you are ever in the market for irons, no matter your handicap, you'd be doing yourself a disservice by not trying out Mizuno irons. Up and down their iron product line are sets for all players. The MP-4's are as good as it gets when it comes to the pure muscle-backed irons for lower-handicapped players.
I don't know if I'll be reviewing irons in the near future or not but I don't know if I will want to or not. The MP-4's have earned a permanent spot in my bag and I don't know that I could see any iron that could improve my game any more than they have. Besides, I love looking at them too.