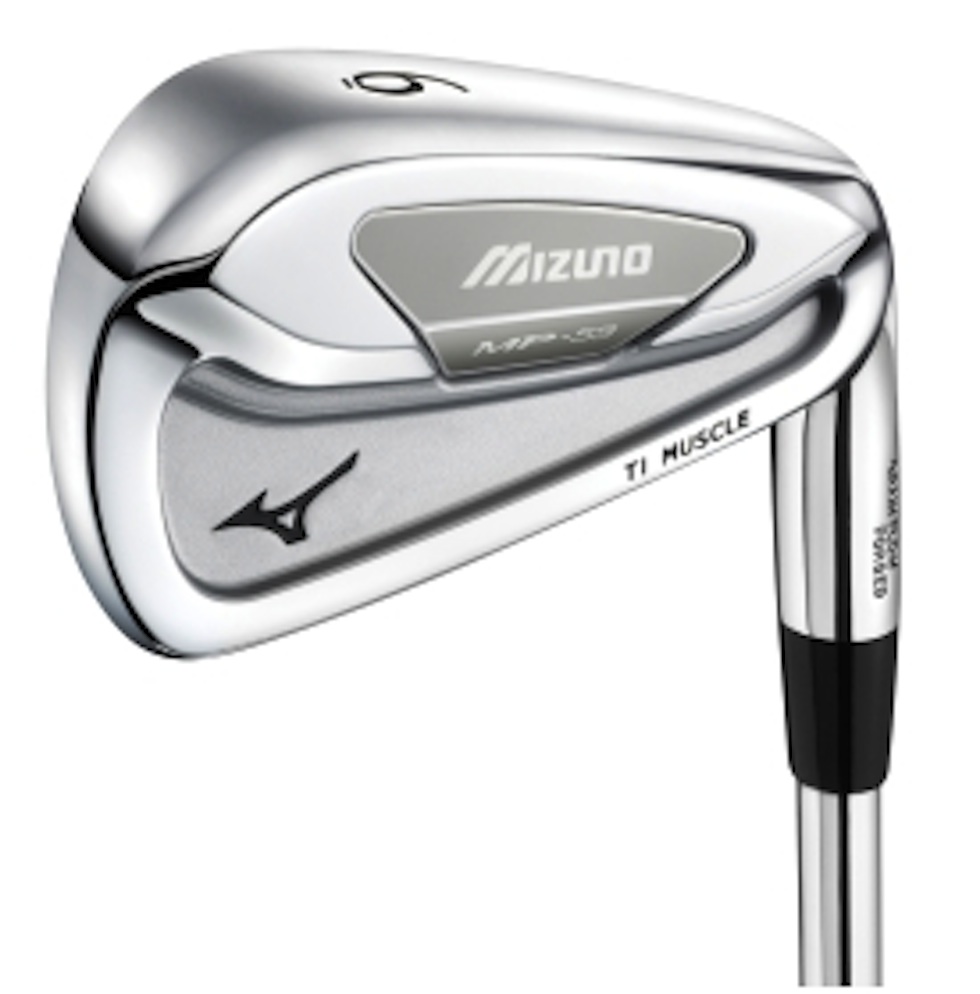 As many golfers know, Mizuno Golf is best know for designing some of the best forged irons in the world. First building their reputation by manufacturing muscle back blades, Mizuno grew to expand their line into forged cavity backs and forged game improvement clubs. All the while leading in quality, feel and sound. Some golfers fear the idea of playing a forged iron, thinking that it is only be for low single digit handicappers or tour level players. Mizuno Golf is looking to take some of the fear out of forged with their new MP-59 irons. The MP-59 is Mizuno's latest multi material forged cavity back. The MP-59 integrates a classic look with updated technology for a wider range of golfers.
Even Charles Howell III who grew up playing PING irons, and has always used a somewhat larger club head compared to most pros has made the switch to the MP-59 irons. Last year Howell used a moderate sized club with less offset from Mizuno's JPX series, the JPX-800 Pro. After testing the new MP-59 irons he quickly put them in the bag based on the initial results. On the other side of the iron spectrum, former muscle back blade users Luke Donald and Jonathan Byrd have also switched to the MP-59's for a little added forgiveness without sacrificing the club's esthetics. One great iron for all players? Let's take a closer look.

Technology
The player's cavity back segment of irons has changed over the last several years. Better players in the past just wanted a solid, one piece golf club because of the feed back associated with that style of iron. Now we're seeing better player irons with more exotic constructions. Irons with tungsten welded to the sole, multi-material and even badges in the cavity. Mizuno's goal was to give the better player some extra technology but keep the feel of a one piece golf club. With the MP-59 there is no welding and no brazing. These processes are something that can be found in other golf manufacturer's irons. With the MP-59 there is no heat treatment that happens to the club. Mizuno says without the heat treatment it can dial in the grain structure of the club and that's what gives it the feel like a one piece blade.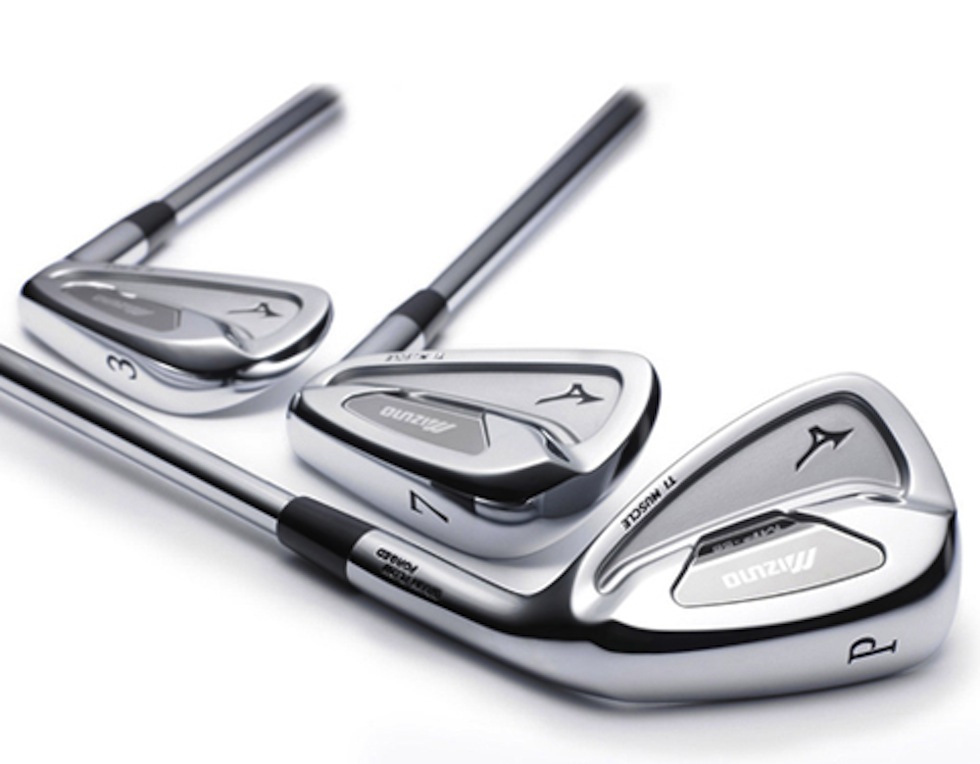 The MP-59 irons are not only Mizuno's next generation of great looking forged cavity back irons but also as their latest offering with Ti Muscle™ Technology. Mizuno utilizes a titanium insert because it's less dense than steel. According to Mizuno, the lightweight characteristics of the pure titanium allows them to place the extra grams on the toe and heel of the club, creating greater perimeter weighting. Mizuno says it delivers full cavity forgiveness in a player's half cavity design. The titanium insert ensures an ideal amount of thickness behind the impact area to deliver a consistent, solid feel. During the patented Grain Flow Forging process, the pure titanium material is forged into the muscle of the MP-59 head. Mizuno says this delivers a five percent larger sweet spot compared to Mizuno's previous ti muscle iron, the MP-58.
The MP-58 irons were Mizuno's first MP iron with a titanium insert. Mizuno struggled to get it out on tour. According to feedback from tour players the MP-58 felt like a multi-material club, which means it felt harder than they might like. So for the MP-59, Mizuno lets a ti oxide layer form on the titanium before they forged it into the head. Mizuno says it helps the titanium flow better and blends the titanium and carbon steel into one solid piece. This was an important feature for getting Luke Donald and Jonathan Byrd to put these irons in play. Early in their careers they both used the irons that are the holy grail of musclebacks, the Mizuno MP-33 irons.
They eventually transitioned to the MP-62 irons which looks very much like a blade at address but has some added forgiveness because of the cavity back design. The MP-62 irons also have the same exact sole as the MP-33's. For the MP-59 irons Mizuno stuck with a similar theme as the MP-62's, blade like appearance at address, MP-33 sole for playability but added the ti muscle to increase the MOI. As I said earlier, Charles Howell III was coming from the JPX-800 Pro, a larger head construction. His one complaint with the 800 Pro was that shots would fall to the right. Mizuno engineer Chris Voshall says that since the blade length is longer in the JPX-800 Pro the CG location is further out, which could cause some misses out to the right. Voshall says, "Since the MP-59 has a shorter CG span, Howell didn't see that ball falling to the right. He saw it falling where he wanted."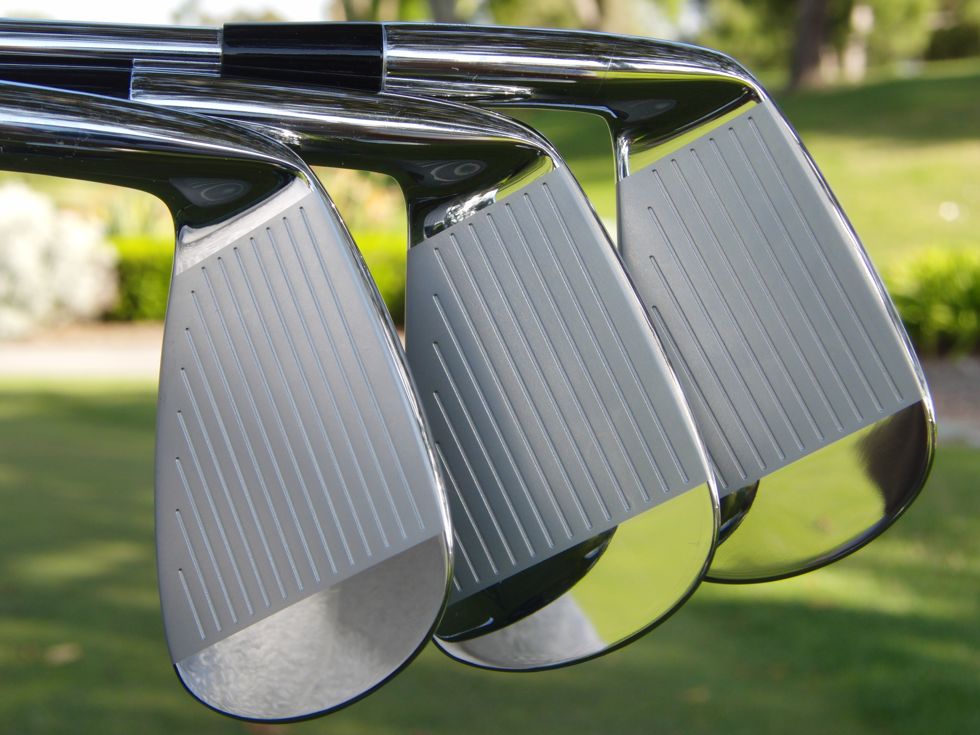 For thousands of years, the forging process has been employed to create some of the world's finest swords, weapons, and tools. One of Mizuno's most important technologies is their Grain Flow Forging process, which brings together the latest forging techniques to create an iron that feels and sounds unlike any other iron on the market. A single piece of high-quality 1025E Pure Select Mild Carbon steel billet is carefully heated before beginning the shaping process with a 1000-ton hammer press. This process aligns the grains in the metal and avoids microscopic air bubbles that can form during typical casting processes. According to Mizuno this is what enhances their club head's feel and feedback. This soft feel reduces unwanted vibrations.
A recent addition to Mizuno Golf has been custom fitting shafts for players. Mizuno says that nothing will improve your game more quickly than a set of clubs matched to the unique nuances of your swing. Mizuno's Performance Fitting System is the only club-fitting method that fuses the expertise of professional Mizuno fitters with exclusive Shaft Optimizer technology. Matching the right shaft to your swing can be very important and have an effect on a few aspects of your shot, distance, control, ball flight, trajectory and feel. What many golfers usually do is simply selected a popular shaft that might be a mis-fit for their swing. Mizuno says that every aspect of your swing is considered when fitting each club.
In just a few swings, Mizuno's Shaft Optimizer measures five aspects of your swing to determine your unique Swing DNA™. Your information is entered into Mizuno's patented Shaft Optimizer software, which then recommends a shaft with performance characteristics perfectly matched to your individual swing.
Esthetics
These are the best looking forged cavity backs I've ever seen. Almost like fine pieces of jewlery as you can see from the pictures. I was almost afraid to take them out of the box and go beat range balls with them for fear of getting any scratches or nicks in them.
The design of the MP-59 irons are made up of prefect proportions. Just the right amount on the top line to the eye with minimal offset and medium blade length. The club at address gives you enough confidence to know you can hit a good shot but is also super sexy. I've read some other reviews and everyone says the top line is thin. I would disagree. To me a thin top line would look like an MP-33, which these don't. The top lines for the MP-59's aren't thick either, a nice blend between the MP-33 and MP-53. From the beautiful tear drop shaped pitching wedge to the classic looking 8 iron and on to the solid 4 iron. The transition is what you would normally expect, shorter from toe to heel in the short irons to longer and more shallow in the longer irons.
The hosel transition is also blended perfectly, with no visible hump that some players can find distracting. This is something Mizuno has always done a great job of. I love the stainless steel medallion that covers the titanium insert, it's unique and differentiates the MP-59 irons from not only other Mizuno irons but all other irons in general. Even though I'm not normally a fan of a shiny chrome finish, the MP-59's don't create much glare in the sun and the finish gives it a very clean and classic look. A satin finish would outstanding on these irons.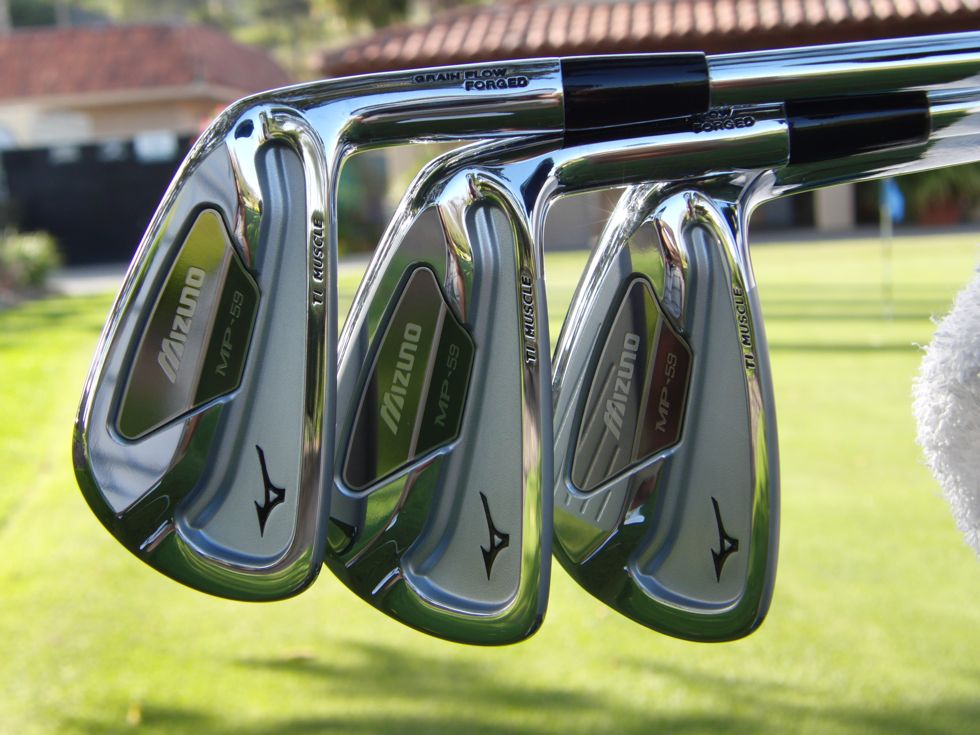 Playbability and Feel
I happily tested a set of MP-59's with KBS Tour stiff shafts. Before I ordered the set I made a trip to my local golf store to see what Mizuno's Shaft Optimizer recommended for me. I have played the KBS Tours in previous irons and thought they were a good fit for me. After making several swings to find my unique swing DNA, the shaft optimizer software recommended the KBS Tours, a great start to this Mizuno experience. The KBS Tour shafts add a softer feel while not increasing spin. On a positive side note, the KBS Tours are a no up-charge option for the MP-59 irons.
The first thing I noticed with these irons are that they are an iron that offers a large amount of feedback. They sound awesome and you know the difference between a good and a great strike. Shots hit out on the toe or high on the club face don't sound as compressed but the results are still very good . Mizuno lists the handicap ranges on their website for who they feel will most benefit from a set such as these and they do keep that number pretty low. For the MP-59 irons it goes from tour player to a 13 index. The Mizuno guide is fairly close if we are basing it on handicap equals ball striking. I would say the number is a little high, a 12 or 13 handicap will tend to struggle with these irons because the sole grind doesn't allow for inconsistent contact and miss hits lose more distance than a club in the JPX line. Controlling your low point is a must with these irons. You can miss them off center but you better be hitting ball first otherwise you'll end up with some embarrassing shots.
When you get into a groove with these irons, the MP-59 irons perform beautifully. They have a lot of versatility in their ability to hit different shot trajectories. Playing into a headwind is no problem to hit a few lower window shots. Even with the short irons the ball flight can be brought down. On the opposite side of the spectrum it's also easy to hit these irons high. Just a few set-up adjustments and the ball launches at a greater elevation.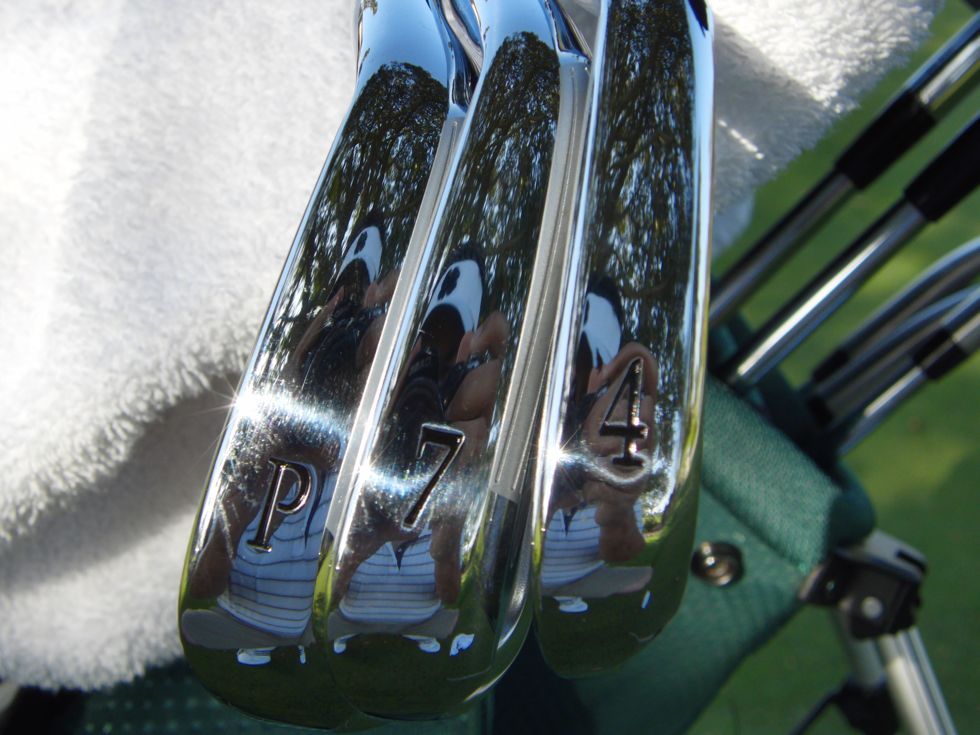 Overall, the irons fly a touch lower than I'm used to with my PING irons, which is to be expected due to the difference in CG location. The leading edge offers just enough roundness as to not come in too sharp and be prone for digging. On good swings the sole grind glides through the turf and produced a very shallow divot. On a less than good swing, the sole can dig a little. This is something that stood out to me and I think this iron would be more accessible to a greater range of players if they added some more bounce. I personally would prefer more camber, more bounce but some purist might not be in favor of that. Just a little more bounce to gives players more confidence to be aggressive through impact. I think too many players, even single digit golfers, try to pick the ball off the turf rather than just get the handle forward and smash it.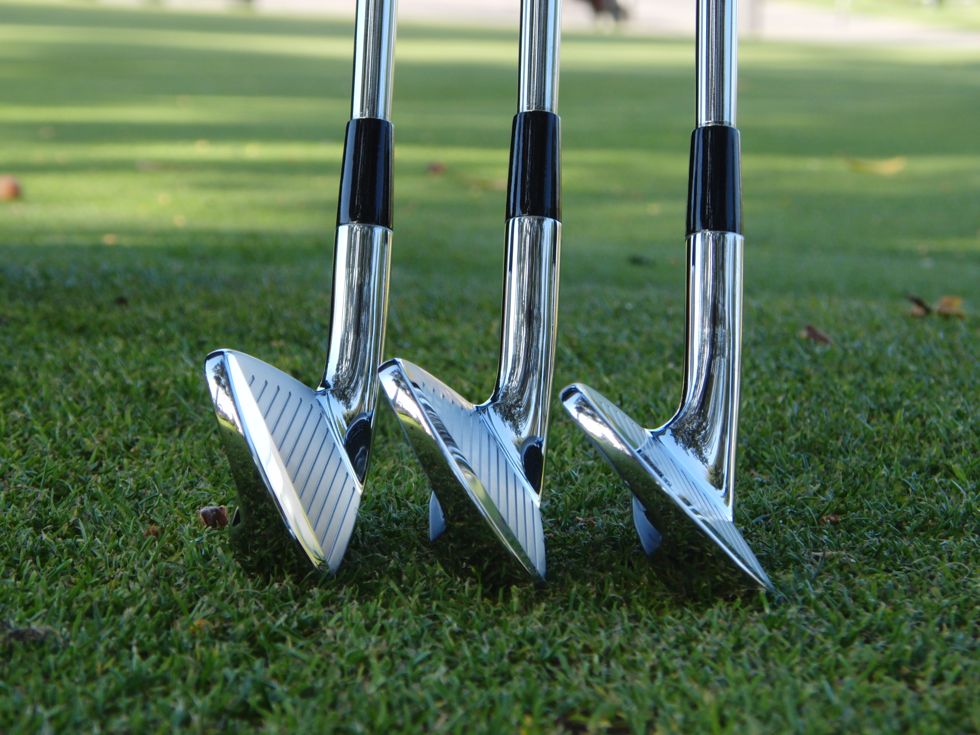 As Mizuno says, the titanium insert is responsible for much of the forgiveness, it's forged into the head to give it a solid carbon steel feel, weighting is moved to the heel and toe. I did notice straighter shots when I missed it off center. I tend to miss it toe center which can make the ball curve more to the left. The only shot unaffected by the forgiveness is a thin shot that stings your hands and carries much shorter than normal. Shots hit a little high on the face or a little toward the heel and toe suffer very little in terms of distance or direction. I think this is a huge difference compared to other forged irons on the market. Hitting several shots with my "gamer" set of irons compared to the MP-59's, the dispersion was very similar. My good shots were three to four yard draws and my misses were my usual misses.
The no-nonsense look at address does a great job of framing the ball and it's easy to align the clubface. Some prefer a clicky, harder feel to their forged irons and the MP59 irons are certainly not that. They certainly provide a softer, pleasing sound that let's you know exactly where you hit it.
Specs
The MP-59 irons come stock with True Temper Dynamic Gold S-300 shafts and Mizuno's Golf Pride M-21 58 round grips.
Club    Loft    Length      Lie    Offset
----    ----    ------      ---    ------------
 3      21°     38.75"      59.5°     0.142
 4      24°     38.25"      60.0°     0.134
 5      27°     37.75"      60.50°    0.134
 6      30°     37.25"      61.00°    0.130
 7      34°     36.75"      61.50°    0.122	
 8      38°     36.25"      62.0°     0.114
 9      42°     35.75"      62.50°    0.106
 PW     46°     35.5"       63.0°     0.102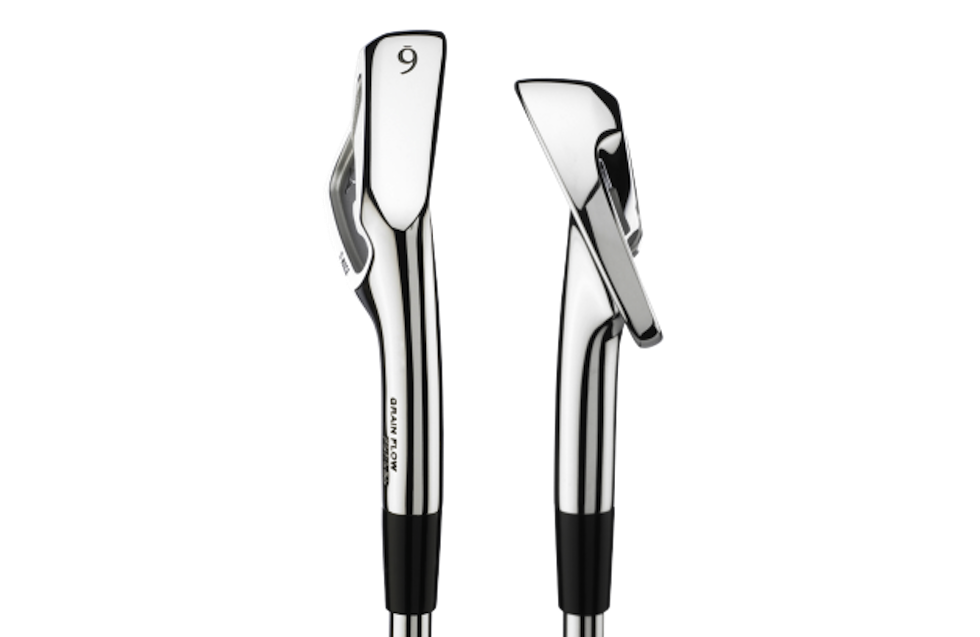 Conclusion
So are the MP-59's one great iron for all players? Well maybe not all players but after being able to play and test these irons, there is no doubt the MP-59's are one of the best sets of irons of 2012. Players that appreciate a muscleback can easily transition into these clubs because of the sole design and clean topline. As well as a player that wants a moderately game improvement iron because of the ti muscle that's forged into the back cavity which increases the club's MOI. The MP-59 irons are the best of both worlds for good players, design features originating from the MP-33, updated technology and some of the most beautiful irons that you will ever see sit in your bag.
Whether you make a visit to your local golf store for the MP-59's or any other Mizuno iron, do yourself a favor and make sure you get fit on Mizuno's Shaft Optimizer to find out what shaft will enhance your game. If they work for Luke Donald, Jonathan Byrd and Charles Howell they might be a great fit for you.