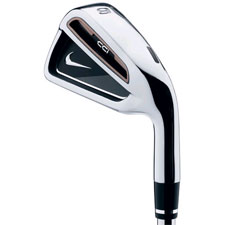 I've had the opportunity to review a few different sets of irons over the past six or eight months, all of which were positive experiences. I had the Nike Slingshot OSS Irons first, and I hit those pretty well. They weren't as consistent as I would have liked, so I was very excited to give the Nike CCi Cast irons a chance.
The Slingshot and CCi irons are completely different when it comes to technology and look, but in the end, they are about the same when it comes to performance. The CCi Cast irons are respectable in all categories, but is respectable enough in the competitive world of golf equipment? Read my breakdown to find out if they are made for you or not.

Technology
Nike is constantly trying to create clubs that help separate themselves from the competition. In hopes of achieving their goal, the designers created the Composite Cavity Insert, better known as CCi. The two key components that make up the insert are a feel-enhancing polymer and a high-density tungsten weight plug.
The two polymer-filled sole ports were incorporated in hopes of dampening vibration to achieve a softer feel than a conventional cast clubhead. The CCi Cast irons are constructed from 431 stainless steel. The 431 stainless steel is 25% softer than the commonly used 17-4 stainless. All of this is designed to decrease vibration at contact and create a much more comfortable experience.
The tungsten weight plug was created to increase forgiveness by lowering the center of gravity. In addition, the CCi irons provide a clean design with a CNC Milled Face which is designed to make distance and shot pattern predictions much easier and more consistent.
The Look
I mentioned above how much different the CCi irons look in comparison to the Slingshot irons, and this is a great thing. The Slingshot irons are hideous looking, while the CCi irons are very sharp. In fact, they are probably the slickest-looking iron I have seen over the past couple years. The look of a golf club isn't the most important thing, but it's nice to play ones that are appealing.
The first thing you will notice when looking at the head is the Composite Cavity Insert. The tungsten weight plugs are located on the back of the irons, and the two polymer filled ports are located on the sole. The back of the irons are mostly a slick-looking black color, with a stainless steel look mixed in. Each iron has a small Nike and CCi symbol on the back which is simple yet effective.
At address, the CCi irons look very similar to my Titleist 804.OS irons. They may be a hair or two wider, but the topline is pretty close. This is much narrower than the Slingshot irons I reviewed last year. The Slingshots were far too wide for my liking, and it's nice to see the CCi irons take a much-needed step back in that department.
Overall, the CCi irons are prettier than any other iron I've ever played. All my friends liked what they saw as well and had nothing but great things to say about the slick look of the clubs. If nothing else, at least the irons looked good while I was playing. Unfortunately, a club's looks don't improve a golfer's ability.
Feel and Performance
This is where golf companies set themselves apart from the rest of the pack. An iron can look better than any other in the world, but it doesn't mean a thing if it doesn't perform on the golf course.
Unfortunately, the Nike CCi Cast iron didn't perform well enough to set itself apart. It ends up in the middle of the pack for me here. The CCi, as a cast club, feel remarkably similar to TaylorMade's r7 irons. The CCi aren't nearly as heavy as the Slingshot OSS nor are they as light as my Titleist 804.OS.
My first couple rounds were a struggle with the CCi irons. I didn't hit the irons very straight or far, and I struggled with getting my traditional distance from these irons. Part of this may have been caused by the cool winter weather that I wasn't accustomed to yet, but I eventually improved.
After playing a few more rounds, my accuracy improved, but my distance did not. After making some adjustments, I can hit the CCi irons fairly straight now, and for the most part, fairly controlled distances. It just surprises me how much shorter the irons are in comparison to the Slingshot OSS and Taylor Made r7. The CCi irons are easily one club shorter than similarly marked irons from either of those sets.
The feel at contact wasn't what I had hoped for. The polymer and 431 stainless steel technology was designed to create a smoother contact with less vibration, but I couldn't tell any difference.
As far as the overall performance goes, I wasn't blown away by any means. The irons feel good at setup, and they feel good going through the swing motion. However, the contact and performance isn't overwhelming. The CCi irons are likely better than average, but they simply aren't as good as some of the ones I've hit in the past.
Specs and Other Features
The Nike CCi Cast irons are available in many different lofts, lies, and lengths. As I've said before, be sure to get custom fit for any new iron purchases. It's definitely worth your dollar (if it even costs anything) to get things right the first time.
When it comes to shaft options, you can outfit your Nike CCi Cast irons with True Temper's ultra-popular Dynalite Gold Steel Shafts in X, S, R, and A flexes. There is also a CCi Constant Weight Graphite Shaft by Mitsubishi Rayon as well. The lighter graphite shaft will provide optimum distance control, and is also available in X, S, R, and A flexes.
The default set of Nike Slingshot OSS irons comes with 4-iron through A-Wedge, though 2- and 3-irons and sand wedges are optional custom orders. You can purchase the CCi irons at Edwin Watts Golf for $699 (steel) or $799 (graphite).
Conclusion
The Nike CCi Cast irons are solid in every way, but they aren't great in any area other than look. In the ever-competitive golf equipment market, a company must go above and beyond other companies to create a great iron. I would recommend the CCi irons to anyone who enjoys playing Nike clubs, but that's about it.
My Titleist irons are almost two years old, and they are just as good, if not better, than the CCi irons. And the Taylor Made r7 irons I played for a few months last year blow the CCi irons out of the water when it comes to distance and control. If I played with the CCi irons for a year or so, maybe I would perfect them. Then again, maybe I wouldn't.
All in all, I can't say many bad things about Nike's latest irons. My scores probably wouldn't get much worse if I played them instead of my Titleist irons, but they probably wouldn't get any better either. When it comes right down to it, other than the slick look, the CCi irons didn't knock my socks off in any category. They are solid and nothing more.