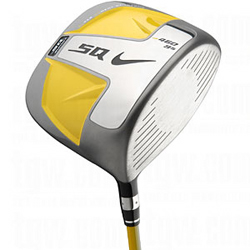 Pushing the edge as manufacturers are doing these days, it was only a matter of time before something like this happened.
Although the Sumo² (the square one) had been approved by the USGA, apparently an unnamed equipment competitor went to the USGA in late February and made a complaint. Upon subsequent testing, the USGA notified Nike that a number of clubheads were found to be non-conforming.
Conforming models will be shipped within a month. They'll come marked with a circular notch on the soleplate indicating they conform to USGA rules. Nike has a plan where consumers can trade in their drivers beginning March 26 either through their website or by calling 800-632-6453. The recall period will run until April 30. You can watch a video of Nike Golf President Bob Wood's mea culpa here.

What makes this recall so interesting to me is that it highlights a glaring hole in the USGA's equipment testing protocol. There is no provision for the USGA to routinely or even randomly re-test equipment once it's been ruled conforming.
Instead of spending a year and a half researching a groove issue resolved 20 years ago, how much more sense would it have made to set up and launch a periodic re-testing protocol?
Nike Golf President Bob Wood said it's no secret manufacturers are pushing the USGA limits. Where the Sumo² failed is in something called the "pendulum" test that measures the time the ball stays in contact with the face. You can catch a glimpse of this test in the video on their website. He says the nonconformance results in "one or two more yards."
This test is another way to measure how much the clubface deforms on impact. This "characteristic time" measurement is set at 236 microseconds. This correlates to the previous coefficient of restitution test and limit of .822.
Clearly in damage control mode, Wood said Nike Golf is going to conduct a voluntary testing and recall program to potentially serve as a model for how this situation may be handled in the future. He would not say how many Sumo² drivers are currently in the market or what this might end up costing Nike Golf in money. If the reaction in our forum is any indication, it may at least cost some goodwill.
Wood also made a rather snarky remark to the press about expecting other maker's drivers to be tested in the future, implying other manufacturers may find themselves in a similar situation. I bet he'd just love to blow the whistle on somebody else's driver.
By the way, the PGA Tour players who use the Sumo² like K.J. Choi are in the clear. All those drivers have been individually tested in advance to make sure they conform to the Rules of Golf.
Wood said the new version has been submitted for USGA approval and he expects it to be on their conforming list by Monday, March 19.