Nike's latest line of irons, Victory Red, comes in muscleback, split cavity, and full cavity versions. The Split Cavity set appealed most to me with its promise of workability coupled with a little more forgiveness than the muscleback.
I like to move the ball a fair amount when I play. In fact, that's one of the things that I find most enjoyable about golf: picturing a shot and then executing it. While I don't always pull off the shot that I've envisioned, when I do it's a feeling as good or better than shooting a low score. So when I'm in the market for irons, I'm looking for a set that I can work when I want to. Still, I'm a realist… I need some forgiveness, too.
The Nike Victory Red Forged Split Cavity irons (aside from having way too long of a name) are designed to help players work the ball, positioned squarely in the middle of the Victory Red workability-forgiveness continuum. Common sense would tell you that the muscleback blades offer far more workability and less forgiveness than the full cavity irons. All of that perimeter weighing in the cavity backs helps reasonably well struck shots go straight, forcing the player to make more of a concerted effort to purposefully move the ball left or right. It's reasonable then to expect that the Split Cavity irons would offer a nice blend of workability and forgiveness.
Nike makes a point of emphasizing Tiger Woods' role in developing the VR irons. The obvious assumption is that if the world's number one golfer had a hand in creating the clubs, then they must be very good clubs, indeed. Let's find out if that's the case.
Design and Technology
The Nike Victory Red Split Cavity Irons are forged from 1025 carbon steel and CNC-milled to produce consistent faces. The split cavity design is intended to keep the weight behind the sweet spot for ball control and added forgiveness.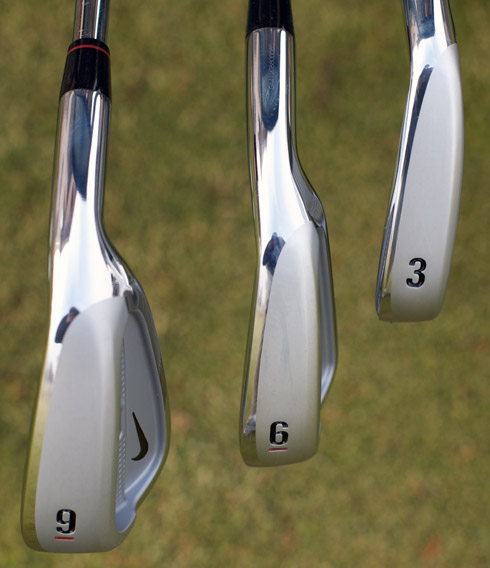 The irons sport cambered soles to help players get the clubface squarely on the ball from a variety of lies. In effect, this is like one of the many types of "grinds" you might have applied to a wedge or iron. Old school players often grind their own clubs to alter a certain aspect of a club's playing characteristics. You might grind the heel down to provide more relief to better open the face without digging in the heel. Grinding is as much art as science.
With the VRs, Nike has built the grind right into the club head. A thin line on the back of the sole has been removed, effectively narrowing the sole width. This allows better players to effectively increase the bounce on the clubs when necessary, while maintaining workability from tight fairway lies. Even without the "grind" effect, the VRs provide more bounce than many clubs in their category.
When it comes to new technology in these clubs, there's not a whole lot here that you won't also find in other top-of-the line players irons, it's more the combination of the pieces that result in a nice package.
Esthetics
Personally, I think these are among the best looking clubs Nike has ever produced. Since entering the golf market, Nike has often dressed up their clubs with flourishes that are clearly cooked up by a designer rather than by an engineer. Some are purposeful, like the "Power Bow" that makes the Sumo drivers look smaller than they really are, others seem to be there solely for show, like the faux rivets on early Nike irons. Golfers tend to either like the Nike look or hate it. In general, I prefer clubs that look more like tools rather than sports cars, but I'd be more than willing to play a pig's head on the end of a stick if I could hit it farther and more accurately than other clubs.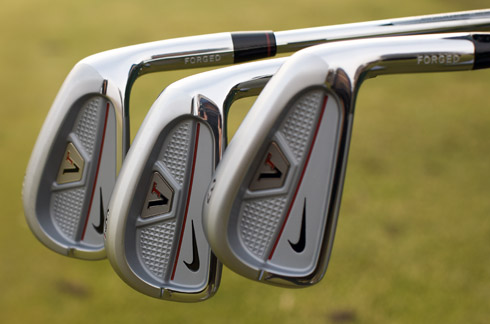 The VRs, for the most part, look the part of players clubs. They have some of the just-for-the-sake-of-design elements we'd expect from Nike. But in an era when the fairly busy (especially for Titleist) and wider-soled AP2s are doing well with better players, these Nikes are not out of line at all.
The cavity is where Nike's designers have been busiest. There's a sort of waffle pattern surrounding the VR in the center of the cavity (which ostensibly marks the reverse side of faces' sweet spot). Naturally, the familiar "Swoosh" is present as well. There's a lot of what I'd call purely cosmetic touches, but at address the clubs appear satisfactorily utilitarian at address, which should appeal to many lower handicappers. The satin finish coupled with mostly understated graphics (for Nike) plus chrome faces and accents give the VRs a refined but purposeful look. There's some flash here, but the overall appearance is all business.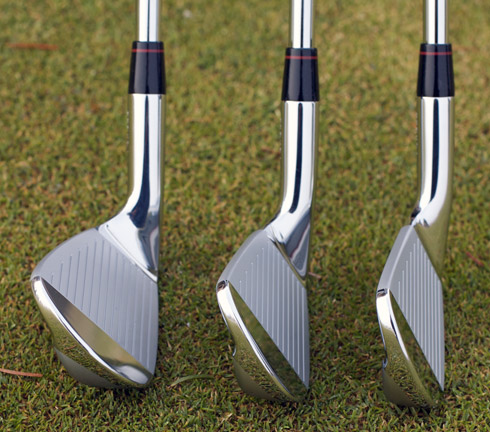 The topline is a tad thicker than many clubs in the category, but not horribly so. Likewise, the soles are a bit wider to provide a tradeoff between workability and resistance to digging.
In a nutshell, the VR Split Cavity irons should prove to be unoffending to most lower handicappers (staunch purists won't like the wide soles or the "dressing up" of the back of the club), while they will appeal to younger players and others who like a little flash in their golf clubs.
On a side note, it seems a little surprising to me the Nike would introduce a VR line of clubs rather than building on the TW brand. If you want to tie these clubs to Tiger, as the Nike ads do, emphasizing his role in the design of them, why wouldn't you use the TW logo on them. Perhaps it's a contractual thing (TW is limited to apparel currently, I believe). Maybe they are protecting the TW brand in case the VRs tank… Whatever the reason, it just struck me as a bit of a surprise.
Performance
You'd expect irons designed with input from Tiger Woods to perform at a high level, and these do. Absolutely. This may or may not be what you are looking for, however. Or in other words, be careful what you wish for.
For a long time in the history of golf, "players clubs" were really just the more expensive, more consistent, more finely crafted versions of the clubs that the rest of the golfing world was playing. There were no "game improvement" clubs. Then Ping and others started producing cavity backs of varying degrees and brought more and more forgiveness to the game. Today, players clubs are supposed to be workable and built to perform for better golfers. The more finely tuned a golf club is for the better player, the harder it is to play for the average player.
What I'm getting at is that the VRs fully expect you to hit the sweet spot, or very close to it, on every shot. When struck in the sweet spot, these irons launch the ball high and long. I found that the purest shots flew 5 to 10 yards farther than shots that just missed catching the sweet spot flush, which flew similar distances to my regular irons. I'm not talking about an off-center shot here, but a solidly struck golf shot that hits in a quarter-size diameter around the sweet spot rather than the dime-sized pure center of the clubface. Not exactly a "miss" by most golfers' standards, but enough to make a difference to the VRs.
True misses, on the other hand, lose quite a bit of distance. My poorly struck shots generally flew right at the target, but landed 15 yards short of what I was expecting (or more depending on the club).
That's not to say that these clubs are entirely unforgiving. They do have features that help you out. The cambered sole performed as advertised for me. I found I could hit the ball well from a variety of lies without excessive digging. The clubs performed well in the mud of springtime golf in Ohio as well as on the dry hard-baked fairways of summer.
Specifications
The Victory Red Forged Split Cavity irons come in sets of 3-PW with True Temper Dynamic Gold steel shafts (regular, stiff, extra stiff) for both left and right handers.
You really can't go wrong with Dynamic Gold shafts. These consistent shafts are the tried and true standards for better players. A lot of golfers will only play Dynamic Golds. Still there are a lot of newer products out there, and I can't help but be a little surprised that Nike opted for a 20-year-old shaft design over a sexier, stepless shaft. Maybe someone at Nike is into substance over style, after all. Or perhaps they figured that a tried and true shaft would help sell the clubs to better players.

Club     Loft °   Lie °    Bounce     Length
----     ------   -----    ------     ------
2I       18       58.0       2°       39.5"
3I       21       59.0       2°       39.00"
4I       24       60.0       3°       38.50"
5I       27       61.0       4°       38.00"
6I       31       62.0       5°       37.50"
7I       35       62.5       6°       37.00"
8I       39       63.0       7°       36.50"
9I       43       63.5       8°       36.00"
PW       47       64.0       9°       35.75"
A set of VR Split Cavity irons will set you back $899 ($999 MSRP). You can also add a 2-iron, as well, if you are among the shrinking minority that still carries a 2-iron.
Conclusion
The Nike Victory Red Forged Split Cavity irons are good sticks, but they are not going be a good fit for everyone. Then again, what clubs are?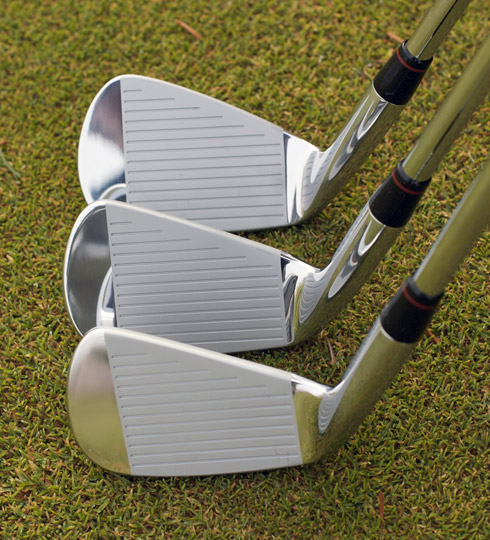 Honestly, I was a little disappointed in the forgiveness offered by these clubs. Yes, they are supposed to be players clubs, but we've seen quite a few really good players clubs out in recent years that still provide enough forgiveness that golfers with handicaps in the low to mid teens can still play well with them.
Solid contact, however, is well rewarded. I hit some really nice golf shots with these clubs, each and every time I hit them dead solid perfect. The ball just jumps off the face and flies like well struck muscleback. Which is really what these clubs remind me of: blades. When you hit them right, all is well in the world and golf shots are a thing of beauty. But when you don't, you are going to pay for it with shots that land well short.
Players who make consistent contact in the center of the clubface will enjoy playing these clubs. Those of us who miss the center (even by a little) more than a few times a round will have a tougher time scoring well. If playing the same club that Tiger does helps you enjoy the game, great. Try the musclebacks. But if you need a little more forgiveness (with the emphasis on "a little more"), then the Split Cavities might be the way to go.