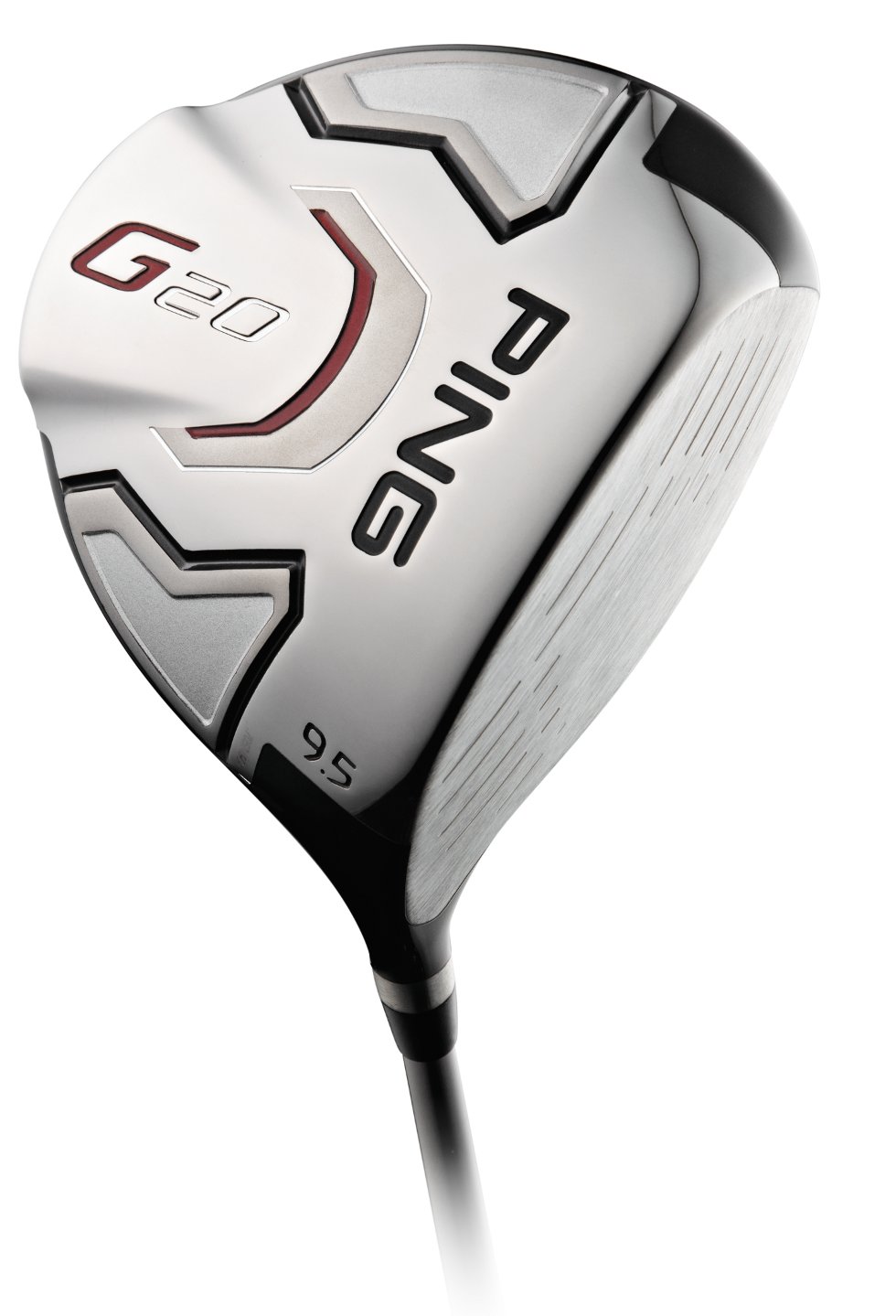 After owning one driver for 3+ years, I have been bouncing around from driver to driver trying ones with different lofts, shafts and spin rates. I struggled for a long time to find something that fit my game just right.
One day on the range, two friends of mine had new PING G20 drivers in their bags. Being the fickle with drivers I thought it would be worth my time to give it a swing. I didn't have high expectations because, yes, I had tried the previous PING driver with not much luck.
All I have to say is that I'm glad I did. Read on and I'll give you the details on why the PING I20 became my new favorite club in the bag.

Design and Technology
The new G20 has been designed to give a player the two things most desired in a driver: high launch and low spin. Anyone that is able to maximize those – hitting the ball high and lowering spin will find themselves with more distance off the tee and better scoring chances coming into the green
This is done by optimizing the center of gravity with an external weight. The G20's large, variable-thickness face generates faster ball speeds and increases MOI for maximum forgiveness. PING also adds:
The 460cc clubhead is made from Ti 8-1-1, a lighter, lower-density alloy. Ti 8-1-1's high strength-to-weight ratio allows for additional weight to be strategically placed for increasing the MOI on both the vertical and horizontal axes. Weight savings from varying wall thicknesses in the crown and body are positioned to optimize performance and durability.
The shaft PING TFC 169D shaft (both the regular and tour versions) have some weight distributed above the center point. This is done to have a bit more mass in the club head without it feeling overly heavy.
Esthetics
The G20 is, like most 460cc clubs, does have a bit of a bulky look to it. That being said, it is one of the few large drivers on the market that actually appeals to me. From the top, the half-crescent alignment aid against the glossy grey top looks better than the traditional Callaway logo. Honestly, from address, the G20 couldn't get much better.
The bottom of the G20, however, has a littie bit too much of a spaceship look too it. It has a futuristic feel with the patterns moving towards the back of the club in a stylish pattern that you could visualize as an explosion of shapes and (limited) color.
I will say that I do really like the colors that they picked for the club. The muted grey is very appealing to the top and does not contrast much with anything. The red accent in the "G" and center of the bottom is just enough to keep it from being monochromatic and dull in any fashion. Overall, I give the G20 a thumbs up because I'd much rather enjoy looking at the top of the club at address and the driver not be distracting in any way. PING has kept the i20 and the G20 very different in many ways, including looks. This is different than other companies like Titleist that stick to one basic scheme. I applaud PING because both have gotten positive reviews.
Performance and Feel
So how does the G20 feel and perform when put to use? In one word: excellent. At setup, the 10.5 degree driver I tested felt as good or better than any other driver I've had. Ever. Before I had the G20 in my hands for review, my aforementioned friends let me hit their driver and the first thing that struck me was just how great it felt at address.
The face of the club felt perfectly square. Some drivers on the market come a bit closed and feel like to have to open it up a bit. The G20 didn't require any type of adjustment at all. Taking any sort of doubt at address is a big plus in my book.
After a couple of swings the biggest thing that I took notice of was the weight of the club. The G20 is much lighter than my previous drivers. So not only do I have a driver that feels great at address, it also feels like I can make a good, hard pass at the ball. As mentioned earlier, PING has put a high balance point in their G20 shafts to allow you to swing a bit more mass (G20 is actually 2 grams heavier than the G15) at the same speed.
The biggest question I had going into this review was what PING touted with this driver: high launching with low spin. My current ballflight has been a bit too low. My spin rate was fine but the ball was coming off too low for my liking. After about ten balls on the range, I knew that wasn't going to be a problem with the G20. The ball took off much higher but did not flutter and drop softly. I've tried other drivers that gave me a higher launch angle but the spin rate was too high and the ball would fall out of the air. The G20 did not do that at all.
With that type of launch once concern I had was that I might lose a bit of accuracy. I can say that the G20 was neither more nor less accurate than my previous driver. I keep stats of my rounds and there wasn't a noticeable change in my driving accuracy.
Overall I'd say that my carry improved by about a solid 10 yards. My total distance didn't improve much, if at all because my previous driver got a bit more roll because it was lower and even hotter than the G20. That isn't the ballflight I want any more though. I much prefer carrying the ball further because it gives me more options off the tee.
If I had one knock on the G20 it is that I didn't get as much feedback off the face. Mis-hits, especially off of the toe, felt very soft. The G20 did a great job with those shots and I didn't lose too much distance but other drivers may give you a bit more feedback on where the ball is making contact on the face.
Specs
You can get the G20 in lofts of 8.5, 9.5, 10.5 and 12 degrees. All the heads weigh 204g and have a swing weight of D3. PING only gives you two standard options on the shafts. They have the PING TFC 169D and the Tour version of the shaft. The tour versions have a bit less torque and a few more grams of weight. I went with the "normal" stiff shaft for this review and found it perfect for my swing. My swing speed is normally around 105-110 mph.
If you want a custom shaft they do offer a wide variety. So if you're a Project-X or Aldila NV type of guy, you're in luck. Like most other club manufacturers they'll hook you up. Also, the head cover is a plus. Easy to get on and take off as well since it has a built-in handle that you can grab and pull the cover off. The little things matter to me and this is definitely one of them.
Conclusion
As you can probably guess, I'm a big fan of the G20. I haven't taken it out of my bag for a while and it was one of the easiest drivers to get use to straight out of the box. This is the first PING driver that's lasted more than a couple weeks and I don't see anything that can knock it out. It's exactly as advertised and will give you a bit higher launch angle with too much spin.
One final thought is that the sound is much more pleasurable than previous PING drivers. Instead of the traditional "PING" sound you'll get something closer to the solid metal cracks that other drivers produce. This might not be important to some people but you won't be standing out on the range with everyone wondering what it is you're hitting. Well, maybe they will but it will be because your beautiful drives and not the annoying sound you're making.