Scotty Cameron is an artist. Modern artist to some, renaissance artist to others, and an artist of his own breed to a thoughtful few. Though he doesn't work with oils, he does offer his pieces of art in an oil (can) finish, and while you may not find him among the lilies at Giverny, you will find him among the mills at his California studio.
Scotty Cameron makes putters. Far from ordinary putters, many believe them to be the best in the land. What began as a hobby has turned into a world-class business and a long-standing association with Titleist. Scotty's works of art routinely top the professional golf tours in putter counts and can be found in the bags of players like Tiger Woods, Ernie Els, Adam Scott, Brad Faxon, Davis Love III, and more. These pros and more trust Scotty with their "gamer," the putter they know will make the crucial 10-footer to win a major.

But Scotty's putters can also be found in the bags of average golfers, many of whom have been using the same "gamer" to sink crucial 10-footers to win a weekend nassau for years. All those years of use, unfortunately, can take their toll on a putter as rain, sand, pesticides, and thousands of well-struck putts (and a few not-so-well-struck ones) wear down the finish on a golfer's most cherished club. Putters get nicks and bruises from temporary moments of anger on the rare occasion a critical putt is missed or from the clatter of irons. Yet that favorite putter stays in the bag while drivers, wedges, and irons come and go.
Now for Everyone
Though weekend golfers could previously purchase a Scotty Cameron work of art, the putter they used shared only a little in common with those used by professionals. Scotty Cameron has maintained the trust of professional golfers not only through stellar craftsmanship, but a genuine interest in personal, custom service. Scotty's putters – and the professionals who wielded them – are his friends. The weekend golfer was just a customer.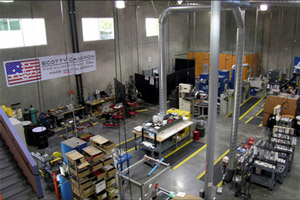 That all changed on April 26, as Cameron opened the Scotty Cameron Custom Shop and Restoration Department to provide those weekend golfers a similar level of service. These services were previously available to only "Club Cameron" members, but now anyone who owns a Scotty Cameron putter can avail themselves of the Cameron crew's services.
The Cameron philosophy is one of humble service and constant tinkering, and the Custom Shop and Restoration Department now lets everyone with a favorite Cameron putter tap into that philosophy. Said Cameron, "My feeling has always been when a consumer purchases a Scotty Cameron putter, he or she is making an investment in the future of their game. My name is on it and the Titleist script is on it, meaning it has to be made to exacting standards and contribute to improved performance for the golfer. These initiatives address that philosophy."
Cameron continues, saying "I think most golfers have a special relationship with their putters. Golfers talk to their putters. Sometimes it is punished by getting placed in a closet, the garage or the trunk of a car. Most often, golfers always go back to that special one, that special relationship. To me, and a lot of other people, putters are heirlooms. They are passed down from generation to generation. The goal of the Putter Studio has always been to make the best product while providing outstanding service. The ability to refinish and restore putters is an extension of that service."
Quite a Shop!
Occupying 10,000 square feet of space, Scotty's Custom Shop and Restoration Department contains over 20 stations, each used for a specific task, including grinding, buffing, polishing, dremeling, milling, stamping, gripping, paint fill, inspection, and authentication.
Scotty Cameron's Custom Shop and Restoration Department is like a spa for putters. They enter tired, weary, and battle-scarred but leave restored to their original luster and, if the owner so chooses, with some additional decorations as well. I recently sent a trusty old putter in to Scotty's studio for restoration, custom work, and authentication. Here is how it came out…
My Coronado Visits the Spa
I've been using mallet putters for over a decade; most recently Scotty Cameron's own Red X putter. However, when my arc stroke gets off, I've always turned to my trusty Coronado. The blade putter has a sensitive sweet spot and a feel that encourages me to swing back and through on an arc, opening and closing the putter face just as the best putters in the game have done for centuries. The Coronado is one of the simplest, classiest blade putters you can find.
I sent the Coronado off to Scotty Cameron's shop to have a few things done:
Restoration ($110)
Pro Platinum Finish ($30)
Initials Stamping "TST" ($30)
Authentication ($30)
In total, $200 to restore, authenticate, and customize the putter. I also added, at costs of $47 and $22 respectively, a Lime Green Custom Shop headcover and grip, to further ensure my Coronado's status as a one-of-a-kind putter.
Just over a month after sending in the putter, I received a large, yellow box in the mail.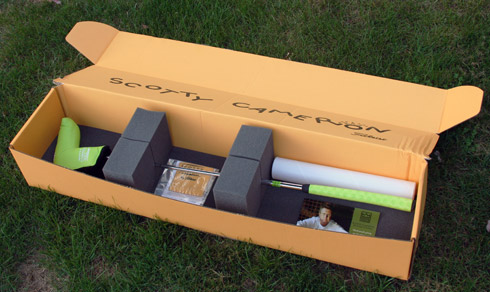 My Coronado had returned, complete with the certificate of authenticity (in the tube) and a cleaning cloth. When I pulled the putter from the box and removed the headcover, the difference was astounding. I recognized the putter, of course, but the transformation was dramatic as you can see:
Back
Here you can see the old black/oil finish and the new Pro Platinum finish. A lot of Coronados are being re-done in the Pro Platinum finish, making a classy putter even more svelte. Also visible on the re-finished putter: Scotty's "Custom Shop" stamp to the left and the dancing "TST" (The Sand Trap) initials.
Face
The fine mill lines evident – and quite well worn – on the original have been restored to the face, sans nicks, scratches, and stains. "Scotty Cameron" was filled in with lime green paint to match the rest of the putter: the sole, the lime green grip and headcover, and shaft band.
Sole
Perhaps the most dramatic picture, this shows the transformation from tired, rusty, well-worn putter back into stunning work of art, complete with a mirror-smooth finish, matching lime green accent, and a fresh fill of crisp white paint.
Grip
The transformation is not complete without the finishing touches! Here you can see the old grip – the original from nearly a decade ago – and the new Custom Shop Lime Green Grip. Had I not elected to pay $22, I'd have received an "NOS," or "new old stock," grip identical to the original but, naturally, brand new.
Play Testing
After putting it off for a few weeks, I finally mustered the courage to put the Coronado into play. After a quick adjustment (it's a tad lighter than my Red X), I began rolling the ball into the hole once again, sinking several putts over twenty feet for par or birdie.
I was concerned that the Pro Platinum finish would harden the rather soft sweet spot feel, but my concerns were unfounded and, ultimately, unproven. My Coronado has retained the same solid, smooth, and lively feel it's always had, regardless of it's new color. The putter plays and feels exactly as I remember it, and that's perfect.
Now, if you'll excuse me, I'm going to wipe down the putter with the Cameron-supplied cloth and put it back on display in my office where it belongs…
Authentication
While spending time at the Scotty Cameron Putter Spa, I had the putter authenticated as a true blue Scotty Cameron. You can view my putter in the official registry by looking for putter A003685.
The great part about the Restoration Department is that you can go to a second-hand shop or golf store, buy a "neglected" Scotty, and restore it to its original beauty for less than the cost of a new putter. Says Doug Hardman of The Cameron Collector, "I recently picked up a used Newport Oil-Can for $69. It was trashed, but after I get it back from the Restoration Department, I'll have a very nice putter for under $200.
For golfers or collectors who send their putters in to the Cameron shop, adding authentication will run $30. For anything out of the ordinary, that's a steal. You'll almost always get the $30 back if you ever want to sell your putter, and if you are building a collection, you can't go wrong with having a "pedigree" for each putter. The analogy here is that if you want a dog for a pet, you don't need AKC papers… but if you are showing that dog in competitions, you'd better have them handy!
Doug continued, saying "some will argue that buying a new putter is a better way to go, but there are those of us that like the look/feel of the older classics. I use the analogy of restoring a classic car all the time. I bought a 1973 Porsche last January and spent all winter/spring restoring it. I spent about as much as it would cost to buy a newer Boxter, but I wanted a classic. So now I have a "new" 1973 Porsche."
Like the 1973 Porsche, my Coronado is no longer made.There are always people that prefer "older technology" and fond memories over the newest glitz and glam, but that doesn't mean the "old technology" can't look great.
If you own a Scotty Cameron, you may want to look into authentication, restoration, or customization. Give your old friend some new life – and a little more personality too. As the saying goes, you may drive for show, but you putt for dough.
Special Thanks
Special thanks to the members of the realcameronfans mailing list and Doug Hardaman of The Cameron Collector.
Photo Credits: © Scotty Cameron .com, Erik J. Barzeski/The Sand Trap .com.