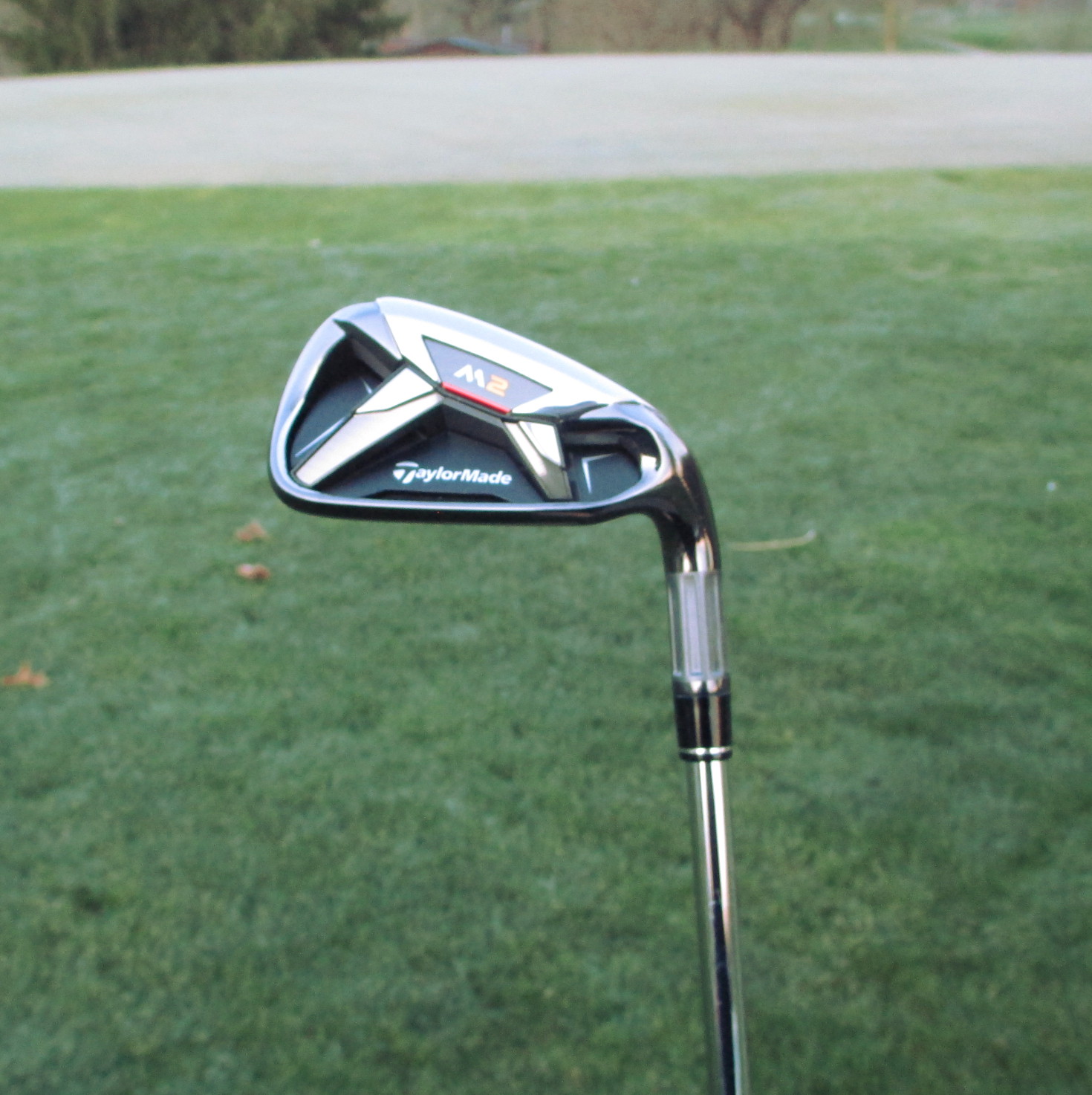 The TaylorMade M2 irons promise to do two things that should benefit a whole lot of golfers out there: hit golf balls a long way and with a high trajectory.
Actually, those two are closely related for most players. Since the majority of us don't swing at anywhere near the speed of a pro, getting the ball up in the air so it can travel as far as possible is our best bet to knock it past our buddies. So those two M2 promises are a crucial combination that a lot of players will be looking for.
So how well do they deliver? Read on.

Technology
Discussion of any TaylorMade club starts with technology. Coming up with new or reimagined golf club tech is a tried and true TaylorMade marketing strategy.
The M2s are no exception, combining a number of technologies aimed primarily at producing high and long ball flight.
The oxymoronically named Thick-Thin Fluted Hosel saves three grams of weight that is then redistributed low in the club head to lower the CG and promote high launch. We can presume that the fluting is the source of the weight savings.
The 360° Undercut that TaylorMade has been putting in everything the last few years is part of the M2. TaylorMade says it creates more ball speed across the face and removes weight from the topline (which is repositioned low in the club head). This also allows designers to go with stronger lofts to maximize distance while still attaining a high trajectory and more playable shots.
The M2's Speed Pocket increases launch angle and ball speed, while providing forgiveness for shots struck low on the face.
TaylorMade Inverted Cone Technology has been around for more than a decade now. It helps increase ball speed across the face to increase distance.
Finally, the 3D Sound & Feel system is a lightweight badge system to manage sound and dampen vibrations.
Esthetics
As game improvement irons go, the M2s are above average lookers. They are a little thick, and a tad over-sized. But when you look at some of the other GI designs, I think most players find the M2s to be fairly pleasing to the eye.
When you set an M2 down next to the ball, you feel like you have an iron in your hand rather than some monstrous hybrid iron. The black and gray color scheme is sharp and very shiny (as my photos will attest). The dark finish frames the ball nicely, and the badge on the back of the club is nicely stylized to not be overly intrusive at address or when held upright after you knock it past your buddies, again.
Those whose sensibilities are more attuned to traditional styling are not going to like the rounded appearance of the back of the M2s at address, but that is only visible in the long irons. The offset is also going to cause a bit of angst, and that is present to varying degrees through the set.
Good contact yields a muted sound, and the club delivers a far softer impact feel than it does on toe or heel hits. Feedback is harsh if you miss the center of the club, and it sounds like you have hit a rock instead of a urethane-covered golf ball.
Performance
While you may not fall in love at first sight with the M2s, you may feel differently at "first flight."
These irons truly deliver on that high trajectory promise. Even with the seriously juiced lofts, these are the highest flying irons I've tried, especially in the long irons. In fact, the biggest difference between the M2 and any other iron you might try is in the long irons.
The first word that came to mind when hitting the M2 4-iron was "Wow." Not from me, but from my buddies. It is stupid long. The ball takes off with a trajectory like an 8 or 9-iron, but just keeps going and going.
I hit several 4-iron tee shots of 240+ (I know what you're thinking but I verified them with my GAME Golf). I expect about 210 off a tee (counting run out) with my own 4-iron. The M2 flew about 225-230 for me. Like I said, it's stupid long.
One reason that the M2s are so long can be traced directly to those juiced lofts. The M2 4-iron is actually a weak 2-iron by traditional specs (it's 19 °), but it flies as high as anything else in my bag. Off the fairway, the 4-iron becomes a little more mortal, but still delivered 220+ with reasonably good contact and swing.
As you work toward the shorter irons, the distance gains become a little less surprising. The 6-iron plays like my 5-iron (it should, they are the same loft). The 9-iron is a half club longer than mine (again, that's about right because it's three degrees stronger).
The shorter M2's still deliver that high ball flight, which should help golfers hold more greens. Watching a 6-iron shot land like a nine is a thing of beauty.
The clubs perform well off good lies (fairway and fringe) with center contact. Shots from long or thick rough can be dicey. That fluted hosel that helps move weight low in the head tends to grab in the rough and close the clubface. In long, wet Ohio rough this spring, I had a number of seemingly reasonable lies result in a smother or a left yank caused by the rough. I suspect that once the rough thins out later this summer, the rough-fluting interaction wouldn't be such an issue.
I would expect a little more forgiveness in a game improvement iron than the M2s want to deliver. Off-center contact loses distance and accuracy. Toed and heeled shots can look and sound clunky. Poor contact is just about the only way to keep the M2's ball flight down.
Specifications
For this review, I was sent a partial set of M2 irons — 4-iron, 6-iron, and 9-iron — with steel REAX 88HL shafts in stiff. The same shafts are available in regular, and there are also four REAX graphite options: S-75, R-65, M-55, and L-45. Fairly extensive custom options are available, both with and without an upcharge.
Club   Loft     Lie      Offset    Length    Swingweight
----   -----    ------   ------    -------   -----------
 4     19.0°    61.00°   6.3mm     38.875"       D2
 5     21.5°    61.75°   5.8mm     38.25"        D2
 6     25.0°    62.50°   5.3mm     37.625"       D2
 7     28.5°    63.00°   4.7mm     37.00"        D2
 8     33.0°    63.50°   4.0mm     36.50"        D2
 9     38.0°    64.00°   3.5mm     36.00"        D2
 PW    43.5°    64.50°   3.0mm     35.50"        D2
 AW    49.0°    64.50°   2.5mm     35.50"        D2
 SW    55.0°    64.50°   2.5mm     35.25"        D2
 LW    60.0°    64.50°   2.5mm     35.00"        D3
M2 irons are also available in combo sets with the M2 hybrids. While M2 long irons are easier than most to get airborne off fairway lies, players who currently struggle to hit long irons off the fairway may be better served by the combo set.
I'm a little surprised that Taylormade isn't making an ala carte 3-iron (at about 15 degrees) to really maximize distance off the tee and replace a lot of drivers. It seems like the 4-iron is as long as a lot of utility irons and at least as forgiving.
A set of eight M2 irons lists for $799.99 in steel, and $899.99 in graphite. A combo set is $100 more for the two hybrids and six irons. A number of other set options and combos exist, and there is also a Tour version for those who'd like a little less offset (and the word "Tour" on their clubs). Individual M2 irons are available for $99.99 in steel or $112.49 for graphite.
Conclusion
So those commercials where Jason Day is hitting the M2 4-iron 290 yards… Yup, I believe it. These clubs deliver on what is promised. They hit the ball supernaturally far, and despite the extremely strong lofts, they launch the ball like a rocket.
In fact, when it comes right down to it, you have to ask, do the M2s hit it too far?
The M2s prompt a philosophical debate about distance in an iron. For instance, if I were to game the M2s, what other clubs would make sense in the bag to accompany them? When a 4-iron is good for 220-250 yards, it renders my 3-wood superfluous, let alone the hybrid. I could carry five wedges (in addition to the M2 PW). That would give me a whole lot of options and a whole lot to think about from 120 yards and in.
It's an interesting problem, er, opportunity to consider.
Despite being game improvement clubs, the M2s are best suited to players who don't often miss the center of the club by too much, too often. The long irons (naturally) demand to be hit reasonably square and in the sweetspot to provide maximum distance. The short irons handle reasonably off-center contact pretty well, but through the bag each club has a fairly wide range of yardages. Hit the 4-iron in the center of the clubface and it's as long as a 3-wood. Hit it off center and it's (oh darn) a 4-iron again.
Taylormade clearly went all in for distance and height in the M2 irons, and that's all right. They do those two things extremely well. The question you need to determine is whether they're a good match for your game.
Golfers who typically make good contact but who are distance and/or trajectory challenged should absolutely look at these clubs. The M2s could make a huge difference in their games. The occasional golfer who doesn't need max forgiveness, but who enjoys hitting irons by all of his buddies will also be well served.
The M2s deliver a ton of "wow" factor with distance and sky-high trajectory, but can they help you score better consistently? That depends on your game and how you play them.