For the past year and a half, two of my favorite clubs have been my 56° and 60° Titleist Vokey Oil Can wedges. These wedges performed superbly on approaches from the fairway, out of the rough, and were a sure bet out of the sand. However, many people have been raving about the incredible spin produced by TaylorMade's y-groove wedges which are found only on their tour versions of the RAC wedge series. Recently I had the opportunity to purchase one of these wedges from Bomb Squad Golf and pounced on it just to see what all the hype is about. A few days ago, a 56° oil quenched RAC y-cutter with 12° of bounce was delivered to my door and I tested it at the course the next day.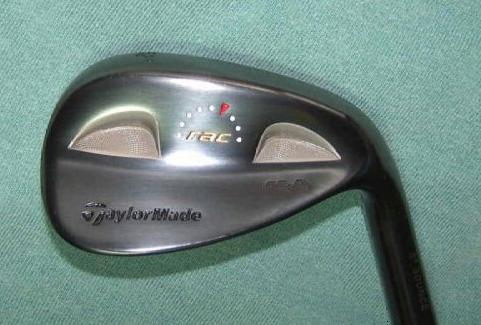 Appearances
At address, these wedges have a very classic slim appearance found on most muscle back wedges. Very thin topline, no offset and a nice clean CNC milled face. The oil quenched finish leaves the wedge with a nice dark color and produces no glare even in direct sunlight. To complete things, I chose to fit my wedge with a True Temper Dynamic Gold S400 shaft and a Golf Pride Velvet Cord grip. The two punch dots on the hozel indicate that it is truly a y-cutter.
As stated earlier, I chose a wedge with 12° of bounce which works well in multiple turf and sand conditions and also allows me to play with the blade open or closed at will. Players who have a steep angle of attack, play in softer turf conditions, or like to play with the blade closed should choose a club with more bounce (14° or more). On the other hand, players who have sweeping swings, hard turf or sand, or play with the blade closed should choose a club with less bounce (10° or less).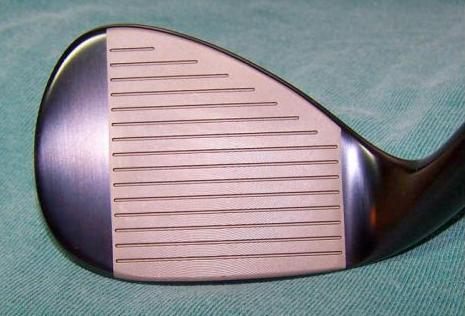 Technology
The biggest feature of this wedge is the y-groove technology found in the face of this wedge. In a high lofted club such as a sand wedge, the main purpose of grooves is to put backspin on the ball to help improve accuracy on approaches. There are a two types of grooves commonly found in wedges: box-grooves and u-grooves. Box-grooves are shaped with right angles to the groove |_|. These grooves put a tremendous amount of spin on the ball, but are notorious for shredding the covers of golf balls. u-grooves are employed by many companies such as Titleist, Cleveland, and Callaway. These grooves have a U shape to them and while they are comparable to box-grooves in terms of spin, u-grooves do not scuff the cover of golf balls badly. TaylorMade's y-groove technology is unique to their tour wedges. The grooves whose shape resembles a Y, are a very aggressive style and put a lot of spin on the ball without ripping into the ball's cover as badly as box or even U-grooves. Launch monitor numbers have shown that y-grooves increase spin numbers by as much as 500rpm over the other types of grooves.
Playing Characteristics
This club is cast from 8620 carbon steel and is engineered with two special "Feel Pockets" cut out of the muscle which help to, "channel energy through specific areas of the clubhead." The bottom line is that even on off-center hits, this wedge still produces great distance, control, and feel. Before my round, I spent a lot of time warming up with this wedge and I was pleasantly surprised. Even on ¾ and ½ shots this wedge maintains a pleasant soft feel although they are a bit harder than my Vokeys. These wedges also have a slightly rounder sole and leading edge which does help prevent digging even on steep swings out of the rough.
On Course
My home course is relatively short (6800 yards), and due to the lack of rain the past two weeks, was playing very fast from tee to green. I am a pretty long player, and most of my approaches to par-4's are with my wedges. I was fully expecting to have most of my shots run quite a ways due to the hardness of the greens; however, all my approaches just dropped and stopped or backed up. I never imagined being able to hold shots so well on greens that hard and fast. The highlight of my round was on the par-4 13th hole where I was left with a full wedge into the green which sloped severely down and away from me. I went ahead and fired at the pin with a full swing, fully expecting the ball to end up twelve or thirteen feet away. However, the ball hit and just stopped dead . . . there's no way I could have put that much spin on it with my Vokey. While all this spin was great, what impressed me even more was the lack of damage to my golf balls. In the past, my biggest complaint about my Vokeys has been the way they chew up the covers of my golf balls. However, with the y-cutters even on my hardest full swing shots there is hardly any damage to my golf balls. I tried every ball in my bag: Bridgestone B330, Pro V1, Pro V1X, and Strata Tour Ace. I wasn't able to scuff any of them too badly.
On short chips and pitches the club still put more spin on the ball than any other club I've ever used. Despite the high spin, it was still very easy to control trajectory and by controlling wrist hinge, I was also able to allow the ball to release if necessary.
Conclusion
I was incredibly impressed by these wedges. They put incredible spin on the ball, but not at the expense of golf ball life. This wedge will pay for itself in a few rounds now that I'm not replacing my ball every time one touches my wedge. I really think even high handicap golfers can benefit from these clubs. The added spin means any golfer can benefit from using multi-layer balls regardless of swing speed. And who wouldn't want to be able to hold more greens and control their short game more?
The only drawback lies in purchasing these wedges. As I said before, they are tour only models and can be difficult to find. Two good places to start are Bomb Squad Golf and eBay, and expect to pay anywhere from $125-$200 for them. While this may seem like a lot of money considering most retail wedges only cost about $100, they will help lower your handicap more than any $300 driver or $1000 set of irons.