Rarely are a set of irons so lusted after as Titleist's Forged 735.CM irons. The 735s – Titleist's first foray into "combo" or cavity-to-muscle "progressive" irons – were a rumor in March, reality in August, and had already earned a place in my bag by the time the Newport Cup rolled around in October.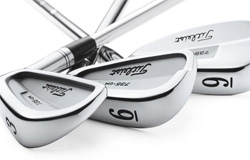 If you don't read past the first two paragraphs, take one thing away from this review: these clubs were worth the wait. It takes a lot to knock a set of irons out of my bag, but these irons effectively replaced the irons I was playing (Titleist's Forged 680) by the turn the first time I played with them. The 680s are a forged, muscleback club with a great amount of feel and feedback, which I had always deemed important to improving my golf game. I never thought a cavity-back club could replicate the feel of a finely crafted muscleback. Until I tried the 735s. They felt so good, I came up with a phrase that I'd rather not repeat here… (but you could find it in the forum quite easily).
They're that good.

Progressive (Not the Soup)
Titleist's iron line has traditionally been divided between pure cavity backs (like the 690.CB, the 704, and the 804) and pure musclebacks (670, 680, 690.MB). With the exception of a few clubs through the years (the 804s, for example), the Titleist line has also focused on feel over "playability," as Titleist has maintained a traditional approach to iron design. They've eschewed the "metal brick on a stick" that characterizes irons from fellow Carlsbad resident Callaway and didn't bat an eye when Nike introduced irons nearly as wide as they were deep. If recreational golfers wanted "game improvement," they could go to Titleist's sister company Cobra. Titleist was the brand for classic player's irons.
With the 735.CM, Titleist remains the brand for player's irons, and the irons themselves maintain a sense of dignity, austerity, and classic style that better players find appealing. What's changed, however, is Titleist's stance on "combo" or "progressive" sets – the 735.CM is Titleist's first foray into "combo" irons, blending cavity-back long irons to muscle-back short irons. Many speculate that the ".CM" in the name stands for "combo," but as with the 690.CB/690.MB, the company stands by the fact that ".CM" stands for "cavity to muscle" or "cavity and muscle."
With this step, Titleist acknowledges that even the best players in the world might not want a blade 3-iron or even a blade 4-iron. They acknowledge that the purpose of a 5-iron is not necessarily to go pin-hunting, but to make give yourself a putt for a birdie instead of playing out of the weeds. They acknowledge that better players use their 8-iron, 9-iron, and pitching wedges to score, and developed a true muscleback design in the short irons to facilitate tremendous ball control.
Design and Technology
Titleist, true to their nature, does all of this while maintaining an incredibly simple looking iron with clean lines, subtle features, and the classy appearance you'd expect from Titleist.
At address, the 735.CM presents a thin topline. It's somewhat thicker than that of my 680s, a pure blade set of irons, but no thicker than the 690.CB. The offset (from 0.140″ in the 2-iron to .085″ in the PW) is in line with a player's club, and about half that of the 804.OS. In other words, these clubs won't help you cure your slice, but you probably knew that already.

The clean look hides some pretty serious technology. Better players know that a muscleback's sweet spot is often closer towards the heel than the toe because the hosel shifts the center of gravity heel-ward. To move the center of gravity and, correspondingly, the sweet spot back to the center of the clubface, Titleist removed a plug from the hosel of the irons and filled it with a much lighter plug. At first glance, the plug almost resembles a bore-through design, but it's shifted back from the line of the shaft. In both the Chrome and Stainless variations of the 735.CM, the plug is on the underside of the club, hidden at address.
Additionally, a good bit of engineering went into creating not only progressive offset and cavity-to-muscle transition, but also launch angle as well. Longer irons launch higher to help get the ball airborne, while short irons launch flat to allow for precise trajectory and distance control.
Performance
As I said, it did not take long to fall in love with the 735.CM. My first shot, a wedge into a par five, came off on a flat, low trajectory that just bore through the air. It sat quickly and spun back. My next shot was a 7-iron from a sloped lie that I caught a little towards the toe. I looked up, expecting a shot going short and right, but instead saw my ball headed just right of the flag and about three yards short of where I'd have expected a normal shot to go. On the next hole, I hit a smooth 4-iron that got up in the air with ease and shot towards the target.
As is true of all Titleist's irons, they inspire confidence from the moment you pull them out of the bag, set them behind the ball, and look up at your shot as it soars against an azul sky.
I tested a set of stock chrome 735.CMs, and they haven't left my bag since. I began the year with a 6.1 handicap index. That had only gone down to 5.8 when I first put the 735s in my bag. Two months later, I ended the year with a 3.8 index. Now, whether my game suddenly came around or whether the 735's made that much of a difference, I can't quite say. The truth is likely somewhere in the middle. But even one point on a 5 handicap is substantial!
After picking up a hybrid to relace my 2-iron earlier in the year, my Titleist 680 3-iron saw little use. I'd either baby a hybrid or hit a harder 4-iron, as the 3-iron had to be hit so well to perform that I simply never opted for it. Some days, even the 4-iron would remain in the bag. The 735.CMs gave my two longest irons back to me: I never worry about how I'll hit them anymore – the ball will get up in the air, on-target, and with tremendous carry. The 7th hole at Tanglewood Country Club in Clemmons, NC was the site of the 1974 PGA Championship, where the hole played as the 16th. It's a slightly downhill 210-yard par 3 with water all along the left-hand side and a large bunker front and right, guarding the pin that day. I hit a 4-iron just right of the flag to 10 feet. Months before, I'd have probably tried to hit an easy hybrid, bringing the water or the bunker into play.
I've long believed in the power of clubhead contact as a key ingredient in improving my golf game. I play muscle-back blades because they offer the most feedback and feel oh-so-good when they're hit properly. The 735.CMs are some of the sweetest, smoothest, silkiest cavity/muscle-back irons I've ever hit. While offering gentle error correction in the long irons, I'm not robbed of the feelings that tell me where I caught the ball on the clubface. The feeling when I achieve pure contact is still there and just as sweet.
If you've liked Titleist irons in the past, I think you'll love the 735.CM. I haven't talked much about how the clubhead glides through the rough, how much spin I can get, how well I can control the trajectory, or how easy it is to shape the ball. If you have ever played with 695s, 962Bs, 680s/670s, or perhaps even the 704s, you probably understand, as these irons excel at all areas of the game. The 735s simply offer better, more consistent control throughout the set, from easier-to-hit long irons to easier-to-flight short irons.
Choices, Choices, Choices
As alluded to, the 735.CM is available in two finishes. Frankly, I'm not sure who would choose the Stainless Steel over the chrome – chrome is sexier and softer feeling. If your skill level deserves a set of 735s, then you deserve them in chrome, even if they sell for an extra $100.
As is typical of Titleist irons, a great deal of customization is possible, and Titleist encourages all of their players and customers to get custom fit. It makes a difference.
Available in both right- and left-handed models, the 735s retail for around $799 to $899 for a set. In addition to the grip, loft, and lie, Titleist offers a full range of custom shafts. The default – the time-tested True Temper Dynamic Gold – will serve a lot of people well, but should you want something a bit more exotic, you can choose from Aldila, Graphite Design, and Mitsubishi-made graphite shafts or the Nippon NS Pro 970, a full line of Royal Precision shafts including the Project X, and a full line of True Temper shafts, including those with SensiCore. Additional and even more exotic shafts are also available.
Overall
The Forged 735.cm was, again, worth the wait, and once you put them in your bag you won't wait long to see the results. Your long irons will get in the air just a bit more easily. Your short irons will bore through the wind with a controlled trajectory. Your mid-irons will become scoring clubs.
If I had to find a nit to pick, it's that the 7-iron has like a cavity back. I consider the 7-iron a short iron, despite its location in a series of nine irons, and wish it looked more like a muscleback. It still plays like a muscle-back iron, so that's a "flaw" I'm willing to accept!
If you're a fan of classic clubhead design, get yourself to a pro shop immediately to take a look at the 735s. If you are a fan of the "brick on a stick" variety (my own bias runs deep here), well, tag along with your friend when he visits the pro shop to see how the better half lives.