The 2005 season on the Nationwide Tour will probably be remembered for Jason Gore's battlefield promotion to the PGA Tour following his U.S. Open performance, but no one earned more money on the Nationwide Tour than Troy Matteson. He made the cut in 25 of 27 events, had 10 top-10 finishes and thus played his way onto the PGA Tour for 2006.

Troy Matteson was born November 8, 1979 in Rockledge, Florida. and started playing golf at age 7. His passion for golf followed him growing up and eventually led him to join the Georgia Tech golf team, where he became the nation's fifth-ranked collegiate golfer. He led Georgia Tech to five team titles between 2001 and 2002 which was a new mark for the Georgia Tech golf team. During those years Matteson won three consecutive tournaments.
Matteson matured steadily as a golfer through his years at Georgia Tech. He held a 71.25 stroke average before graduating in 2003, ended 2004 52nd on the money list with a stroke average of 71.51 after making the jump to the Nationwide Tour, and finished first on the Nationwide Tour money list in 2005 with a stroke average of 69.73.
In 2003 Zach Johnson set the Nationwide earnings record by collecting $494,882 and Matteson barely edged him out by earning $495,009 this year. Matteson won two Nationwide Tour events and finished second in three other events. One of his Nationwide wins came at the Virginia Beach Open where he won by a margin of two strokes over Chris Couch. Matteson's 4-under-par 68 in the final round overcame the cold, windy conditions and the good play of his opponent. He was 13-under for the tournament which was his first professional win.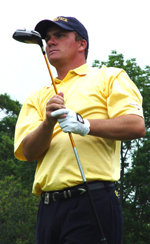 Matteson averaged 301.6 yards off the tee in 2005 which was only good enough for 34th in driving distance. 301.6 yards would have earned him 14th place on the PGA Tour which leads us all to believe (again) that driving distance isn't everything. Don't get me wrong: 300 plus yards is a long way to hit a ball, but keeping it between the ditches is pretty important too.
Matteson is one of a group of players who has used theHeavy Putter, a tool he used to win the Virginia Beach Open and Mark Christopher Charity Classic. The Heavy Putter company reports that Matteson went from 110th in putting to 8th in putting using one of their putters. While our own Erik Barzeski wasn't too impressed with the Heavy Putter, Matteson had this to say about them: "I started putting with one and thought, man, this thing is awesome. The biggest thing anyone who tries the Heavy Putter will find is that it improves your speed. And any time you can improve your speed, you're going to make more putts." It did help him hole more putts as he was 11th in holes per eagle, fourth in birdie average, and 3rd in scoring average at 69.73 this year.
How will Matteson fare on the PGA Tour? Everyone knows that those who play on the PGA Tour on a regular basis are very good. The gap between a PGA Touring professional and your average scratch golfer is almost an impassible chasm. The distance in skill level between the Nationwide and PGA Tours is much smaller but it remains a sizable gap.
I feel given the fact that he has improved steadily through college and his last two years on the Nationwide Tour there is a good chance that Matteson will play some years on the PGA Tour. The learning curve is pretty steep though and I don't expect him to have an easy time of it next year. I predict that he'll learn the hard way, by experience and disappointment finishing outside the top-125 next year. 2006 will be another year of improvement.
We can all look foreword to the 2006 PGA Tour season. Among all the giants will be glassy-eyed Nationwide leading money winner Troy Matteson, trying to carve a niche for himself in this new territory.
Photo Credits: © Ramblin Wreck .com