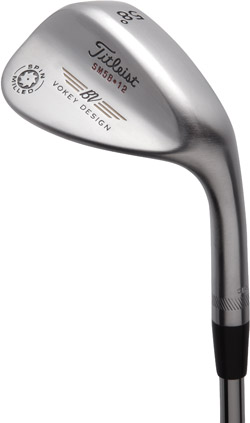 Next to putters, wedges may be the single most personal clubs in a golfer's bag. Wedges come in a variety of shapes. They have different lofts, different finishes, different grooves, different bounces, different soles, and different weights.
For the better player, wedges are the truest scoring clubs. Every shot from 125 yards and in is hit with a wedge, including full shots, chip shots, sand shots, flops, pitches, and more. Tom Kite was one of the first players to put a third wedge in his bag, and today quite a few Tour players have as many as four wedges. Players may switch drivers or irons every few weeks – or even week to week – but wedges sometimes last for years in a player's bag.
The wedge game is dominated by a few players: TaylorMade with their RAC wedges (specifically their Y-Cutter RAC wedges on tour), Cleveland with their CG10 and 588 wedges, and Titleist with their Bob Vokey designs. Relative newcomers (and "regular" clubmakers) like Callaway, Ping, and Mizuno are making inroads as well, typically with golfers who play the same manufacturer's irons.

Appearance
In 2005, Bob Vokey and Titleist introduced "spin milled" versions of his famous line of wedges. I've used Vokey wedges for nearly my entire playing career largely due to the esthetics. Cleveland wedges always had a rounded leading edge that looked bizarre to me, and there weren't many other wedges with the reputation of a Vokey wedge.
The Vokey Spin Milled wedges retain the classic teardrop shape and come in only one finish: the Tour Chrome finish. Rumors about oil can spin milled wedges or black spin milled wedges abound, but I wouldn't recommend holding out for anything but what's available right now. The Tour Chrome finish is bright without being overly reflective, so you shouldn't get a big blast of glare in your eyes as you line up a shot.
Vokey wedges set up nicely to the ball and feature a relatively square leading edge. This has always inspired confidence in my game when I feel the need to open up the clubface for a higher shot, and I feel it aids in alignment over the more curved wedges from Cleveland.
Technology
Made of 8620 mild carbon steel, the Vokey Spin Milled wedge is just that: a Bob Vokey designed Titleist wedge that's spin milled instead of, uhhhh, not. The face of the wedge is CNC machined to create a rougher surface for better spin retention on partial shots. The wedge features 30% more groove volume due to a special circular-style saw cutting tool that offers a steeper draft angle and a tighter edge radius. In other words, the grooves are deeper and sharper.
The clubs are equipped with a standard TrueTemper Dynamic Gold S200 shaft and a Titleist-branded Golf Pride Velvet Cord grip. I play corded grips in 13 of my clubs, but in the wedge I particularly feel that it aids in feel and remains tacky in nearly any sort of weather.
The 2005 spin milled Vokeys are only available in six loft and bounce combinations – 56.10, 56.14, 58.08, 58.12, 60.04, 60.08 – though players can expect this line to be expanded in 2006.
Playability
My old wedges were a reliable 56° Titleist DCI Black which was great from the sand but which had too much bounce for play from the fairway. Early last year I added a 60° oil-can Vokey to my arsenal and saw my scores drop. For this review, I've been using both a SM56.10 (56° of loft with 10° bounce) and SM60.04 (60° loft, 4° bounce) to replace my sand wedge and lob wedge.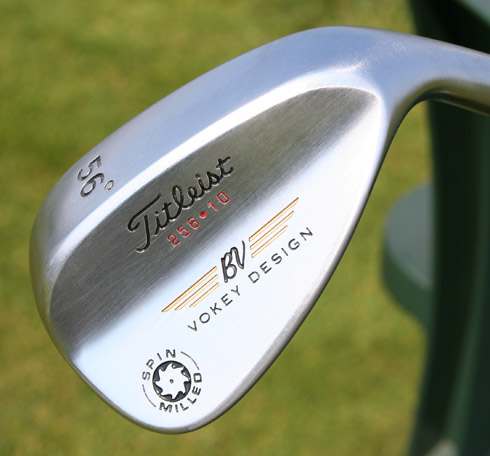 The clubs performed admirably on full shots from the fairway and rough, particularly from wet or dewy grass. I was able to control the trajectory, spin, and distances more easily as I could with my former wedges. The 10° bounce on the SM56.10 didn't get in the way when I opened the blade a little, nor did it bounce excessively off of hardpan lies. The SM60.04, naturally, performed even better and allowed for an even greater variety of full swings. On full shots, these clubs performed as I've come to expect a Vokey wedge to perform – with precision, accuracy, control, and feel.
However, the short shots are where these clubs really shine. I remember watching Padraig Harrington in a playoff against Vijay Singh at the Honda Classic clipping pitch shots from the light rough around the greens. One hop and they'd stop dead. Commentator Johnny Miller said "he must have some new grooves on those wedges." I wished to myself that I had the ability to hit shots like that.
You can guess where this is going: the Spin Milled Vokey wedges give me that ability. I, like Padraig, play the Titleist Pro V1x, and the combination of the V1x and the spin milled wedges provided surprising stopping power around the greens. "Bounce and check" chip shots are easily controlled, as are pitches from thick greenside rough. Perhaps my favorite place to use the wedges are from bunkers. A steep angle of approach produces enough spin to back up bunker shots without sacrificing the ability to play a low running bunker shot with a shallower angle of attack.
One day I tried the Pro V1, the higher spinning, softer version of Titleist's top-of-the-line golf ball. With these wedges I was backing up shots with ease. No, not 100-yard sand wedges or 75-yard lob wedges. No sir. I hit one shot from the light rough to a pin 20 yards away. It bounced once, bounced twice, and spun back two feet! From 20 yards! I dropped ten more balls and played shots from 15 to 30 yards and was able to get all of them to suck back from slightly moist light rough! The spin these wedges generate is amazing.
The only downside to these high-spinning wedges remains a common one amongst all high-spinning wedges with sharp grooves: ball wear. Spin Milled Vokeys will shred some balls with softer covers. I rarely hit a full wedge shot, so my V1xs survive quite a few holes. But hit a hard lob wedge from 75 yards with a V1, a BlackMAX, or a B330-S and you'll probably be putting a new ball in play on the next tee. That's just the way it is.
I've played close to 50 rounds of golf with my wedges so far and have hit at least 1000 shots with each. The grooves remain sharp, the finish remains nearly intact, and the circular milling marks are still quite evident, indicating a lack of wear. These clubs will last awhile, which is a good thing, as I don't plan on giving them up anytime soon!
Overall
Bob Vokey wedges are used by countless touring professionals (well, not countless…) on every major professional and amateur tour in the world. I'm the first to admit that wedges are a very personal thing, and I'm not certain I could ever play the "spoony" looking Cleveland wedges. The Spin Milled Vokey wedges combine a classic teardrop shape with advanced milling techniques to create a wedge that performs and looks as if it will perform.
These wedges allow for a standard bevy of full shots (knockdowns, high soft lobs, punches, and standard full shots) while providing extra spin on short shots around the greens, from the rough, and in bunkers. They belong in the hands of players who know how to get the most from their wedges.