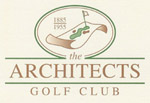 Lucky to play so many wonderful courses over the years, I've devised my own simple Goldilocks rating scheme. Some are too hard. Some are too soft. Some are just right.
Too hard? Bethpage Black, Winged Foot, Kiawah Ocean. Too soft? The Old Course at 70°F in dead calm from the forward tees with a great caddie and your "A" game working. Just right? Harbour Town, Troon North, and Somerset Hills come to mind.
The latest in my life long list of "just right" is my home club, The Architects Golf Club in Lopatcong, NJ. Here's as unbiased a review as I can muster given that I love it so…

About the Name
After 20 years running a landscaping company and a spin-off (Turco Golf, Inc.) that builds and renovates golf courses, brothers Lawrence and Dennis Turco decided to make a course for themselves.
The concept they and their architects came up with was rather unique. Instead of trying to build replicas of famous golf holes as has been done to various degrees around the U.S. with decidedly mixed results, they chose simply to build holes in the style of famous architects.
I think this was a brilliant idea in that it let the lay of the land (with some help from a lot of artful shaping by Dennis Turco) dictate which architect's style would best work for a given hole's location.
The design era they chose to emulate, 1885 to 1955, let them sample the trademark design features of architects ranging from Old Tom Morris to Robert Trent Jones, Sr. Thus from the concept came the club's unusual, but obvious, name: Architects.
Architects' Architects
The course design was the result of a collaboration between Stephen Kay, a New Jersey-based architect, Ron Whitten, the architectural editor and course critic for Golf Digest magazine, and the Turco brothers.
While some of Kay's designs, like Blue Heron Pines in South Jersey, have failed to race my motor (very nice but not something I'd write home about), he is exceptionally adept working with multiple tees to makes holes equally challenging for all levels of players.
I think Whitten's input was a masterful stroke. An astute historian and author on golf course architecture, it's my opinion his alliance with Kay produced an overall design better than they might have come up with individually. This was Whitten's first foray into course design and he's since collaborated with other architects.
Two talented, knowledgeable design experts and a unique concept can have that kind of synergistic result… especially when they work with builders who will own the course and who are willing to go the extra mile to make it just right.
An Idea that Works
Is the concept a gimmick, or does it work? I think it works very well. There are those who may quibble that certain holes seem more faithful to their architectural inspiration than others. But each hole has a unique character and reveals in at least one detail the idiosyncratic touches and philosophies of the architect being featured.
Most of all, the course works because it is much more than just a cute idea. All the holes work together. There's a rhythm to playing the course that's unique and seems to bring you to certain holes at just the right time. It's more than a collection of interesting holes… it's a wholly great course.
It's an unusual opening sequence starting with a relatively easy par five, a challenging par three, and then another, and trickier, par five. Then you encounter the first of several strong, long par fours immediately followed by one of the short, sporty par-four holes on the course. Finishing one hole, you're always looking forward to the next.
The routing and sequencing, combined with some very dramatic looking holes, make for a course that's just a lot of fun to play. And when the round is over, it's one of those courses that leaves you remembering every hole.
Look and Feel
Architects opened in July 2001 as a semi-private, high-end daily fee course, one of a number in the New York metropolitan area that sprang up in the late '90s, early 2000s.
It was built on a parcel of rolling farmland 60 miles due west of Manhattan and lies in a dale sloping down toward the foot of the Pohatcong Mountain ridge.
Because it was farmland, there aren't a lot of trees on the course. And while trees form a perimeter around the edges of the property something like a European hedgerow, they don't detract from some amazing views of nearby hills and valleys. And the wall of color the forested mountain displays in the fall is just a magnificent backdrop.
What trees there are were cleverly used to frame some greens, isolate some tees, and serve as something of a hazard for some tee shots.
For as open a parcel of land as it occupies, the course designers were able to use the slope of the land to separate holes. Only in a few instances are you aware of an adjoining hole.
I don't really know how to describe it in words. But there's a difference in how this course feels as you play it. Much of the northeastern U.S. is so heavily wooded and blighted with strip malls and neon signs the sky is usually but a narrow swath above the road you're driving or, on some courses, the hole you're playing.
Parkland courses like Baltusrol, Ridgewood, Winged Foot, Quaker Ridge, and Plainfield are all about playing through narrow alleys in a forest. That's certainly not how golf began, but it's how many "classic" U.S. courses set up now. You have to remember that over the years the trees have grown… few of those parkland courses started out as the densely forested trails they've become.
In reviewing a course near Architects that also has been built through former farmland, Ron Whitten noted that while a lot of people wanted to call it a "links" course it was hardly that. It was not on the sandy margin between the sea and the land. It was, instead, as he described it, "an early American course." And that's perhaps the best way to label Architects.
Playing the Course
Because the property is so rolling, there are plenty of elevation changes. Some are dramatic (as the uphill shot to the 187-yard, par-three eighth hole where the green is perched 20 feet above the tee) and some are subtle (the approach to the 440 yard, par-four fourth hole).
And while there are few trees, there is much fescue. It is here we come to the gist of Architects. The fairways, with but a couple of exceptions, are wide open. It is very much a second shot course.
Off the tee you are presented with a wide fairway. Miss that big target just a little, however, and you are punished with a nasty lie in gnarly, thick, lush rough or in a fescue-bordered bunker.
Miss it even more and your ball is most probably lost in tall fescue. Depending on the time of year, it's either immediately apparent it's lost off the tee, or it's a five-minute hunt until you declare it lost.
But, as I said, it's really a second shot golf course. The five par threes are not especially long (145 yards to 200 yards from the tips) but they require a precise approach. That's because from the shortest to the longest approach shots, the greens are exceptionally well designed to test your iron play.
Whether big greens or small, and the course has plenty of both (4,500 to 11,000 square feet), pin placements tucked behind bunkers, between mounds, or on certain levels make approach shots a test of either boldness or discretion, but always distance control.
The par fives are all reachable for the longest hitters, but not without significant risks… risks that present such a strategic, interesting challenge that more often than not most often they play as three-shot holes.
The meat of the course is the par fours. In particular, the 14th, 15th, and 16th holes are a stretch that will give any player of any skill level all that they can handle.
The greens are consistently in top condition and roll in the 10 to 12 range on the Stimpmeter depending on the time of year. Greenside bunkering can be a bit inconsistent, however, with some being extremely hard packed.
Still, course superintendent Dave Eichner and his crew do a remarkable job keeping the course in excellent condition especially since, weather permitting, it is open all year.
Things I Really Like
In no particular order, here are some of the things I like best:
The 13th Hole
Standing there with a wedge in your hand for your third shot to this par five, the shallow green with the flashed bunkers behind it and the little stone bridges over the creek guarding the front of the green… if you squint your eyes it's Augusta National. Thanks Alister Mackenzie.
The Staff
Maybe it's because it's so far from New York City, maybe it's because most of the starters and cart guys and counter people are retired or semi-retired, but the staff couldn't be friendlier. There's just no attitude. They're helpful and accommodating with no veneer of officiousness.
The 7th Hole
This tribute to A.W. Tillinghast is all that is Bethpage Black or Winged Foot. It's a man-sized par four that dares you to carry a bunker at the corner of the dogleg to the right, then launch a high approach from an uneven lie to an elevated green… absolutely heroic and one of the best and strongest evocations of an architect's style on the course.
Walking
Walking is not only permitted (although the greens fee always includes a cart fee), it is possible. Unlike so many modern courses that require a quarter-mile hike between greens and tees, Architects is very walker friendly, although the terrain will test the condition of your legs.
The Practice Range
New this year was a refurbished practice range with 30,000 square feet of grassed teeing area, a practice fairway bunker, and a greenside bunker. Target greens are bunkered and have flags. It's as good as you could ever want and better than you might expect.
The New Clubhouse
As I understand it, permitting for sewer hookups with the town held up construction of the clubhouse for a couple years. It's almost complete now and it's a beauty. Stunning molding and lighting throughout. It also is going to change the food and beverage choices from what had been mainly just hot dogs, soda, and beer in the temporary clubhouse that's soon to be hauled away. Views out over the course are just magnificent.
Even Club Wear
No matter which set of tees I play from (I've pretty much avoided the tips), I seem to wind up using every club in the bag during a round. I think that speaks well for the great variety and length of shots you need to play this course.
Niggles
Reaching for fair balance I tried to think of some negatives. All I could come up with were some things that don't bother me that much, but might irk the pickiest.
Cart Restrictions
Two par fours – the fifth and seventh – are cart path only all the time. Lying in the lowest portions of the course, the turf is just too saturated most of the time to withstand heavy cart traffic. Similarly, the fairway is roped off 150 yards back from the 13th green for the same reason. All this makes for some awkward shuffling back and forth and tends to slow up play during peak periods.
Greenside Bunkers
I mentioned this before. Some can get pretty firm. Just make sure you bring a low-bounce sand wedge. Better still to just avoid them.
OK, so it's a short list. That's the best I could do with negatives.
Value
With the opening of the clubhouse and a concomitant foray into hosting weddings and parties, there's been a change in the management structure at the club to handle that business. At the moment it's too early to speculate on the food and beverage side of the experience at Architects, but based on the people they've brought on board and from what I've heard, I expect great things.
Greens fees vary greatly by season – right now (December) they're $70 on weekends and $55 during the week. I've heard rates are under review and will likely go up next season. Thus, I can only guess that weekends will be in the $100+ range, weekdays $75 or a little upwards of that.
Still, there's been a loyalty program that lets you get lower greens fees that pays for itself after about four rounds. And there are a variety of memberships including full, weekday, corporate and senior that make regular play a very good value.
By the Numbers
Architects plays to a par of 71 at 6,863 yards from the back, black, tees with a course rating of 73.3 and a slope of 130. The yardage is somewhat deceiving in that the par threes and par fives aren't really that long. Throw in a couple cute, short par fours and you can bet you'll be hitting all you have on the rest of the par fours.
From the gold tees where I normally play, it's 6,532 yards with a rating of 71.6 and a slope of 127. The blue tees are 6,172 yards at 70.4 and 125. The red tees are 5,233. These four sets of tees and how they are positioned make this as much a test of golf as you care to take on.
Scorecard
Hole      1     2     3     4     5     6     7     8     9   Out
Par       5     3     5     4     4     3     4     3     4   35
Black    509   195   521   440   355   145   412   187   447  3211
Gold     500   185   510   422   345   135   400   174   410  3081
Blue     485   165   497   405   335   116   375   163   395  2936
Red      404   122   414   350   283   100   331   110   337  2451
Hdcp      15     9     5     7    13    17     3    11     1
Hole     10    11    12    13    14    15    16    17    18   In
Par       4     5     3     5     4     4     4     3     4   36
Black   375   544   191   524   482   473   463   200   400   3652
Gold    358   523   182   494   454   432   443   180   385   3451
Blue    348   500   159   475   400   405   423   171   355   3236
Red     291   437   138   407   354   352   350   142   311   2782
Hdcp     14    10    16     6     4     2     8    18    12
Photo Credits: © 2006 Jim Krajicek, Krajicek Golf Photo.