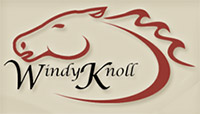 If ever a course name evoked a certain image, well, I suppose "Windy Knoll" does a pretty good job. Set just a touch out of the way and west of Columbus, OH, Windy Knoll lives up to both halves of its name. With flat farmland to the west, the direction from which the prevailing wind blows, the subtly mounded "links-style" course will vex players when the wind is up and offers a stern test even in rare calm conditions.
I played Windy Knoll in early July on a breezy day. Read on to see whether it's worth a visit the next time you're looking for a new course to play.

Conditions
In early July, most of the northeastern United States was midway through a five-week-long dry period. My lawn, for example, turned shades of brown last seen at the 2006 Open Championship at Royal Liverpool (Hoylake).
Windy Knoll showed no signs of the mini-drought. Fairways were in good shape for a course that costs less than $40 to play and offered reasonably fluffy lies that help the average golfer. Balls neither plugged nor rolled excessively. The intermediate cut was long enough to penalize a slightly misdirected shot, but short enough to be playable.
Off the fairways, the long, long rough and fescue are ready to grab balls. Waist-high in parts, the fescue was in really good shape and should be avoided at all costs. Not many courses that aspire to be "links-style" get the fescue quite right, but Windy Knoll does. It's a female dog that's had pups, if you get my meaning.
Tees and greens are similarly well kept. Despite an unusually large number of brown spots from old ball marks, the greens rolled relatively smoothly. Despite reports to the contrary, they also held approach shots about as well as could be expected for new greens, which tend to be rather firm. A playing companion remarked that the greens held much less only a few weeks earlier.
Other areas of the course like the edges of water hazards, bunkers, and cart paths were similarly kept up. I've played a lot of courses with better conditions, but not at the rates Windy Knoll offers, and I've certainly played more expensive courses that weren't as well kept up as Windy Knoll.
Design and Layout
Like all too many courses in the United States, Windy Knoll bills itself as a "links-style" course and tries to live up to it. "Links-style" in the U.S. is typically expanded to mean not "a wind-blown course set hard against a large body of saltwater" but "anything that's flat and has less trees than an arboretum."
Let me put it this way: if Carnoustie is considered a links course, then Windy Knoll leans more towards being "links style" than most courses that claim the title. It's played over relatively flat but subtly undulating terrain. There's fescue off the fairways. The course is dotted with a few trees (like Carnoustie), but not enough to block the wind for more than half a hole. On the downside, the water hazards are ponds rather than meandering "burns" (creeks) and the bunkers are purely American – there are no stacked sod walls or pot bunkers at Windy Knoll.
That's not a bad thing – landlocked courses billing themselves as "links-style" is simply a pet peeve of mine. After all, you can only work with the land you're given, and last time I checked, Ohio isn't near many large bodies of salt water.
Windy Knoll's layout feature a good mixture of holes and shot values. From the Grey tees the course measures 6,400 yards. Step back to the black and you're playing from 6,800.
Of the nines, I greatly preferred the second. The front begins with a nice dogleg left par four, then comes to an abrupt halt with a 200-yard par three and an awkward par five with a patch of rough in the middle of the fairway, a very narrow layup, and an approach shot with O.B. left, fescue right, and a pond long. Players are kept out of rhythm with a 210-yard par three at the fourth before something resembling normalcy returns at the dogleg left 430-yard par-four fifth.
Two holes on the front stand out: the 500-yard par-five sixth and the 290-yard eighth, a par four. The sixth doglegs nearly straight left at about 240 yards from the tee – a player brave and long enough to carry the five bunkers on the inside of the turn is rewarded with a short second to the par five. Bail just a bit to the right and a large tree blocks your approach shot, all but forcing a layup. The eighth is one of those drivable par fours that pros and amateurs adore for the same reasons: strategy aplenty. You can lay up with an iron and wedge on or go for glory… but beware of a lost ball left, right, and long to complement lots of trouble surrounding the green. Holes like this are fun to play.
The back nine offers a strong set of holes. The trickery and gimmicks found on the front nine are absent here and the course presents itself very clearly to the golfer. The tenth is a short par four to an undulating green. The 11th calls for a cut off the tee and a carefully distanced approach to its large, two-tiered green. The 14th is a reachable 514-yard par five with water just short of the green and a whole heap of trouble just right of the fairway off the tee. The 15th doglegs left around a pond and tempts golfers to bite off more than they can chew. The course asks for and rewards fades, draws, high shots, low shots, and crystal clear thinking.
Tiger Woods is fond of saying of the more straightforward courses that "it's all right in front of you." Many golf writers – myself included – take that statement as Tiger's polite way of saying a golf course is boring. He usually uses it to refer to golf courses without many doglegs, like Firestone or Torrey Pines.
I've used similar phrases in describing Windy Knoll, but I want to be clear: I mean them in a positive way. I like golf courses that dictate the ideal shots without overly punishing those who choose to play a draw on a cut hole, for example. Windy Knoll, with a few exceptions, is clear in its demands and rewards appropriate shots sufficiently. Whether it's your first or fifty-first time playing the course, it will test every aspect of your game.
Hole Locations, Rotations, and Flagsticks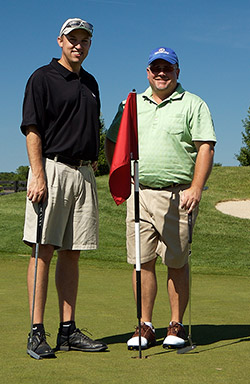 Oddly, the day I played, half of the pins seemed to be located within two or three paces of the edge of the greens, particularly on the front. At one point, I wondered aloud if they had some sort of "Hell Tournament" earlier that day. When the hole on on a green like the second, which measures about 40 yards in width, is tucked two paces from the far left side of the green, something just doesn't feel right.
Windy Knoll employs a pin rotation schedule with only three general regions. I realize most courses do this ensure that greens get equal foot traffic in all areas, but the downside for the occasional visitor is that he has a one in three chance of playing to the same hole locations as his last round, hole after hole.
To really drive the point home that you're playing at Windy Knoll, the flagsticks measure about five feet in height (see image at right). They're stout, so they won't bend and whip around in the wind, but they're also only five feet tall. If you're used to playing on golf courses with standard sized flags (about seven feet tall), these short little buggers can really throw off your depth perception.
The course sits on a former horse farm and pays tribute by giving each of its holes a horse racing term (like "Final Furlong" and "The Pasture"). That's clever and all, but I found the name for the seventh hole a tad humorous: "Broken Wind."
Bang for the Buck
Windy Knoll is incredibly affordable. 18 holes with a cart will run a golfer $38 Mondays through Fridays. Seniors can play for $28. Saturdays, Sundays, and Holidays the rates jump only slightly to $48 and $38 after noon. Twilight rates after 3pm of $20/$25 walk/ride Monday-Friday and $25/$28 Sat/Sun/Hol are a steal particularly during long summer days. Juniors can walk for $16 before 11am on Mondays through Fridays or on weekends/holidays after 2pm for $20.
Given the rates, the quality of the layout, and the conditioning of the course, I'd put Windy Knoll in about the 80th percentile – it's a great value, particularly for seniors or those looking to play in the early evening.
Conclusion
Windy Knoll falls well short of offering a true links-style experience. I'm tired of courses pitching themselves as "links style" when they're not. There's more to a links course than a little fescue and a flat piece of property.
Definitions aside, Windy Knoll is a fun layout at a great price. I don't care much for the stretch of the second through the fourth holes, but the course overcomes them quickly. The back nine may be one of the best nines I've seen on any course with nary a weak hole among them.
If you're within half an hour of Windy Knoll (or an hour or two if you can carpool), Windy Knoll deserves a visit.
Scorecard
Hole      1     2     3     4     5     6     7     8     9   Out
Par       4     3     5     3     4     5     4     4     3   36
Black   402   206   504   230   479   530   440   300   215   3306
Grey    380   188   492   211   425   500   425   287   158   3066
Hdcp      7    11     1     9     5    13     3    17    15
Hole     10    11    12    13    14    15    16    17    18   In
Par       4     4     3     4     5     4     3     4     5   36
Black   350   427   158   425   531   445   203   412   565   3516
Grey    330   402   148   411   514   425   183   396   530   3339
Hdcp     12     6    18     8    10     2    16     4    14
Tees     Rating Slope  Yards
----     ------ -----  -----
Black     73.2   135   6,822
grey      71.3   130   6,405
White     69.2   125   5,939
Burgundy  69.7   118   5,101