Watching the 2007 Open Championship was a little like viewing a good action movie. There were heroes getting their teeth kicked in and coming back to win the day. There was comedy and drama. There were plenty of car wrecks and explosions. And at the end of the gauntlet, an evil ogre waited.
You can't have a good movie without a great cast, so here are my picks for each of the nine leading roles from this year's Open Championship.

Role #1: The Tragic Figure
Though he was not actually at this year's Open Championship (suffering from an apparently undiagnosed illness), the memory of Jean Van de Velde's immortal collapse on the final hole in 1999 helped shape the spirit of this year's event. You couldn't turn on the Golf Channel or watch more than 20 consecutive minutes of the Open broadcast without seeing a clip of Van de Velde doffing his shoes and socks before wading into the burn on the way to making a seven when six would have won.
While he has just two European Tour wins and has twice been in the top 20 of the Order of Merit, he has never been a one of the elite players, and he may never be. He treats the game as a game, and his laissez-faire attitude toward competition could be part of the reason. But personally, I hope the Frenchman recovers his health soon and makes it back out on tour. Sergio could take some lessons from the humor and grace that Van de Velde showed following his disastrous 18th in 1999. He even replayed the hole with a putter as an advertising gimmick for Never Compromise (and on his third try, he made a six).
Role #2: The Young Would-Be Hero who Nearly Saves the Day
Andrés "Pigu" Romero had it to -9 through 16 holes before the wheels came off. If not for "The Shot Not Seen" at 17 on Sunday, leading to a double bogey, and the subsequent bogey at 18, we may have had another relatively "unknown" Champion Golfer of the Year. Still, he finished in third to follow up his T8 finish in 2006. It seems he likes the Open.
Role #3: The Prophet of Doom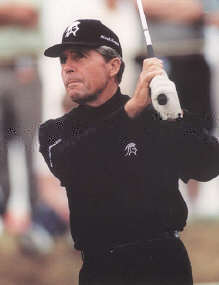 Say it ain't so, Gary. Say it ain't so. Last week, Gary Player's comment that he knew of one player – "and maybe a hell of a lot more" – using performance-enhancing drugs caused a big stir at the start of the Open Championship. It seemed to catch the golfing world by surprise. Even Player's good friend Jack Nicklaus seemed shocked by the comments.
It turns out he's right about a player being on steroids. Shaun Micheel has indeed been taking steroids, but for a good reason. He takes it on doctor's orders to treat his low testosterone issue. The steroid comes in a clear gel that he rubs on his shoulder prompting other players to tease that he's "using the clear."
If Player was referring to Micheel, he was probably out of line. But I think it's only a matter of time before the PGA Tour institutes drug testing. They'll do it not necessarily to catch cheaters, but to eliminate the questions. Of course, to date, that theory hasn't worked so well for cycling or baseball.
Role #4: The Aging Knight who Bids an Early Good Night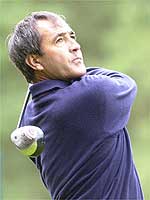 One of golf's great competitors has hung up the spikes. It's been 19 years since Severiano "Seve" Ballesteros last won, but he was once the European golf phenom. He was charismatic and swashbuckling as a player. Gary Player called him "the Arnold Palmer of Europe."
He won 49 times on the European Tour and nine times on the PGA Tour. He won three Open Championships and two Masters. And in one unbelievable stretch, he finished in the top 10 at The Masters in eight out of 11 straight years. In match play, he was a fierce competitor, winning the World Match Play Championship five times and becoming a mainstay of the European Ryder Cup Team through the 1980s and 1990s. He won 20 points in 37 Ryder Cup matches, and his partnership with José María Olazabal was the most successful to date with 11 wins and two halves in 15 matches. In 1997, he captained the victorious European team at Valderrama, the first matches ever staged in continental Europe.
Though he's just 50 and briefly joined the Champion's Tour, back problems have taken a toll on his playing career and he no longer scores consistently well enough to compete.
What a story it would have made if during the week that Spain's greatest golfer retired, its golfer of the future would have won.
Role #5: The Media Darling
After a solid start, Boo Weekley gradually faded into the crowd, except in the media. The press in Carnoustie loved Weekley. Boo made a name through his tobacco-chewing, aw-shucks demeanor. Paired with Paul Lawrie in round one at the Scottish Open, Boo reportedly asked the 1999 Champion Golfer of the Year how he had qualified for Carnoustie. The story of Weekley getting knocked out by an orangutan at a county fair exhibition was more fodder for the tabloids. Though his T35 +4 finish was a good rookie outing, it's likely that Weekley's first trip outside the U.S. will be remembered more for his good ol' boy personality than for his play.
Role #6: The Disappointing Star
The number one golfer failed to place first or second in a major for the first time in a year. He also failed to win his third straight Open Championship. He did manage a two-under T12 finish. By Tiger's standards, that's not great. But since he's Tiger, he makes news by not making news.
I have a feeling we've not heard the last from this Tiger fellow.
Role #7: The Whining Diva
Before the Championship started, Garcia is reported to have said, "I'd rather have a life than an Open triumph." Well, then he shouldn't feel so bad about not winning.
I fully expected the putter to be his undoing, but it really wasn't. Even though he missed a few when he needed them, he put a pretty good roll on all of them. He putted better than the field, barely, taking only 29.75 putts per round compared to the field average of 29.76. But he never three-putted. Not too bad for his second week with the new belly putter.
Hitting a greenside bunker on 18 during regulation and on the first hole of the playoff were probably the two shots down the stretch that he would most like to have back. That was un-Sergio-like (he averaged 2.5 more GIRs per round than the field, which also helps to explain his 29.75 PPR stat). But his was not a closing round that you'd expect to win. He made five bogeys (to three birdies) in the final round (six bogeys if you count the one in the playoff).
Following the round, Sergio blamed bad luck and a slow-raking greenkeeper for his loss. The flagsticks were against him and treated other players better than they treated him. He never took responsibility for letting a three-shot lead get away. Sergio lacks the maturity as a player that he should have learned by now. If he lets this loss eat at him, he may never be as good as he should be. It's time for "El Niño" to become "El Hombre," and get over himself.
Role #8: The Accidental Hero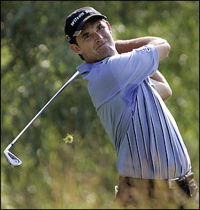 Padraig Harrington's collapse on 18 seemed, for a moment, to be Van de Veldian in scope. And it almost was. He hit the Barrie Burn TWICE and still made a double-bogey, which ended up being good enough to get into a playoff. Can you imagine how much ABC would have played up the "Luck of the Irish" angle if his drive would have crossed the bridge rather than falling off the side and into the burn?
During future Open Championships, all caddies should be instructed to tackle their players if they begin to pull the driver on 18 on Sunday.
Paddy's closing 67 (with a double) made him a deserving champion. The birdie on the first hole of the playoff was clutch and put him in the driver's seat.
Role #9: The Evil Villain
The final hole at Carnoustie, though called "Home," is anything but welcoming… or nice. A par five masquerading as a par four, number 18 is truly a monster (just ask Harrington, Garcia, or Van de Velde).
It's the kind of hole that, while not particularly fun as you're playing it, afterward you will refer to often. First, you have to find land amid the various bends of the Barry Burn, which famed golf writer Bernard Darwin once called "the ubiquitous circumbendibus" (Harrington certainly must have thought it ubiquitous for a time on Sunday). Even if you find the fairway, you're left with a mid to long iron or hybrid into a green lined closely on the left by out of bounds and on the right by nasty deep rough and a grandstand. And, naturally, there are a couple bunkers closer in to catch the marginally errant shot.
It is truly a monster of a hole, and a mean spirted one at that, but it is certainly makes for an entertaining rollercoaster ride for those of us watching at home.
Photo Credits: © Unknown, © Unknown, © The Sand Trap, © CNN.