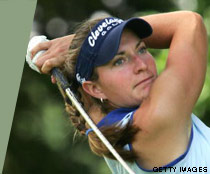 Golfers from the Robe Di Kappa European Tour, Futures Tour, and amateurs were all thrown into the mix this past week to try and move one step closer to a professional career on the venerable LPGA Tour.
My two picks, Morgan Pressel and Ai Miyazato, both moved on to the finals but it was Brittany Lang who shook things up and received medalist honors. Lang turned professional just this year after tying for second place with Pressel at the 2005 U.S. Women's Open in June. In July Brittany tied for sixth place at the BMO Financial Group Canadian Women's Open.
With a history deeply embedded in college golf and with her confidence on the rise I expect to see Brittany Lang's name on the 2006 LPGA roster.

On the final day of sectional Q-School competition Brittany Lang started in sixth place. Knowing that she needed only par to qualify Brittany was confident that she could be among the top thirty sectional qualifiers to move on to the finals. A birdie on the first hole gave Lang the added self-assurance she needed to attain her goal. With a total of six birdies and a single bogey-blip on the par-5 15th hole, Brittany sealed her destiny on the 18th securing a birdie to go 12-under par. She edged out Ai Miyazato for the lead but not without a fight from Miyazato. When asked about moving on to the finals in November, Lang said, "I definitely feel confident. It is not for a while so I will probably take some time off and relax, and then work hard. I definitely feel ready."
Brittany already knows how to win. In just two seasons Lang assisted the Duke University women's golf team gain six tournament victories as well as firing a school-record 64 in 2004. She has back-to-back individual tournament wins from the Atlantic Coast Conference (ACC) and was named the 2004 ACC Freshman of the Year. The following year Lang was named the 2005 ACC Player of the Year.
Ai Miyazato began her final round in a tie for third place. Her only two bogeys of the day came at the 7th and 14th. Firing birdies from the 10th through 12th holes still left Ai short of her goal for the day. "My goal for today was 4-under-par, so it was short by one-stroke" said Miyazato. "Overall, second place, I think I did pretty good." Ai is another golfer who not only knows how to compete but also how to win. She has already prevailed in eight tournaments on the LPGA of Japan Tour. When asked about the final qualfier Miyazato said, "I had good shots through this Sectional Qualifying School, but my putting and approach, I think I still need to work on it. The Final Qualifying School will be five days, and I feel like I need to practice more. My goal is to be in the top 10, just like this time."
Morgan Pressel was the attention-getter of the qualifier. She always seems to be in the spotlight, not only because of her outspoken tendencies but also because of the two top-five finishes and a total of seven top-25 LPGA events she has competed in this year. The last round of the tournament Pressel really poured on the competitive spirit shooting a 9-under par 63 which moved her into sixth place and secured her a spot in the finals. "Today was definitely a solid round. I think I missed like one green and managed to get up and down so that was good. My iron play was much better today."
Morgan's bogey-free round included an amazing nine birdies, five of them on the front nine! Can you imagine making birdies during half of your round? Not many average golfers can picture that scenario. After the round Morgan excitedly stated, "I finally got some things going. Today I will complain about the four six-footers I missed. I would have shot 59!"
When asked about her plans for the remainder of the season Morgan replied, "High school golf. I don't have any exemptions left on the LPGA Tour, so I'm going to go out and play some high school golf and work on my game. And shoot 63 everyday!"
As we all know Pressel is loquacious whether or not she does well. It is refreshing to hear when she places well on the leaderboard and disturbing when she fails at her goals. But either way Morgan lets us all know how she feels. This is the distinct reason why Morgan is well-known on the circuit and Brittany Lang doesn't get as much attention. But Brittany gets the job done. Winning on tour will surely give the Duke University grad all of the coverage she deserves.
Now comes the waiting game for these future stars. The second LPGA Tour Sectional Qualifying Tournament will be played on Oct. 4th through October 7th at Plantation Golf and Country Club in Venice, Florida. The top-30 finishers and ties from both sectionals will join both current LPGA Tour players who want to improve their tour status and the golfers who finished sixth through fifteenth on the 2005 Futures Tour money list at the LPGA Final Qualifying Tournament.
Pos   Player                  Tot    R1    R2    R3    R4
1     Brittany Lang           -12    70    72    67    67 
2     Ai Miyazato             -11    76    66    66    69 
T3    Minea Blomqvist         -10    72    69    70    67 
T3    Shinobu Moromizato      -10    68    69    70    71 
T3    Louise Stahle           -10    70    66    71    71 
6     Morgan Pressel (a)       -8    73    72    72    63 
7     Jessica Lewis            -6    71    68    69    74 
T8    Teresa Lu (a)            -5    69    75    70    69 
T8    Karin Sjodin             -5    70    71    73    69 
T8    Na Ri Kim                -5    73    73    67    70
T8    Kim Hall                 -5    72    70    69    72
Photo Credit: © Getty Images.