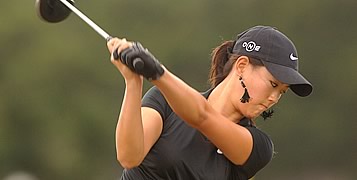 Joe Ogilvie may have said it best: "She's better than Tiger was at 16. I played with Tiger, and Tiger wasn't this good. Everybody is like, 'Win, win, win.' She's 16. Chill out. Once she gets to winning, you'll get sick of her winning."
I'm not a raving, ranting Michelle Wie fan. I'd like to see her win a tournament. I'd like to see her learn to crush opponents. I'd like to see her spend some more time competing against her peers.
But don't put me in the camp of Wie detractors, either, and I'm sick of hearing from those who are.

Michelle Wie is getting flagged left and right this year, her first as a professional golfer, for everything she does. She nearly throws up from heat exhaustion after playing in an LPGA major, a 36-holes-per-day LPGA match play event, and a PGA Tour event in 90° heat and the detractors want to label her a "quitter." They use her heat exhaustion as some sort of proof that she doesn't belong on the PGA Tour. "Play the LPGA!" they yell.
Wie detractors conveniently forget that she's only allowed to play in six LPGA Tour events per year. She's either not asked to be granted membership or (the smart money says) she's been told not to bother to ask by LPGA Commissioners Ty Votaw and Carolyn Bivens (witness Bivens' ambivalence towards getting Michelle Wie to play in her events more often). Michelle Wie is playing against the women on the LPGA Tour as often as she is allowed.
Though I would have preferred Michelle Wie remain an amateur until 17 or 18, and though I would have preferred she "learn to win" against her amateur peers, I can accept that a bird in the hand (or $10M) beats two in the bush (potential future earnings?). I can accept that Michelle Wie (and her parents) is interested in forging her own path, not listening to what others think she should do simply because "Tiger Woods did it that way."
Consider this chart, showing the place both Michelle Wie and the not-even-up-for-discussion best women's golfer in the world, Annika Sorenstam, finished in each of the past four women's majors. In parentheses, the number of people that beat them, and at the end, the total.
           British       Kraft       LPGA       U.S. Open
Wie         T3 (2)       T3 (2)      T5 (4)     T3 (2) = 10
Sorenstam   T5 (4)       T6 (5)      T9 (8)     1 (0)  = 17
Clearly, the girl has talent. Yes, she's winless to this point; she's sixteen and Natalie Gulbis (at the ripe old age of 23) also remains winless despite showing plenty of potential, yet she suffers nowhere near the level of scrutiny Michelle Wie endures.
Many are simply bitter, however, that she's "taking a spot from a deserving man" on the PGA Tour each time she plays (this year, three times). These complaints are silly. Sponsor's exemptions are typically used in one of two ways: as favors (witness Arnold Palmer's grandson getting a sponsor's invite to the 2006 Bay Hill) or to drum up interest.
The John Deere Classic, scheduled one week before The British Open, is one of the most poorly attended events on the PGA Tour schedule. Most top-ranked players are in Europe preparing for The Open Championship. Michelle Wie's invitation results in a win-win-win-win. The tournament wins by increasing attendance and media coverage. The local charities win with increased donations. The fans win by getting to see some unique talent. And finally, golfers win because our sport is placed atop the sports world, and not because of a drug scandal, sexual misconduct, or crime, but because a special girl has a special talent.
Michelle Wie's PGA Tour goals may be low – "I think I can make the cut this year" she said last week, but they're awfully lofty for a 16-year old playing on the PGA Tour. Though she's currently batting .000 (0-for-5) many forget that Tiger was 0-for-6 and didn't make a cut on the PGA Tour until he was 19. The experience she's gained playing PGA Tour courses under tournament pressure will no doubt serve her well in the future. She – and others – have said "playing courses like this makes the courses on the LPGA seem easier." I can't argue with that logic.
Unfortunately, many feel that they can, and so they do. Each and every time the name "Michelle Wie" appears in the news, these boo-birds leap to the fore, shouting down a young girl's efforts to make something of herself. Golf is an honorable sport, yet "fans" like these fail to bring honor to themselves.
While I may not agree with all the decisions this young girl has made, I cannot find fault in her decision to take $10M when it's offered to her, to seize the opportunity to play tough courses when presented with the chance, nor her inordinate ability, which clearly places her near the top of the LPGA Tour already.
As Joe Ogilvie said, "Chill out. Once she gets to winning, you'll get sick of her winning." Chill out, folks.
Photo Credits: © The Golf Channel, © AP.