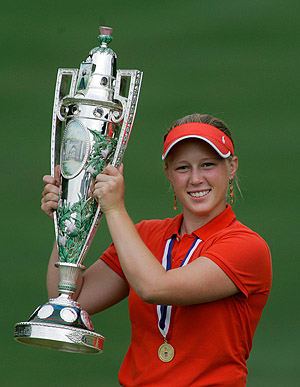 Morgan Pressel played two grueling rounds of golf today to win her first U.S. Women's Amateur title. The first round was played under gloomy skies and over soggy fairways. The afternoon was even worse as storms threatened and rain soaked the golfers. It didn't even faze Morgan Pressel.
Completely dominating the other 155 golfers during the Amateur, Morgan showed that she was second best to no one this time and was considered to be the favorite at this event. In June, Pressel came in runner-up at the U.S. Women's Open after being tied for the lead when Birdie Kim sunk an unbelievable bunker shot. Probably a more hurtful defeat occured at the U.S. Girls' Junior Amateur last month when her opponent chipped in to win from about 40 feet.

Morgan wasn't going to come in second place this time. She did what she set out to do. As Morgan said today, "I came here to win."
Although Morgan was devastated twice in the last two months, today's win is a totally different story. Morgan never trailed in the early round of her 36-hole semi-final match against Maru Martinez.
Morgan Pressel easily sailed to victory at the Ansley Golf Club`s Settindown Creek Course north of Atlanta, Ga. A commanding 4-up lead over Maru Martinez prepared Pressel for a rainy afternoon. The 21-year old Venezuelan who plays college golf at Auburn missed the green at the 13th hole and couldn't save par. Martinez then conceded a 5-foot birdie putt at the 16th hole to Pressel. The 17th was an easy birdie for Morgan when she dropped a 28-foot putt from the fringe and Martinez missed her attempt to halve the hole.
At the 18th Martinez gave Pressel the green light when she knocked her approach shot into a water hazard. Pressel finished off her opponent and waited patiently during the rain delay while eating lunch.
During the final 18 holes it was more of the same for both Maru and Pressel. Maru tired by the end of the first 18 holes and could not recover. Three straight bogeys by Martinez from the 22nd hole through the 24th allowed Morgan a comfort zone. Pressel finished the job at the par-5 28th with a par.
Martinez dropped four balls into water hazards in twenty-eight holes. Although she didn't win, Maru still gave the reporters her time after her loss to Pressel which shows a great deal of professionalism in the course of such a long and grueling event. Martinez said, "I'm happy with my performance… but I was very tired."
Final round scoring was a 9 and 8 victory for Morgan Pressel.
Pressel is going to be busy this season. Next week she's off to the North and South Amateur and has been given exemptions at the Wendy's Championship and the State Farm Classic in the coming weeks. Then its onto the Junior Solheim Cup and Q-School.
Morgan Pressel now waits for her 18th birthday so she can join the LPGA tour. She wil be able to attend Q-School in the fall and will probably have an easy time of it. Chances are slim that Pressel will defend this distinguished amateur title.
Of course with her 4.0 high school index, in the who's who of high school athletic and academia and the ability to go to college on a scholarship, it might be a good option for Morgan to at least give her education the 'old college try'. Let's hope that the people who believe in Pressel's best interests are not pushing off this option.
Morgan choked back tears while being presented with the coveted Robert Cox Cup, a beautiful sterling trophy that was almost as big as Pressel! When asked about her victory the 17-year old high-school senior could only sniffle and say, "It's my biggest win. I'm proud of myself for how I played and how I handled myself through the week. I just kept waiting and it all came together this week… It just means so much to me to have played this well."
Congratulations Morgan! You deserve it!
Ladies European Tour News
Annika Sorenstam claimed victory in a tournament hosted by none other than the number one women's golfer in the world… that's right, Annika! The Scandinavian TPC this weekend gave Sorenstam her seventh win of the season and 75th career victory.
"I had a great time at this party. I hope everybody else did," said Sorenstam. "I think we had it all today. We had tough conditions, we had some drama coming down eighteen, some birdies, and to win your own tournament – it doesn't get much better than that."
Sorenstam struggled today and it took a 29-foot birdie putt on the final hole of the tournament to eke out a victory over Natalie Gulbis at the Barseback Golf and Country Club. Gulbis led into the final round with a one-stroke lead over Sorenstam. Natalie had birdies from the fourteenth through the sixteenth holes but Annika evened the score at seventeen and came through with the win at 18. Carin Koch, Patricia Meunier Lebouc and Gwladys Nocera tied for third place.
Even better news was related to Annika this morning. She was told that the 2006 Scandinavian TPC will be played at Bro-Balsta Golfklubb in Sweden. This is Sorenstam's home club and she should really have an advantage next year. That's totally exciting news," said Sorenstam. "I got it this morning and I'm happy about that… I hope I can get some more players to come next year because I think it's a pretty neat story."
Photo Credit: © Steve Gibbons/USGA.