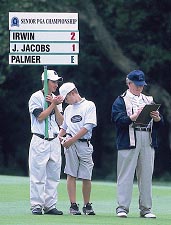 "Ben," a long-time member of our golf forum, recently volunteered at the wet and wild Nissan Open. Fortunately for Ben, he volunteered on Thursday. Here is one man's experience.
Volunteers are supposed to be at the course by 6:00 am. I live 15 minutes from the course, so I'm there in plenty of time. I'm to be a standard bearer – the FootJoy sign boy without the annoying attitude or multi-million-dollar advertising contract. The standard bearers meet at the driving range and line up to get our groupings. As we are doing so, players start coming to the range. I saw Hank Kuehne and Colin Montgomerie. I eventually make my way to the font of the line and get the 8:30 time off the 10th tee. My group will include Charles Howell III, Frederik Jacobson, and Bo Van Pelt.

I still had 90 minutes before my tee time, so I stood around the range and watched everyone warm up. Everyone was there. Tiger, Shigeki, Daly, Faxon, KJ, and the guy that got the most attention when he walked up, Adam Scott. On the range the atmosphere was rather light. Everyone seemed to be in good spirits and ready to play.
I paid most attention to Tiger's practice routine. Starting off with SW, he would take aim at the poles of the boundary fence hitting to a different one with each shot. He actually hit the second one he aimed for. He moved on to short irons, a few long irons, and some awesome looking 3-wood shots, all just absolutely perfect looking. I also checked out some other guys, and Hank Kuehne was the closest to me, about 20 feet to my right. I'm not much of a Kuehne fan, but I had to see him practice his drives. Huge, high bombs, with a slight fade mixed in with a few wayward ones. Adam Scott was a few spots down from Hank. Scott, like Tiger seemed to have not missed a single shot in his warmup.
8:30 rolled around and off I went. Jacobson and Van Pelt got off to a bad start, both bogeying the relatively easy tenth at Riviera. The combination of a tough putting green and the pin placement led to their early troubles.
The par-5 11th only gave up one birdie. CHIII bombed a drive, bombed a 3-wood, and still had about 50 yards to the hole. 12 and 13 are tough par 4s, 460 and 459 yards. Jacobson hit a great second shot into 13 but missed his birdie attempt.
By 13 my group had really warmed up. The players were chatting with each other a little, and I really started to push the limits on how close I got to the players. Bye this time I was walking right along side the caddies.
On the par-3 14th (176 yards), the furthest from the hole was only 20 feet, yet only Jacobson was able to birdie. The 15th, a 487-yard par 4, didn't treat anyone too well. An oval-shapped green with a valley running through the middle from front to back. Jacobson, bogey. CHIII, bogey. BVP two-putted for par.
Everyone was eaten alive by the seemingly innocuous 166-yard par-3 16th. CHIII double bogeyed from a greenside bunker, as did Van Pelt. Jacobson made a slippery uphill 10-footer for par.
On 17, a 590-yard par 5, Jacobson hit the flag and ended up 10 feet with his third, Van Pelt was 35 feet, as was CHIII. CHIII lagged one up for par and Jacobson made his 10-footer for birdie. Surprising everyone, BVP drained his 35-footer for bird. His caddy tossed me the Nike ONE Black he'd used on that hole.
18 is one of the tougher if not the toughest par 4 on the course, 475 yards, blind tee shot, dogleg right. CHIII made a spectacular birdie, landing his second shot 30 feet.
We made the turn and moved up the hill to the first tee, a 503-yard par 5. BVP and Jacobson drove to the left rough, CHIII right down the middle. CHIII hit what looked like a 4-iron well over the green and slammed the club into the ground. I turned around to see that Jacobson was shoving chewing tabacco into his upper lip. Real nice. BVP laid up and then stuck his third to within four feet and birdied. Jacobson, long with his second chipped and got up and down for birdie, and CHIII nearly holed his eagle chip but left himself with a five-footer for birdie. He made it. With BVP's birdie this time, he gave that ball to the other scorer working with our group.
From there, nothing too exciting happened until we reached the par-3 4th, a 236-yard monster! BVP landed in a bunker short, as did CHIII in a different bunker. Jacobsen ended up just off the front. BVP played a 40-yard bunker shot to about 10 feet and saved par. CHIII, with a huge lip in front of him on his 30-yard bunker shot, stuck it to about five feet and made his par. And FJ got up and down for his par. The most impressive bunch of pars on the day!
Five was unexciting, and then we came upon the famous sixth, a par 3 with a bunker in the middle of the green. Jacobsen took a five from the front greenside bunker, letting loose with a nice, loud "F-off" as his tee shot let loose. He three-putted from there. BVP missed a slippery 10-footer for birdie, and CHIII got away with a par.
After the sixth, the weather started rolling in. Windy, cold, dark clouds. I could see that nobody was having any fun on the course. Jacobsen was 2-under before the sixth and finished double, bogey, bogey, bogey to end +3.
One of the coolest parts of the finishing holes was the walk from the 8th green to 9th tee. It intersects the walk from the 13th green to the 14th tee. I passed Stuart Appleby and Nick Price. I look up and there is Nick right next to me. I say hello and wish him good luck and he gives me a thank you and smile back.
Our round ends and just then the rain starts to fall in earnest.
I turn in my gear, wander around in the rain for a bit, and head home. A pretty typical day, I've come to understand.
Photo Credit: © PGA.