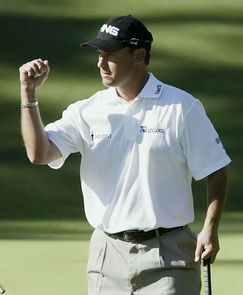 After rain delayed play for much of the day the Zurich Classic got off the ground at 3:30 ET and continued until dark halted play part way through round three at TPC Louisiana. Officials gave credit to recently upgraded drainage for good playing conditions despite the weather.
Chris DiMarco's impressive play against Tiger Woods at the Masters just three short weeks ago opened the eyes of many to his tremendous potential. Most importantly for Dimarco is that his performance at Augusta has given him needed confidence this weekend. He stands atop the leader board once again. "I played nice and got off to a great start, birdieing the first hole and then made a great birdie on four and birdied seven and eight back-to-back," DiMarco said. "Being 4 under right now, I'm very happy."

In a Sunday start reminiscent of the final day at the Masters, Dimarco is in the lead after a rain delayed round three. "Tomorrow I'm just going to try to hit quality golf shots and I'm just going try to stay focused on my game. I'm hitting the ball really solid right now and my short game is very good so its a good combination." DiMarco holds a one shot cushion at twelve-under over PGA Tour rookie James Driscoll halfway through round three.
James Driscoll jumped seven places up the leader board after 11 holes today. He birdied six holes and has no bogeys so far this round. Driscoll said, "Everything has been falling right into place. I've been birdieing all the par 5s, keeping it in play and making some 15-footers. I couldn't be happier." Driscoll's best finish in 2005 was at the Ford Championship at Doral when he tied for 16th. Of the ten events Driscoll has played he has made the cut four times. He's paying his PGA dues and it seems to be paying off when it counts in this tournament.
Second Round Leader Arjun Atwal posted a birdie and a double bogey today to fall to third place after 10 holes. Among the three players in fourth place is Tim Petrovic who advanced seventeen places with seven birdies and only one bogey today. He posted four birdies in a row between holes eleven and fourteen.
Defending champion, Vijay Singh, is four shots off the lead at eight-under through ten holes.
Pos     Player             Today   Thru     Tot    R1    R2    Tot
1       Chris DiMarco        -4      10     -12    65    71    136
2       James Driscoll       -6      11     -11    68    71    139
3       Arjun Atwal          +1      10     -10    65    68    133
T4      Tim Petrovic         -6      14     -9     72    69    141
T4      Lucas Glover         -2      10     -9     69    68    137
T4      J.J. Henry           +1      9      -9     67    67    134
T7      Chris M. Anderson    -4      14     -8     70    70    140
T7      Padraig Harrington   -3      11     -8     68    71    139
T7      Richard S. Johnson   -2      10     -8     70    68    138
T7      Hidemichi Tanaka     -3      10     -8     69    70    139
Photo Credits: © AP Photo/Amy Sancetta