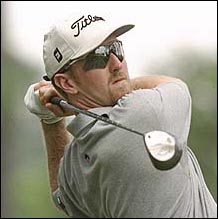 David Duval and father, Bob Duval, played golf at the Timuquana Country Club with Special Olympics athletes Kevin Erickson of Wisconsin and Oliver Doherty of Ireland in a made-for-TV match called "A Tee Time Like No Other" to be televised by CBS Sports on New Year's Day. The match was set up by the Special Olympics, who wanted to feature some of their finest athletes.
During the first hole of the made-for-TV match, that paired David with Kevin and Bob with Oliver, Erickson hit a slight draw and landed in the middle of the fairway. Duval hit a slice into the trees. "At least one of us is in the fairway," Erickson told him. Duval shot right back, "Fairways are overrated."

Kevin Erickson is 21 years old. As an infant, Erickson had a brain tumor and had one-third of his brain removed by the time he was 4 months old, the portion that affects speech and motor skills. Just three years ago, he had cancer in his sinuses. All this, however, didn't stop him from nailing 6-foot putts on the final three holes – one of them for a birdie. This should come as no surprise for someone with a 12-handicap and the winner of the U.S. Golf National Invitation in Florida last year.
Oliver Doherty was born with brain damage after his mother was killed in a car accident. It is believed that the brain damage was caused by forceps during his delivery. Doherty was sent to an orphanage, where he was adopted. His adopted father, Jim Doherty, was a firefighter who worked on the nine-hold Buncrana Golf Club in Ireland. Jim encouraged his son in the ways of the game and before long, Doherty was winning club championships. Oliver has a 5 handicap. Last year, he won the Special Olympics World Summer Games at Portmarnock by 20 shots.
The match ended on the 15th hole with David and Kevin winning 4-and-3. Through it all, David was able to gain some perspective. "As frustrating and maddening as my struggles have been, this makes you realize how small they are," Duval said. "I've always believed that people's burden are what they can manage. I've always felt I was a strong guy. But I'm not as strong as these two men."
After a special ceremony on the 18th green at the conclusion of the match, the Duvals and their partners exchanged gifts and posed for pictures. Duval signed a dozen or so Special Olympics flags, then took two flags for himself and asked Erickson and Doherty to sign them. Duval also gave Erickson his caddie bib with a message on the back.
"Kevin, thanks for including me in a great day."