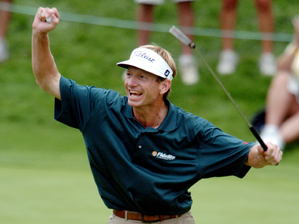 Brad Faxon fired a career- and tournament-low 61 on Sunday to seemingly lock up the Buick Championship until Tjaart van der Walt finished birdie-birdie to force a playoff. Tjart's drive on the first playoff hole found the fairway while Faxon found the bunker. Tjaart's approach ripped through the flag and came to rest six feet away. Faxon's came to rest two feet away. When Tjaart missed and Faxon made his center-cut, the all-Titleist playoff was over, and Brad Faxon – who has not won in 125 starts on the PGA Tour – captured his eighth PGA Tour victory.

Faxon, 44, began the day in tenth place seven strokes back after making the cut the day before on the number. On Sunday, he tied the course record, the low round of the year on the PGA Tour, and beat his career personal best to get to -14. First-, second-, and third-round leader Justin Rose managed only to shoot -1 on the weekend after a torrid -12 start the first two days. Michael Putnam, playing in his first event as a pro, closed with a 63 to finish at -12 and in third place.
Faxon had good reason to play well in what amounted to a "home game" for the Rhode Island native. He's played in the Buick Championship 22 times in the past. His best finish was an eighth in 1996. His best finish this year was a T3 at the Barclays Classic.
The playoff was exhilirating: a tired old veteran against a scrappy young buck from South Africa. Faxon, teeing off first, hit a low hook into the left fairway bunker. Tjaart drove solidly down the middle, 134 yards from the pin. Faxon, from 169 yards and with a 7-iron, put his shot to two feet, placing the pressure squarely on the shoulders of Tjaart. The bunker shot was one of the best of the year on the PGA Tour, bar none, and certainly the best under pressure. It competes only with Birdie Kim's holeout to win the U.S. Women's Open. Tjaart dealt with the pressure, though, ripping his wedge through the flag before it came to rest six feet away. He would miss the putt, and Faxon – one of the best putters on Tour – calmly rolled his in.
Rose began the day with a four-stroke lead at -12, but didn't makea move until late. He birdied two of the last four holes to finish one stroke back at -13. Ben Curtis continued his streak of solid play, firing a 69 and finishing T4. Jerry Kelly came home in 66 to tie Curtis and NCAA runner-up Michael Putnam. Putnam had been at Merion last week for the U.S. Amateur when he was told he received a sponsor's exemption to the Buick Championship. He decided to turn pro and earned $177,733 in his PGA Tour debut.
Pos  Player              Today  R1    R2    R3    R4    Tot
1*   Brad Faxon           -9    69    71    65    61    -14
2    Tjaart van der Walt  -6    68    66    68    64    -14
3    Justin Rose          -1    65    63    70    69    -13
T4   Michael Putnam       -7    65    69    71    63    -12
T4   Jerry Kelly          -4    68    67    67    66    -12
T4   Ben Curtis           -1    64    68    67    69    -12
7    Kenny Perry          -7    70    69    67    63    -11
8    Corey Pavin          -2    66    69    67    68    -10
T9   Nick Watney          -4    69    66    70    66     -9
T9   Darron Stiles        -2    71    69    63    68     -9
T9   Woody Austin         -1    69    68    65    69     -9
* Won on first hole of sudden death, 3-4.
The PGA Tour next heads to Deutsche Bank Championship at the TPC of Boston. Vijay Singh out-played Tiger Woods here last year to put a stamp on his claim to the #1 throne. Can he make up some ground this week, as Tiger has a massive six-point lead?
Photo Credit: © AP.