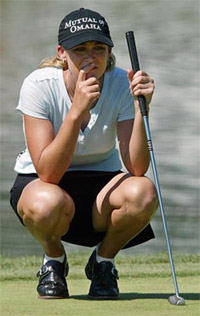 Paired with third-round leader Paula Creamer, Cristie Kerr played catch-up today at the Wendy's Championship for Children. Annika Sorenstam had already finished her round and was sitting comfortably in the clubhouse watching the action. Today Annika enjoyed the euphoria of a bogey-free round dotted with six birdies, her first one dropping in at the first and concluding with a fist-pumping birdie on eighteen.
Paula Creamer didn't seem to be as confident as she normally appears, but with only a one-stroke lead separating the top golfers in the world she had work to do. Two bogeys opened the door for veteran Cristie Kerr to step in and take the trophy away from both the number one and two players on the money list. A fist-pump also came from Kerr at the final hole. With only one bogey on the back nine Kerr finished one-stroke ahead of a very strong leaderboard, securing her second win on the LPGA Tour this year with a 3-under-par 69.

Kerr made birdie at the second hole and pulled into a tie with Creamer and playing partner Soo-Yun Kang, recent winner at the Safeway. Until the 11th hole there wasn't alot of movement on the leaderboard. Then Kerr started a birdie run which lasted from the 11th through the 13th holes. Cristie wanted to make sure she won this tournament, deliberately taking her time with every shot and conferring with her caddie and backing off a shot when she felt uncomfortable. This visibly upset her playing partners as they tromped ahead of her as she analyzed and visualized her shots.
The ability to back off when undecided or uncomfortable is what probably won Kerr the championship. Although her partners seemed a bit unhappy about it, no officials were called in and she did not exceed any time limits. Her ability to analyze her shots and utilizing her caddie when necessary was the difference between her win and the loss of her two opponents. Both Creamer and Kang's inability to block out the slower play of their golfing partner led to their downfall.
Paula Creamer was probably upset with herself after her first bogey on the seventh hole. You just can't afford to make bogeys when the other players are named Sorenstam and Kerr. Although she resuscitated with a birdie to come out even on the front nine, Kerr was already in a tie for the lead. With her strong showing today Paula is assured of clinching the Rolex Rookie of the Year Award. Congratulations Paula!
Kang's double bogey on the eighth after pars on the first through seventh hole was unfortunate. The birdie follow-up proved that she could handle tournament pressure but it wasn't good enough to keep her in the fray.
Also tied for the lead was tour veteran Pat Hurst but she fell out of contention at the eighteenth after taking an unplayable lie off the tee. Her fourth drop fell deeper into the woods after the three before had fallen beyond the two clublengths allowed under the Rules of Golf. She knocked that shot into a trap and hit the lip as she popped it out. Frazzled Hurst was unfortunate to receive a double-bogey for her efforts finishing in a tie for fourth with 2005 British Open winner Jeong Jang.
Annika didn't win but made her presence known. Starting the day five strokes off the lead and chasing two top-name golfers Sorenstam came within one-stroke of the lead and could have won if she would have dropped putts on the sixteenth and seventeenth. But Annika was "pleased with the way I finished today." The Swede takes a break next week heading back to her home in Orlando but comes back to challenge the American team at the Solheim Cup tournament in two weeks.
Jeong Jang had a tremendous birdie run from the seventh through twelfth holes almost sinking one at the eighth. Her 5-under-par 67 tied her with Pat Hurst for fourth position.
Lorena Ochoa choked on her back nine. After three birdies on the front, Ochoa doubled on the 11th and bogeyed the 12th. Another two bogeys on the finishing holes brought her to even par but must have totally demoralized her.
Amateur Morgan Pressel came in with a 2-under-par 70 today to tie for 25th position. With her only bogey at the final hole I'll bet she had alot to say when the press arrived to interview her.
Pos   Player                  Today    Tot    R1    R2    R3    R4
1     Cristie Kerr              -3     -18    68    67    66    69 
T2    Annika Sorenstam          -6     -17    69    67    69    66 
T2    Paula Creamer             -1     -17    68    66    66    71 
T4    Jeong Jang                -5     -16    68    67    70    67 
T4    Pat Hurst                 -2     -16    67    68    67    70 
T6    Karrie Webb               -2     -15    67    66    70    70 
T6    Soo-Yun Kang               E     -15    66    66    69    72 
8     Michele Redman             E     -14    67    67    68    72 
T9    Young Kim                 -6     -13    70    67    72    66 
T9    Catriona Matthew          -6     -13    66    66    77    66
T9    Nadina Taylor             -4     -13    67    69    71    68
T9    Rachel Hetherington       -4     -13    67    69    71    68
T9    Emily Bastel              -3     -13    69    67    70    69
T9    Lorena Ochoa               E     -13    72    64    67    72
Photo Credit: © Unknown.