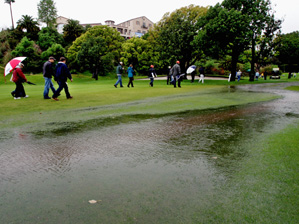 The rain kept coming. So much so that the Nissan Open may become the first 36-hole event in nearly nine years on the PGA Tour. PGA Tour tournament director Mark Russel said "Our main goal is to get 36 holes in. We're at the mercy of the elements, and right now it has us on the ground."
The Nissan Open may need to catch a break just to finish 36, as rain is forecast for Sunday and Monday. The $7.5 million Match Play Championship, a World Golf Championship event, begins Wednesday in La Costa, CA. Last year's Match Play Championship was the site of the last PGA Tour rainout when the second round was cancelled.

First-round leader Brian Davis hasn't hit a shot since opening with a 65, and only half of the 144-man field completed their second round on Friday. Chad Campbell currently leads at 9-under 133. Players will return on Sunday at 7:30 am, weather permitting, to finish or, in Davis' case, begin their second round.
It's interesting to note the PGA Tour policy on 36-hole tournaments. Should the Nissan Open be shortened to two rounds, the winner gets $864,000 toward the money list but the victory is unofficial. That means the usual spoils of a PGA Tour victory – a two-year exemption, a spot in the Mercedes Championship – are not included with the six-figure check. The last 36-hole PGA Tour event was the 1996 Buick Challenge. MIchael Bradley won in a five-man playoff.
The last shortened Nissan Open took place in 1993 when the tournament was cut to 54 holes. Tom Kite won and earned the last of his 19 career victories.
Photo Credits: © AP.