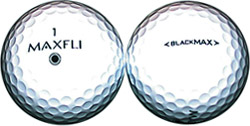 In 2001, Titliest Introduced the Pro V1 line of golf balls which quickly became the most played ball on the PGA Tour due to their low spin off the driver and high spin around the greens. Titleist is the number one ball of choice on every professional golf tour and perennially leads in number of wins. Even players like Mike Weir, Sergio Garcia, and Vijay Singh who have signed equipment contracts with other companies choose to play Titleist golf balls. However, the recent introduction of Bridgestone's B330, and the new HX Tour from Callaway, which has been earning notoriety behind a hot Phil Mickelson, has proved that there is still room for competitors in the high-end golf ball market.
Earlier this week, we introduced you to Maxfli's BlackMAX golf ball, the newest entry into the high-end golf ball market. Is the BlackMAX good enough to compete? As promised, we've played this ball on course and experimented on the launch monitor, here's what we found.

Finding a golf ball I like has been a difficult task for me. However, since their introduction, I've been playing either the Pro V1 or V1x and have come to love their performance. All that changed when I recently tried Bridgestone's B330 and have since switched because the B330 is longer off the tee while still maintaining enough spin around the greens. I play to a handicap of 4, and the main strengths of my game are distance off the tee and ball striking. My tempo swing with my driver usually averages a speed between 118-122 mph.
Distance
Off the driver, this ball is very long and easily competes with anything available on the market. To conduct the initial test, I chose a course softened by recent rains so drives would reflect carry distance. Off the first tee, I hit a drive with BlackMAX, Bridgestone's B330, and a Pro V1x. The B330 came out on top, followed by the BlackMAX, and then the Pro V1x. All three balls were within two yards of each other showing how well all the high end golf balls perform. It is worth mentioning that to obtain maximum performance from these balls, a high swing speed of at least 110 mph is required.
Trajectory is another important feature off the driver, and BlackMAX has a flat, boring trajectory off the driver, and the ball flight stays relatively low, even into direct headwinds. On crosswinds, the ball flight is very stable. This ball is so stable that even draws or fades hit with the wind are hardly affected.
One interesting observation I saw is that BlackMAX sounds different from other balls off the driver. Instead of a high "tinny" sound other balls make at impact, BlackMAX had a deeper louder "whack" which was quite pleasant.
Iron Play
One area where this ball distances itself from the competition is spin off the short irons. Hitting approaches into greens was quite exciting since even 7-irons were backing up and 6-irons were dropping and stopping on the greens. No other ball I have tried exhibited as much spin off the irons and it offers an incredible amount of control especially when attacking pins close to hazards.
However, this spin has a slight drawback since the ball can't have that much spin and maintain a flat trajectory at the same time. Ball flight off the irons is a bit higher than desired and is affected by wind a bit more than its competitors.
Greenside Manners
Off the putter, the BlackMAX is easily controlled. However, it lacks the softness found on the Titleist or Bridgestone balls. This doesn't mean it's anywhere near as hard as a "distance rock," but it doesn't possess the same light feel found in the other two balls. Again, sound at impact with the BlackMAX is different, a harder "click" off the putter face rather than the "dull thud" that make the Pro V1 line so famous.
Another area where the BlackMAX excels is durability. My Vokey wedges are notorious for tearing the covers off balls, even on ¾ and ½ swings. While other balls have been sent to the practice pile after just one approach shot, the BlackMAX was hardly scuffed at all. I managed to play an entire round with just one sleeve which is still playable. One BlackMAX even survived an encounter with a cart path with hardly any damage.
Launch Monitor Numbers
In order to provide some concrete data, I also tested the Black Max on a AccuSport Vector launch monitor and compared it against it's main competitors. The BlackMAX fared well in every category with the other golf balls and performed very well overall:
Brand / Ball           Speed     Launch     Spin     Carry
Bridgestone B330       184.1      12.8°     2809     303.1
Maxfli BlackMAX *      182.7      13.9°     2895     297.4
Nike One Black         181.9      13.0°     2874     297.1
Titleist Pro V1-x **   183.3      13.5°     2865     299.1
Titleist Pro V1 x      182.9      13.8°     2902     296.8
* Available March 15; ** Available April 1.
Test Notes: Speed is MPH, Spin is RPM, Carry is yards. Driver was TaylorMade R510 TP 9.5°, Fujikura 660TR X. Swing speed 127-127.3 MPH. Data calculated from 15 best swings with each ball.
Conclusion
Maxfli's BlackMAX does everything a high-dollar golf ball should. When combined with a high swing speed, it produces great distance off the tee while maintaining a flat, penetrating trajectory. Around the greens it provides more than enough spin to stick approaches close to the pin. Combine that with the ball's unparalleled durability and I think the BlackMAX will be taking a big bite out of the premium golf ball market. It's already got me ready to switch.