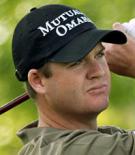 Joe Ogilvie is holding on to a two-stroke lead going into the fifth and final round of the 2005 Bob Hope Chrysler Classic. He managed only a 3-under 69 in Saturday's round while Justin Leonard leapt into third with a 64 and Peter Lonard sits in second. Ogilvie's round included an eagle and two birdies at La Quinta Country Club.
Peter Lonard also shot 69 and remains two strokes back. Justin Leonard, currently at -23, is three strokes back. Tim Clark is four back at 266, and Phil Mickelson, defending champ, sits with several others at 268, six back, after shooting a Saturday 68.

Ogilvie, who spent 2004 on the Nationwide Tour after failing to keep his PGA Tour card, appears relaxed. He's previously struggled to put away a win on the big Tour, but this could be his week. His previous best finish is a T2 with Mickelson at New Orleans last year. Leading going into the final 9, Singh shot a back-nine 29 to steal victory.
Peter Lonard, 37, has won several titles in Australia, but remains winless in the US.
Final round action can be seen on ABC from 3:30 to 6:30pm ET.