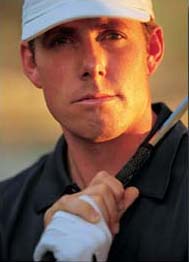 Justin Leonard, who signed with Nike only 25 days ago and who missed his first cut with Nike equipment at last week's Buick Invitational, today shot 5-under 67 to capture the 2005 Bob Hope Chrysler Classic at 28-under 332.
Joe Ogilvie, who led the tournament after four rounds, remains winless after six years on tour. He shot a closing-round 73 and finished T2 with Tim Clark at -25, three back. Ogilvie joked "The rain dance didn't work. I was trying for a rainout today, but that didn't happen."
Said Leonard of this victory, his first in 22 months since the 2003 Honda, "it will inspire me a bit, knowing that one is not enough. I've been sitting on eight wins for almost two years, and it's nice to get a ninth." Leonard had only three top-10s last year and finished 42nd on the money list with $1.5 million. He failed to qualify for the Tour Championship for the first time since joining the PGA Tour.
As the last two Hope champions went on to capture the Green Jacket of Augusta, Leonard may now be the odds-on favorite to capture the Masters.
Photo Credit: © Nike