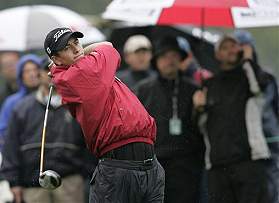 Day after day of heavy rain in the Los Angeles area left the Nissan Open very open ended. Yesterday no one seemed to know for sure whether the tournament would be called after two rounds, or whether a third round would be played on Monday. However, two additional inches of rainfall last night made the decision to call the tournament an easy choice. The final leaderboard showed two leaders: Adam Scott and Chad Campbell tied at 9-under par. Thankfully, the rain eased up enough today to allow a playoff between Scott and Campbell and crown a winner. The playoff was decided on the first hole, when Scott sunk a 4-foot putt for par on the 18th green to cash in on an unofficial victory on the PGA Tour.

The playoff began quite ominously for Scott, who found the left-hand rough with his opening tee shot and was left with 240 yards uphill to the green. Scott escaped the trouble with a fantastic 3-wood that ended up just short of the green. Campbell, on the other hand, found the fairway with his tee shot, but a slightly misguided 5-wood found a puddle of water in the rough right of the green. Both Scott and Campbell chipped to within three feet of the cup. In the deciding stroke, Campbell's par putt burned the left edge and lipped out while Scott center-cut his putt to seal the victory.
Scott's sizable prize winnings of $864,000 will count as official money towards the list of money leaders. Unfortunately, despite his hard work and perseverance through the rain, Scott will not be able to call the Nissan Open his 4th win on the PGA Tour since the Tour requires 54-holes for an event to be considered an offical victory. The rest of the tournament purse was split among the other players according to their finish on the leaderboard.
The shortened tournament was very unfortunate for several key players. Most notably, Tiger Woods' T-13 finish means he will remain the number two player in the world, and will need to win his third WGC Accenture Match Play Championship this week to dethrone Vijay Singh. Colin Montgomerie, who shot a tournament-low round of 64, finished two shots back and still has not won an event in the United States. First round leader Brian Davis and countryman Darren Clarke both finished one shot back at 8-under par with no chance to improve their finish.
Perhaps no one was more cheated by the weather than Chad Campbell who had to go into the sudden-death playoff having not played in two days. Campbell managed to complete his second round on Friday before play was suspended and was forced to watch the action from the clubhouse on Sunday. Today, he was thrust into the playoff and showed some rust. Campbell handled the loss like a true gentleman saying, "The putt was outside left, and I just hit it a little bit firm."
Pos   Player                    Total    R1     R2
 1    Adam Scott                 -9      68     65
 2    Chad Campbell              -9      67     66
T3    Darren Clarke              -8      66     68
T3    Brian Davis                -8      65     69
T5    Colin Montgomerie          -7      71     64
T5    J.L. Lewis                 -7      70     65
T7    Robert Allenby             -6      69     67
T7    Aaron Baddeley             -6      69     67
T7    Billy Mayfair              -6      70     66
T7    Bob Tway                   -6      68     68
T7    Kevin Sutherland           -6      67     69
T7    Fred Funk                  -6      69     67
T13   K.J. Choi                  -5      72     67
T13   Luke Donald                -5      66     71
T13   Stephen Leaney             -5      70     67
T13   Rocco Mediate              -5      70     67
T13   Jose Coceres               -5      67     70
T13   Rich Beem                  -5      69     68
T13   Tiger Woods                -5      67     70
T13   Lee Janzen                 -5      70     67
T13   Bo Van Pelt                -5      70     67
T13   D.A. Points                -5      69     68
Photo Credit: © Sign On SanDiego.